If you are injured a car accident caused by a negligent or reckless driver, you may question whether you will be able to obtain compensation to cover your medical expenses and other financial obligations. In many cases, accident victims are able to file lawsuits against at-fault parties to obtain compensation to help alleviate the financial burdens imposed on them from their accidents.
In many instances, victims wonder if they will have to go through endless court trials while spending months waiting to see if a jury is going to award them compensation for injuries and damages. Fortunately for some, not all personal injury lawsuits have to go to trial. In fact, over 95% of accident victims are able to obtain fair and full settlements without ever stepping foot inside a courtroom.
Many victims wonder if it is in their best interest to accept a legal settlement for their accident case. Attorneys at Siegfried & Jensen are dedicated to helping victims understand the benefits associated with settlements in order to determine if that is the best legal route for their case.
Why Victims May Prefer A Settlement Instead Of A Trial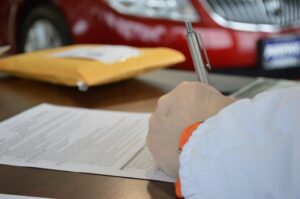 There are many reasons why an accident victim may favor a settlement instead of going to trial. A lot of people prefer settling before a hearing because it is a much quicker resolution to their case. Victims are able to settle within a year, in most instances, where a trail can take two years or more in some cases. Additionally, individuals who choose to settle are in a much better position of ensuring themselves they will be able to obtain compensation for their case. The outcome of cases that go to trial rest in the hands of jurors. These individuals do not always agree with the claims, which can result in a case being thrown out.
When victims are able to settle with insurance companies, they are guaranteed to obtain an agreed upon amount for compensation. Another beneficial factor with settling cases is that the information within the case is not made public record. The details of the case remain private and confidential. This is often preferred for victims who would rather keep their injuries and condition out of public knowledge.
How Are Settlement Amounts Determined
After a victim files a lawsuit, the insurance adjuster for the at-fault party will usually determine an initial settlement offer. This is done by assessing the nature of the accident. Insurance adjustors will review police reports or accident reports and discuss the accident with the insured defendant first-hand. The insurance adjustor will research the claimant in the case and review documentation provided by them. These documents may include medical bills, medical records, business records, photos of the accident and vehicles damaged, and other information related to the claim.
After reassessing the value of the claim, and meticulously reviewing all of the information and details surrounding the incident and the claim, the insurance adjuster will determine a settlement amount that is a percentage of the total value.
In general, you will not want to accept the first offer from the insurance adjustor. The settlement amounts offered initially are often lower than half of what is being sought. It is perfectly acceptable to reject the initial offer if you feel that it does not reflect the true nature of the incident and damages. It is imperative to hire an aggressive personal injury attorney who will negotiate a full and fair settlement on your behalf.
Making A Counter Offer
Accident victims are able to reject initial offers from the insurance company and seek more for their claims. This typically involved a letter, which outlines the nature of the injury and the damages sustained from the accident. The counteroffer may be much higher than the initial settlement off, which was purposed.
The settlement process involves a lot of back-and-forth communication between the insurance adjustor and a personal injury lawyer. The final goal should ultimately be to reach an agreeable settlement amount. Mediation is often used by victims to expedite the process, although other times these negotiation conferences may proceed outside of mediation and over several weeks.
Personal Injury Attorneys Can Help You With Your Settlement
Insurance adjusters often work with a team of experienced and knowledgeable attorneys. It is only right for you to do the same. It is important to have a knowledgeable and experienced advocate on your side who is extremely familiar with how to negotiate settlements and reach a fair deal. Working with a personal injury attorney will help you gain insight onto proposed settlements. Attorneys help victims know if a settlement amount is ideal or if you should try to ask for more. If the collision was especially damaging, your lawyer might suggest taking the case all the way to trial instead of negotiating a settlement.
Contact a Utah Personal Injury Attorney To Help You
Accident victims have various legal rights surrounding their claims for compensation in Utah courts. It is imperative for accident victims to work with a reputable and experienced personal injury attorney. Attorneys from Siegfried & Jensen have over 30-years of experience helping accident victims across the state collect more than $850 million in compensation for their claims.
Our attorneys work diligently to help victims get the maximum amount of compensation for their claims. We prepare every case for trial to ensure we have enough evidence and information submit with our settlement claims or to go to trial whenever necessary.
Our attorneys are dedicated to helping victims obtain full and fair compensation for their injuries and damages such as:
Through our aggressive representation, we are able to effectively help victims obtain the maximum amount of compensation for their cases. Victims are able to rest assured knowing their best interest is protected while they focus on recovering. If you were injured in a car accident caused by a negligent or reckless driver, contact our law firm at (801) 845-9000 to schedule a free case evaluation.