If you or a loved one has been a victim of a car crash or similar accident that was the fault of a reckless driver, and you were unable to go to work as a result — or you were forced to miss out on other income opportunities due to collision injuries and their limitations — you may find yourself wondering how you will ever be able to recover. We are going to look at some common issues related to car accidents and lost wages due to sustained injuries. Siegfried & Jensen believes everyone should be informed of their legal rights and options following a severe accident, especially if you sustain injuries due to the negligence of another motorist.
Lost Wages and Car Crash Damages
Deciding to bring a car accident claim against the responsible party in the accident, known as the defendant, you, as the plaintiff, can potentially regain lost income resulting from the collision.
One of the more apparent examples is when you sustain a physical injury such as a broken leg which makes you unable to perform the duties required at your job. In this case, you could be eligible to regain lost income that you would have otherwise received if your leg had not been injured and you were still able to perform at your job. If you aren't able to work for three months, then you are eligible to recover the wages that you would have otherwise been paid during that time. Car crashes can result in other debilitating or otherwise disabling injuries, such as mental suffering due to the crash like post-traumatic stress disorder (PTSD), that can also be grounds for regaining lost income if they are serious enough.
Seeking Compensation for "Lost Earning Capacity"
If a vehicle collision results in a long-lasting or permanent disability that impacts your ability to earn income for some time, then you may be eligible to recover compensation for damages due to "lost earning capacity."
If you are still able to go to work, you may still be able to recover damages if your injuries act as an obstacle for you to obtain a higher paying job than you may have had without the disability. Try to remember that chronic pain and general loss of ability can sometimes qualify as debilitating injuries and should be included equally when attempting to regain compensation in a personal injury claim.
Aggravation of a Pre-Existing Condition
In order to recover lost income or earning capacity, the car crash must have directly caused the injury that stops you from being able to work. This does not mean, however, that pre-existing conditions leave you ineligible for compensation.
If the crash caused a pre-existing injury or condition to worsen, leaving you unable to work as normal, you are still eligible to regain the full amount of your lost income and or earning capacity. This applies even if you are simply unable to work as efficiently as you once could. If you have any questions about how to provide legal evidence of injuries, you should always contact an experienced Utah car crash attorney who can help you navigate the often complicated legal process.
Providing Reasonable Evidence of Lost Wages or Earning Capacity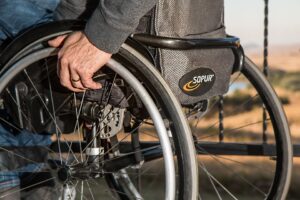 The simplest way to provide evidence of lost income is to show proof of your income before the injury. If you are self-employed, you have to provide proof of what you would have earned under normal conditions. An example could include invoices from the previous year. You are also able to regain lost tips and other non-salary benefits if adequate evidence is provided.
It is more complicated when trying to prove evidence of lost earning capacity because there is a level of speculation necessary. Depending on a few factors, such as your line of work and the severity of your injuries, it can often be assumed that you have experienced a diminished earning capacity. This means that you only have to provide sufficient evidence of your injuries without establishing the financial consequences.
The more difficult bit is proving the amount you should recover due to your injuries. Comparing p previous paychecks from before the accident is the simplest method to provide evidence of the extent of your lost earning capacity, but this may not always be enough.
Often there are key types of financial, expert witnesses that will be needed in order to evaluate the full amount of what you may have earned without a debilitating injury. Evidence, often in the form of expert testimony, about your work habits, employee characteristics, education, and decision to change jobs may all be relevant factors. It is more complex if your disability is not permanent.
Because of these reasons, determining who is at fault for the incident is usually not the biggest legal obstacle after a severe injury sustained in a car accident. The full extent of the injuries and damages are often hard to define. If the case goes to court, the jury has room to select how much compensation should be awarded — they can use their common sense to pick an appropriate settlement value, even if the evidence provided is vague and speculative.
Salt Lake City Auto Accidents
Annually, over 22,000 people are harmed in car crashes in the state of Utah. Unfortunately, these accidents can often be devastating and cause a family to lose a loved one or family member. When you find out that your loved one died because of the reckless actions of another driver, it is often unbearable. In some cases, families can reach out to a car crash attorney in Utah to protect their legal rights after an accident.
Siegfried & Jensen's wrongful death attorneys in Salt Lake City are dedicated to getting families the help they deserve to pay for their damages. Our experienced attorneys will work endlessly to get you the settlement you need after losing a family member in a terrible crash. Call our offices today at (801) 845-9000 to discuss your claim to see what options are available for your case.