Boise ID Personal Injury Law Firm
Siegfried & Jensen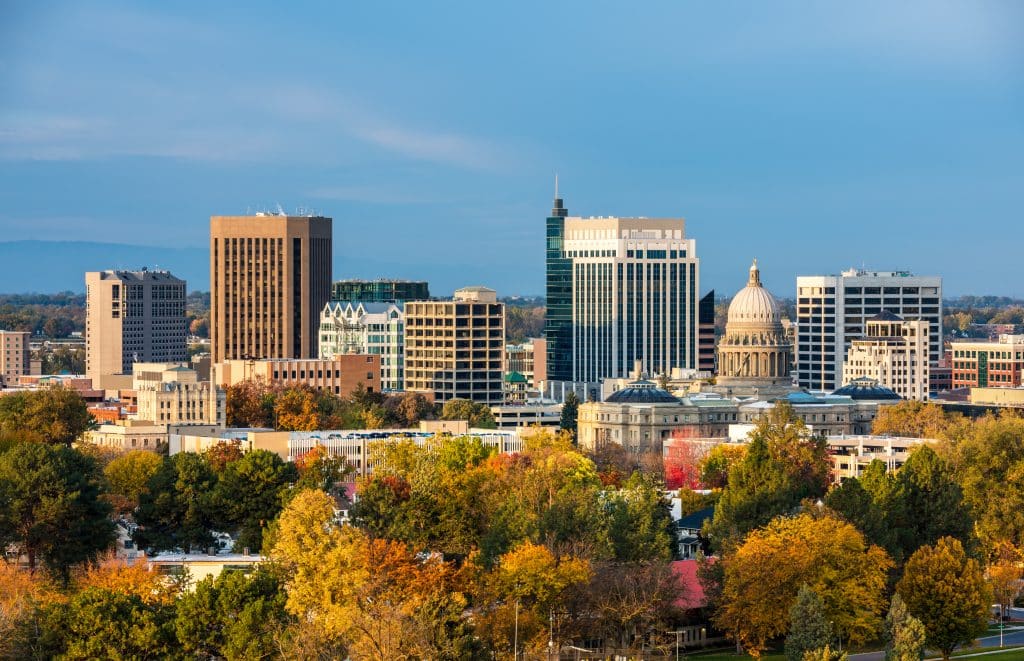 Located in the Western United States, Idaho borders Montana, Wyoming, Nevada, Utah and Oregon and it even shares a small border with Canada. Idaho has a large land mass, ranking 14th in that category. Boise, Idaho is the state capital and fitting to that designation, Boise is the largest city in the state and the most populated.
Boasting a robust population, Boise, ID is home to over 235,000 residents and counting with no indications of slowing down, and with good reason. Boise is ranked #2 in the HOMEIA "Top Ten Places to Live in Idaho" rankings and U.S. News and World Report rated it #11 for the years 2021-2022.
Boise has something to offer everyone, residents and visitors alike. Outdoor enthusiasts can enjoy the Boise Greenbelt, a 25-mile path that allows walking, biking and rollerblading. Other outdoor activities include; horseback riding, boating, rock climbing, kayaking and camping.
Educational opportunities in Boise are many and varied. A variety of elementary, middle grade and high schools are available as well as Boise State University and other local colleges for those seeking to pursue degrees in higher education.
Boise provides all the amenities you would expect in a city of its size with a large variety of restaurants, grocery stores, and professional services. For residents requiring legal assistance after an injury, the Boise personal injury law firm of Siegfried & Jensen provides a full range of legal services to help victims of personal injury recover maximum compensation for their financial losses.
Personal Injury Basics
The average Boise resident has little reason to delve into the ins and outs of personal injury law…until they get hurt and want to seek compensation for their losses. The basic premise of personal injury law is that it is a civil legal system designed as an avenue to allow people who have been hurt due to the negligence of someone else to be made "whole".
Personal injury law is based on the idea of fairness. If you are injured and require medical care, time off work, suffer emotional distress, property damage and other losses, it is considered fair that the at fault party should pay for your expenses and make you whole in every way possible.
What is the Difference Between A Personal Injury Claim and a Personal Injury Lawsuit?
While the terms injury claim and lawsuit are sometimes used interchangeably, they are significantly different and, as a victim, it is important that you know the differences so you can make an educated decision on how to proceed with your case.
A personal injury claim is filed as a demand for compensation from the at-fault party's insurance company. The insurance company assigns an adjuster to the case and negotiations begin. Usually, filing a claim is the first step in seeking compensation, however it is possible to file a lawsuit with the insurance company right from the start.
A personal injury lawsuit is filed with the court and as a civil legal action to pursue compensation directly from the person responsible for your injuries, or from the insurance company. A lawsuit is sometimes a necessary step if negotiations fail to result in a satisfactory settlement. However, due the complicated nature of lawsuits, it is likely in your best interest to do everything you can to arrive at an agreeable settlement without going to court.
Proving Negligence: The Key to a Successful Personal Injury Claim
Whether you choose to file a personal injury claim or lawsuit, it is up to the victim to prove certain things. First, you must prove that the other party's negligence caused the accident. Second, that the accident caused your injuries and losses. Lastly, that the dollar amount you are seeking is fully justified by documented evidence.
If you have been injured in an accident and you are unsure whether or not there is enough evidence to prove negligence, seek legal counsel as soon as possible. A law firm can assess your case and make a recommendation on the best past forward for you and your family.
Personal Injury Cases and Criminal Law
Personal injury claims and suits are a civil matter and are focused on recovering compensation for the victim, not on punishing the defendant. In an extremely serious accident, a civil judge may award punitive damages to the victim but those cases are less common.
Sometimes there may be some overlap between a civil and criminal case. For instance, if a drunk driver causes an accident and injures someone, they may be arrested and tried for breaking the law and in addition, the victim may also seek to recover maximum compensation for their injuries. A criminal case does not prevent a victim from filing a civil claim or suit.
Do I Have To Have A Boise Personal Injury Lawyer to File a Claim?
No. There is no law that requires you to have a Boise personal injury lawyer in order to file a claim, or a lawsuit for that matter. If your accident was very minor and only caused limited injuries resulting in minimal financial losses, you may find that handling the claim yourself will lead to a successful outcome. However, for all other cases, it is likely in your best interest to consult an attorney before agreeing to any settlement offer from an insurance company or an individual. Once you sign a binding agreement, your ability to seek further compensation is eliminated, even if your injuries worsen or more financial losses are discovered.
Boise Personal Injury Attorneys Help Accident Victims
If you or a family member have been injured in an accident due to another person's negligence, it is in your best interest to seek legal advice from a Boise personal injury lawyer as soon as possible. Statistics show that injury victims who seek compensation with the help of legal representation receive substantially higher settlement amounts as opposed to injured victims who attempt to settle on their own.
Why such a difference in settlement amounts? Personal injury lawyers have extensive experience in Boise, Idaho personal injury cases and their experience can help with your settlement in the following ways.
Case Evaluation
Every personal injury claim is different and knowing what your claim is worth takes experienced legal counsel. It is not uncommon for victims who handle their personal injury claim without a legal team to seriously underestimate the amount that may be available to them. Going it alone risks that your personal injury settlement will be less than what you need and deserve.
Not all personal injury cases meet the standard of negligence to be successful. Personal injury attorneys know what the thresholds are and can advise you on how likely it is that you will be successful. Injury lawyers can assess your accident and let you know upfront if you are likely to be successful. Legal representation helps you avoid future disappointment and lost time.
Filing Procedures and Deadlines
The one thing all personal injury cases have in common is paperwork. Your Boise personal injury lawyer will ensure that all forms, claims and paperwork are properly filled out and submitted in a timely manner. Additionally, your legal team will handle all the incoming paperwork related to your case. If you receive something in the mail related to your case, be sure to share it with your Boise personal injury attorney as soon as possible.
Personal injury lawyers are aware that the clock starts ticking on a personal injury claim the day the accident happened. Your experienced personal injury lawyer will keep tabs on all filing deadlines and statutes of limitations related to your case to ensure that they are met. Victims who seek compensation without legal representation do not have this safety net and may find that they are too late to recover any financial damages.
Evidence Collection
Evidence is the key to a successful settlement, without it, your personal injury claim will likely be denied or extremely limited. Your Boise personal injury attorneys will gather all the relevant evidence related to negligence, your injuries and the amount of damages you are seeking. Common evidence collected and presented in personal injury cases includes:
Copies of medical bills

Reports from doctors showing the medical care you received

Medical prognosis from specialists indicating the long-term effects of the accident

Police reports

Cell phone records

Witness statements

Video and photographic evidence

Eyewitness testimony

Reports from accident reconstruction experts

Recorded statement from a medical expert




Boise personal injury lawyers will work hard to collect any and all evidence to support your claim and use that evidence to negotiate a successful settlement or present your evidence to a judge in court.
Settlement Negotiation
It is often in your best interest to negotiate fair compensation with the parties involved in your personal injury claim. Commonly these negotiations involve an insurance company and the insurance adjuster assigned to your personal injury claim.
The insurance company is highly motivated to pay out as little as possible for your injuries and monetary losses. They may even use intimidation and high pressure tactics to get you to settle quickly and for far less than you deserve. The insurance company knows that once you sign a release and accept their offer, you have no recourse and the case is closed, even if the long term effects of your injuries are not yet known.
Boise personal injury attorneys will deal directly with the insurance company and their personnel, shielding you from the stress and confrontation. Your personal injury lawyer will not be intimidated by the insurance company and won't settle for less than the fair compensation you deserve.
When you accept legal services from an experienced personal injury lawyer, your best interests become their best interests. Your personal injury lawyers will fight for you during all negotiations and will use the many resources at their disposal on your behalf.
Court Representation
In the event that maximum compensation cannot be negotiated, you may seek satisfaction by filing a lawsuit. A Boise personal injury attorney is key to a successful outcome in these types of personal injury cases.
Your personal injury lawyer will file court documents, present evidence to prove your claim and represent you in court in front of the judge. Having a personal injury attorney by your side not only gives you confidence and emotional support but ensures that your rights are not violated and that the process proceeds without irregularities.
How Can I Afford A Lawyer When I'm Too Injured To Work?
The days, weeks and months following a personal injury accident can be filled with pain, fear and uncertainty. Not only do victims have to deal with the physical trauma from their injuries but must also manage new routines, a disrupted home life and serious financial stress.
The personal injury attorneys at Siegfried & Jensen understand the pressure an accident places on the whole family. In order to relieve as much of the burden as possible, Siegfried & Jensen offers the following to their clients: 
Free Consultations
If you have been in a personal injury accident and have questions about financial compensation please call us. We are available 24 hours a day to review your claim and the consultation is completely free. You are under no obligation and have absolutely nothing to lose by reaching out for help.
Home Appointments
Personal injuries often make getting to appointments extremely difficult. If after your free consultation, you are interested in legal services, Siegfried & Jensen can schedule an appointment at whatever location is most convenient for you. We are available to meet with you at our office, your home, or even at the hospital.
Contingency Fee Basis
The Boise personal injury law firm of Siegfried & Jensen operates on a contingency fee basis. This means that we only get paid if we win your case. There are no upfront fees and no costs to begin work on your case.
As the injured party, the last thing you need is to worry about mounting legal fees. At Siegfried & Jensen, our goal is to improve your financial situation, not worsen it.
The personal injury lawyers at Siegfried & Jensen are available to help you today. Call (208) 203-8350.
Common Boise ID Personal Injury Case Types and Practice Areas
Boise personal injury lawyers have experience in a variety of case types. These case types are commonly referred to as practice areas. Typical practice areas include but are not limited to:
Motor Vehicle Accidents
Car accidents, truck accidents, motorcycle accidents and commercial trucking crashes happen on Idaho's highways and side streets every day. According to the Idaho Transportation Department the total number of motor vehicle accidents increased from the year 2021 to the year 2022 by 27%. Sadly, the report also shows that fatalities increased by 30% and accidents that resulted in other injuries were up 10% from the previous year.
Many factors play a role in the frequency of automobile accidents and the increasing number of drivers on the road is one of those factors. As the population of Boise grows, it's safe to say, so will the number of accidents.
In addition to the sheer number of drivers on the road, car accidents are also on the rise due to distracted driving. In Idaho, "anything that diverts your attention away from focusing on driving." is considered distracted driving. In fact, Idaho takes distracted driving so seriously that the state has enacted an "Inattentive Driving Law" which encompasses any behavior that takes the driver's attention away from the task at hand is illegal.
Personal injury claims involving distracted driving are likely to be successful due to the negligent nature of distracted driving. Personal injury lawyers are best suited to handle these cases because they can gather evidence that proves the at-fault party's negligence.
Medical Malpractice
When people are sick or injured, they put their trust in the medical establishment and expect to receive a high level of care from the medical professionals, hospital staff, doctors and nurses. Unfortunately, sometimes that trust is misplaced and medical malpractice occurs.
Medical malpractice is a form of negligence by medical staff that causes injury. Medical malpractice can happen by committing a negligent act, or by failing to act and thus causing injury. When treatment by medical professionals fails to meet the accepted standards, it can be considered to be malpractice. That being said, not every medical outcome is positive, not every life can be saved and a poor outcome does not, by itself, indicate medical malpractice unless a mistake was made.
Common malpractice personal injury claims include:
Misdiagnosis and/or delayed diagnosis

Injuries during childbirth

Surgical mistakes

Anesthesia errors

Medication and drug mistakes

Too early discharge from hospital

Lack of follow-up care

Infections due to unsanitary conditions/instruments
Medical malpractice personal injury claims can be extremely complicated and should not be attempted without at least consulting with an experienced personal injury attorney. The medical establishment has tremendous legal resources at their disposal to fight any claims of wrongdoing.
The Boise personal injury lawyers at Siegfried & Jensen believe that the medical establishment should be held accountable for medical negligence. Contact us for help today.
Premises Liability
Business owners have a legal duty to keep their premises free from any hazards that may pose a danger to the public. If an owner fails to meet their duty and someone is injured, they may be found liable and be required to pay for the damages. Examples of premises liability accidents include:
Toxic chemical exposure

Lack of security

Electrocution

Accidental drownings/swimming pool accidents
As with all personal injury cases, premises liability law is based on the concept of negligence. In order to successfully win compensation for your injuries, you must be able to prove that the property owner knew or should have known about a hazardous condition and failed to remedy the situation or failed to warn about the danger with signage.
An accident as seemingly minor as a slip and fall can cause serious injuries that result in significant medical expenses. If you have been hurt due to someone else's negligence, you should not be required to shoulder the financial burden. Businesses must be held accountable for the state of their property and the safety of their customers.
Animal Attacks
Animal attacks and dog bites are often included in premises liability law but experienced personal injury lawyers know that animal attacks are complicated cases and require a practice area all their own.
Animal owners have a legal responsibility to take ordinary care to prevent their dog or other animal from injuring another person. If they fail to take such care, they may be financially liable for the damage their animal causes.
Examples of personal injuries caused by animals include:
Puncture wounds from teeth, claws or nails.

Severe scarring

Infections

Nerve damage

Head injuries from being knocked over

Cuts and abrasions

Amputations

Emotional trauma

Wrongful death
Irresponsible and negligent pet owners can create situations that are dangerous to other people, and their own pets. Personal injury attorneys can help victim's hold these owner's accountable for their neglect of duty.
Nursing Home Abuse & Neglect
When a loved one is no longer able to live in their own home, the difficult decision may be made to move them into an assisted living situation or other care facility. Family members research facilities and find one that suits their needs and budget, with the understanding and trust that their family member will be safe, protected, and well cared for.
Tragically, not all care centers honor the trust we place in them and loved ones can suffer everything from mild neglect to assault and even death.
If you suspect a loved one is being abused or neglected in a nursing home, get them to a safe environment and then contact a personal injury attorney. Facilities that allow neglect and abuse to occur need to be held accountable for their actions.
Wrongful Death
Sadly, wrongful death cases occur in almost all accident types. If you or your family are suffering loss due to another party's negligent actions you may be able to receive compensation. Please contact a Boise, Idaho personal injury lawyer with experience in wrongful death claims. You don't have to work through the process alone. Free consultations are available by contacting Siegfried & Jensen at (208) 203-8350.
Regardless of how a victim is injured, if it is due to another person's reckless or negligent behavior, compensation for medical expenses and other losses may be available.
Additional practice areas include:
Financial Compensation Is Available For Injured Victims
If you were injured due to someone else's negligence and needed medical care, you may be entitled to compensation for your losses. As the injured party, you can file a claim with the insurance company involved or file a suit against an individual or business.
When your injury lawyers estimate the value of your case, they will look at two distinct areas of compensation. Economic damages and non- economic damages.
Economic damages include actual monetary losses that you incurred due to the accident. These types of damages are tangible and easy to prove. Your personal injury attorney will need copies of medical records, bills, pay stubs and other records as evidence of your losses.
Examples of these types of losses include:
Medical Expenses
Hospital and medical bills
Future medical bills
Lost wages
Future lost wages
Property damage
Household services compensation
Non-economic damages are a little trickier to quantify as they are less tangible, sometimes have no paper trail and often aren't associated with actual bills. However, non-economic damages represent real losses to the injured party and an experienced personal injury lawyer will know how to accurately estimate the value of these types of damages.
Examples of non-economic damages include:
Pain and Suffering
Disfigurement
Loss of Enjoyment
Permanent Disability
Suffering loss is hard enough, but when it is due to someone else's bad behavior you shouldn't have to bear the financial burden as well.
Boise Idaho Law Firm Helps Injury Victims
Siegfried & Jensen is a personal injury law firm dedicated to helping accident victims get their lives back. We will help you make sure the at-fault party is held accountable for their actions so that you can move forward and put your life back together. For a free consultation, contact our office today by calling (208) 203-8350.