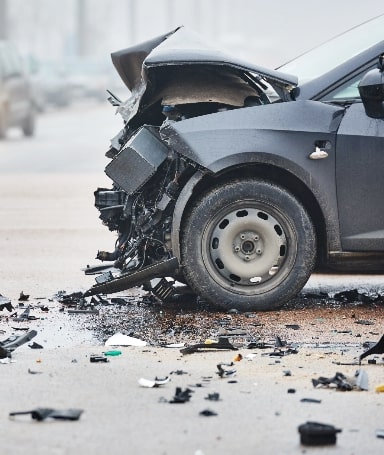 According to the Utah Department of Public Safety, there were over 61,000 automobile crashes in the state during 2021. Close to 27,000 people sustained injuries, and more than 300 people died in those collisions.
The laws governing compensation for damages resulting from car accidents are confusing to most people. Accident victims without legal representation in these claims typically recover much less than those with an experienced car accident attorney on their side.
Siegfried & Jensen can help you with your car accident claim. Our attorneys understand the complex laws and how to navigate them to our client's advantage. We also know the tactics used by insurance companies to avoid paying claims, and we won't let them get away with paying you less than you deserve.
GETTING STARTED IS
FREE AND EASY
Many Utah based law firms charge $300 — $400 / hr to talk on the phone.
With Siegfried & Jensen, your first call is completely FREE and we can usually tell you right over the phone if you have a case or not.
There's no commitment and no pushy sales tactics. Just friendly, English speaking, Utah-based people that can answer your questions…for FREE.
All you have to do is click the button below to schedule your call today.
OVER 34K CASES HANDLED
When deciding to go with an auto accident attorney it is essential to go with a law firm that has experience handling your type of case. We've handled more than 34,000 cases, and you learn a lot by doing something complicated tens of thousands of times.
$1 BILLION FOR OUR CLIENTS
When you're in a car accident there are a lot of bills that people weren't planning on having to pay. That's why the $1 billion dollars that we've won for our clients has been so important. It represents thousands of people who got their lives back.
30 YEARS IN BUSINESS
Even more importantly, it's crucial to work with a law firm that has years of experience. In our 3 decades of business, we have won hundreds (sometimes even thousands) of cases against almost every major insurance company out there. We know what we're doing.
You only pay if we win you money — that's our "Risk-Free Guarantee." Which means you'll never pay out of pocket for anything
Remember: with Siegfried & Jensen, your first call is 100% FREE and we can usually tell you right over the phone if you have a case or not.
On top of that, you'll be protected by our "Risk-Free Guarantee."
It's very simple: we don't get paid unless we win you money.
We are so confident in our ability to win that if we don't get you money then we don't get any money.
You never have to come out of pocket for anything. Even a homeless person can hire Siegfried & Jensen as their auto accident attorney (in fact they have).
Sound too good to be true? It's not.
The reason we are so confident is that we have done this over 34,000 times, have a 97% success rate and have won over $1.2 billion for our clients.
We have no hesitation in banking the success of our business on the successes we get for our clients.
The bottom line? There is literally no downside to seeing if you have a case.
The call is FREE. The consultation is FREE. The first meeting with your attorney is FREE and there's no obligation to hire us by taking advantage of this FREE offer.
Yes, it is.
Which is why, if you want to work with us, we will take care of all the hard work.
Forms, paperwork and waiting on hold? We'll take care of that.
Fighting with adjusters and trained negotiators? That's what we do best!
Your main job is to get better and heal from the car accident.
Let us do the heavy lifting so that you can heal and start getting back to how life was before the accident.
You will have an important role to play in this process: getting better. Your health is the most important part of this journey. While we're doing most of the hard work it is just as important for you to get some rest and recover.
We'll keep you updated throughout the process and when everything is resolved, we'll come back to you with the settlement money you deserve.
Don't want to go to court?
No problem. 9 times out of 10 we can get you money without having to go to court.
When the insurance company picks up the phone and we're on the other end they get serious real fast. They want to avoid going to court almost as much as you do.
Going to court is expensive, time-consuming and there's no guarantee that they'll win.
It is often much better for them to offer a fair settlement without going to court than it is for them to lose the case in court and have to pay the claim anyway.
You are not suing a person, you are suing the insurance company.
People pay car insurance premiums for their entire life to provide protection for themselves and others from the results of an automobile accident.
However, once that accident happens many insurance companies make it difficult for you to get even a fraction of what you need to put your life back together.
You are not ruining someone's life so you can get rich. You are holding the insurance company accountable for promises they made to you.
You just want what's fair. It's our job to help make that happen.
To get your FREE consultation simply give us a call at (801) 845-9000 or click on the button below to schedule a time that's convenient for you. The consultation should only take 7-10 minutes of your time.
Once you get on the phone, our friendly, Utah-based, English speaking staff will ask you a few questions about your car accident to figure out if you have a case. If so we'll invite you to schedule a time to meet with your attorney for a FREE no-obligation consultation.
Motor vehicle collisions can injure you whether you're in a vehicle, a motorcyclist, pedestrian, bicyclist, or scooter rider. There are several things you should do immediately after a crash to protect your health and legal situation as well.
Help Other Accident Victims
If your injuries permit, try to provide assistance to others involved in the accident. Even if you can't actively help them, you'll have details to give to the emergency dispatcher that might save lives.
Dial 911
You have a legal duty to report the accident. Give the 911 operator details about the number of people involved and the types of injuries they have. These details allow dispatchers to send appropriate first responders to the scene.
Take Photos and Videos
You have a unique opportunity to gather potentially crucial evidence. Use your phone to record the accident scene:
Vehicle placement and damage
Injuries
Skid marks
Witness statements and contact information
Your description of the events leading up to the collision
Conversations you have with other drivers, witnesses, and emergency personnel
Accept a Medical Assessment
Accepting medical treatment is critical even if you believe your injuries aren't severe. Some injuries develop over time, and an initial assessment can catch them early. In addition, you'll need these reports to use as evidence in your personal injury claim.
Consult a Car Accident Lawyer
Accident victims can unknowingly damage their cases. Hiring an attorney immediately after your accident can save you from making potentially costly mistakes. The earlier you obtain legal representation, the faster we can get to work gathering evidence and helping you in other ways.
Many things go into determining the amount of compensation you might receive for injuries you sustain in a car accident, including the types of injuries you have and how significantly they impact your life. There are also things you might do that can affect your assigned percentage of blame for the accident and the perception of how severe your injuries are. Insurance companies may try to exploit these mistakes, so be aware that you shouldn't:
Admit any degree of fault to anyone
Speak to insurance company investigators or representatives without your attorney present
Stop medical treatments before your doctors release you
Make social media posts about your accident or injuries
Falsify or attempt to hide or destroy evidence
Your car accident lawyer may give you advice specific to your case.
Like every state, Utah has several laws and statutes that govern handling car accident claims. Even though you may not even be aware of these laws, insurance companies are. They can and do use their knowledge to pay those injured in car accidents less than they deserve.
Don't let that happen to you. Consult Siegfried & Jensen to find out how we can assist you if you've been hurt in a car accident, or if a family member lost their life.
Personal Injury Protection Statute
Utah requires drivers to have 25/65/15 minimum liability insurance coverage:
$25,000 bodily injury, per person
$65,000 bodily injury, per accident
$15,000 property damage
You must also have $3,000 in personal injury protection insurance.
Regardless of who causes a car accident, your own PIP coverage pays for medical and injury-related expenses. However, you can seek compensation from another responsible driver if you have specific kinds of injuries, if the expenses exceed certain limits, and in other circumstances.
Your car accident lawyer from Siegfried & Jensen will tell you the legal options you have to recover damages. We will also help you file insurance claims and negotiate to get maximum compensation for you.
Modified Comparative Negligence
There is more than one person responsible for causing many car accidents. Utah is one of many states that uses modified comparative negligence to determine each person's eligibility to recover compensation for damages.
In Utah:
If the accident is at least 50% your fault, you aren't eligible to recover damages.
Your degree of assigned fault must be lower than other drivers' to seek compensation.
Your percentage of fault reduces the amount of compensation you can receive by that same percentage.
Let's say that parties or the court decide that you are 25% at fault for the accident, and total damages are $100,000. The most you can receive is $75,000 ($100,000 – 25%).
One of the more essential duties your car accident lawyer has is to prove that your responsibility for causing your accident is minimal.
Statutes of Limitations for Lawsuits
You'll need to file insurance claims within a few days of your auto accident. State laws allow specific timeframes if you need to file an additional personal injury or wrongful death claim. If you don't file your suit within the allotted time, the courts will likely dismiss it, and you'll lose the opportunity of receiving compensation.
Any claim against government agencies — only one year after the accident or death date
Personal injury cases — four years from the accident date in most situations
Wrongful death — two years after the death date
Your car accident lawyer from Siegfried & Jensen knows how to file your lawsuit properly, and we will do so before the statute of limitations for your particular case expires. Preparing a claim takes time, so be sure not to wait too long to hire an attorney to represent you.
No Caps for Damages
Car accidents can cause many kinds of harm to victims. Insurance, personal injury, and wrongful death claims seek financial compensation for those damages. Some states put a maximum limit, or cap, on the amount of damages you can recover in car accidents. Utah doesn't have damage caps for these claims.
Ask your car accident lawyer which of these categories applies to your specific claim.
Economic Damages
Car accident victims often face many expenses directly caused by the crash. Economic damages intend to reimburse you for things like:
Medical bills, including transportation costs, prescriptions, rehab, and necessary medical equipment
Caregiver expenses
Lost wages
Property damage repair or replacement
Keep your receipts for all expenses related to your accident and injuries. You'll need to prove what you've paid or how much you owe. Ask your auto accident attorney if you're unsure that a specific expense qualifies.
Non-Economic Damages
Many injuries sustained in motor vehicle collisions qualify the victim for non-economic damages. This category typically doesn't have directly related dollar amounts:
Pain and suffering — physical, emotional, and mental
Inconvenience
Damage to personal relationships
Loss of the capacity to enjoy life
PTSD
Diminished earning capacity
Future medical expenses
Generally speaking, the worse your injuries and their impact, the more money you'll get.
Punitive Damages
Punitive damages seek to punish the guilty party for willful misconduct or extreme negligence. Another aim of punitive damages is to deter people from engaging in these behaviors in the future. Not all car accident claims qualify for punitive damages, so ask your attorney if you're eligible.
People pay monthly premiums to your car insurance company to cover them against losses if there's an accident. You'd think that these carriers would pay claims fairly without someone having to force them, right? Unfortunately, that's not the case.
Insurance is big business; companies care more about keeping their profits than paying injured accident victims or their families. They often use underhanded strategies and lowball offers to keep from paying any more than they have to.
A competent car accident lawyer will prevent insurance companies from taking advantage of you. When you hire an attorney from Siegfried & Jensen, we will:
File all paperwork for you.
Gather evidence to prove your claim.
Serve as your representative with insurance company investigators and attorneys.
Negotiate with insurance carriers to get the compensation you deserve or take your case to court if necessary.
Focus on business so you can focus on recovering from your injuries and the adverse effects they have on your life.
Don't feel guilty for expecting insurance companies to pay a reasonable amount for the damages their policyholder caused. You're not trying to take advantage of the situation, only collect on what's owed.
The vast majority of personal injury cases, including car accident claims, rest on negligence. Let's examine what negligence means from a legal standpoint. In this example, assume that you sustained injuries in a car crash that a driver named John caused. To show negligence, you must prove several things:
John owed you a duty of care (all drivers owe a duty of care to operate their vehicles safely).
John failed to provide the duty of care.
You suffered injuries and accompanying losses.
You would not have sustained these injuries if John hadn't failed in his duty.
John's failure directly caused your injuries.
If you think that sounds confusing, you're not alone. If you don't have a personal injury attorney on your side, you may not understand how important it is to prove John's negligence — and your innocence.
Your car accident lawyer knows what evidence to use and how to gather it; we have resources that you probably don't. Our investigators can:
Speak to witnesses.
Request driver cell phone records to determine if usage contributed to causing the collision.
Obtain surveillance camera footage.
Watch social media accounts to see what the driver posts about the accident or their activities before it happened, such as drinking at a party.
Many factors can contribute to causing a car accident, such as the driver's age and length of time driving, the time of day, weather and road conditions, and mechanical failure. However, human error is typically the most significant reason for car accidents:
Speeding
Weaving between lanes of traffic or other types of reckless behavior
Failing to follow traffic laws
Not yielding the right of way
Fatigued driving
Driving under the influence of drugs or alcohol
Distracted Driving
Many behaviors are considered distracted driving. In this case, a distraction is anything that takes a driver's attention away from focusing on driving and paying attention to traffic and general road conditions:
Texting, talking on the phone, watching videos, scrolling — most kinds of cell phone usage
Applying makeup, fixing hair, or other types of grooming activities
Searching for something in your car
Interacting with passengers
Daydreaming or looking at the scenery or things other than traffic
Eating or drinking
It only takes a moment for dangerous situations to arise when driving. Taking your attention away from the road to do any of these things may mean you won't have the time to address sudden changes and avoid an accident.
Contrary to popular belief, the insurance company is NOT your friend
An insurance company is in business for one reason: to make money. Every penny that they give you is a penny they can't keep in their pockets.
One major insurance company (you would absolutely know their name) has over 72,000 employees which includes over 400 attorneys.
In that group of 72,000 employees are thousands of claims adjusters, skilled negotiators and other professionals that have been trained to minimize the value of your claim and, if possible, eliminate any possibility for you to get any money for your accident – no matter how badly you may need it.
The insurance company does not have your best interest at heart and you should NEVER try to take on the insurance company on your own — let us help you. We've done this over 34,000 times and have a 97% success rate.
You have nothing to lose by picking up
the phone and talking to us
The call is FREE. The consultation is FREE. The initial meeting with an auto accident attorney is FREE. There is no obligation and no pushy sales tactics.
There is literally no downside to you picking up the phone and calling us right now. IT WON'T COST YOU ANYTHING to see if we can help.
If you call and don't end up hiring us then you're no worse off than you are right now.
However, if you do call to find out if you have a case, you will be one enormous step further down the path of getting back to how life was before the accident.
However, if you don't call then there's no telling the type of help we could have provided for you if you'd only taken a couple of minutes to talk with us on the phone.
We've done this over 34,000 times and have won over $1.2 billion dollars for our clients in our 30 years of business. Let us use our decades of experience to help you get your life back on track.
Don't have the time to talk right now? No problem, just click here or below to schedule a time that is convenient for you. We look forward to talking with you soon.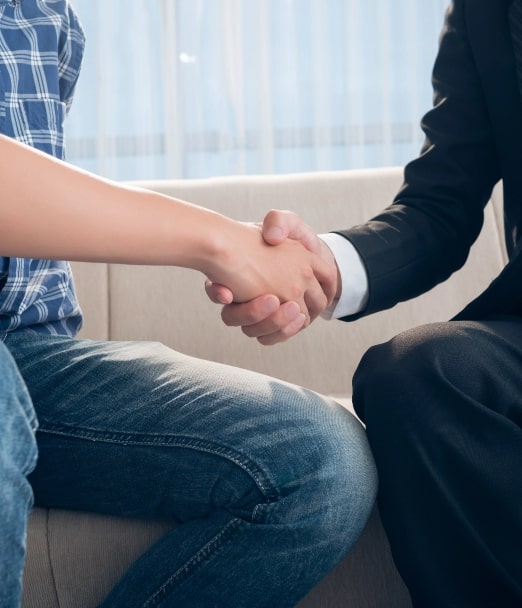 GET THE HELP YOU NEED AND DESERVE
Fighting for you since 1990
97% success rate with over 34,000 cases
Over $1.2 billion recovered for our clients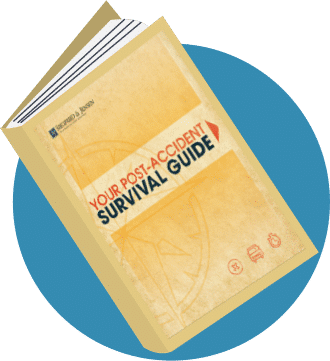 YOUR POST-ACCIDENT SURVIVAL GUIDE EVERYTHING YOU NEED TO KNOW – FREE DOWNLOAD
What to do immediately after
How to find the right attorney
What to do days and weeks later
How to document injuries & get compensated