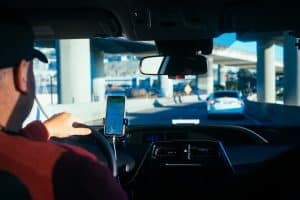 With the sharing economy booming, ridesharing has become the most convenient form of transportation in urban areas with a higher population concentration. Unfortunately, these vehicles are just as susceptible to car crashes as all other vehicles. If you suffered an injury in a car crash involving a rideshare vehicle, recovering compensation for your damages can be complex. However, a rideshare accident lawyer will listen to your collision and injury details and help you choose the right avenue to damage recovery.
What Are the Types of Rideshare Accidents?
Victims of rideshare accidents can suffer injuries in multiple ways. By defining your position in the accident, you can better understand liability and what role that plays in your ability to collect compensation. There are essentially four main ways you can be involved in an accident with a rideshare vehicle:
You are the passenger in the rideshare car when it collides with a vehicle, pedestrian, motorcycle, or object.
You are the driver of another vehicle hit by a rideshare car.
You are the passenger of another vehicle hit by a rideshare car.
You are a bicyclist, motorcyclist, or pedestrian hit by a rideshare car.
In each of these cases, the at-fault party is most likely either the rideshare car driver or the other driver. However, the details of every accident are unique, which is why talking to a rideshare accident lawyer in the aftermath is a great way to get answers to your questions about liability.
Who Pays for Damages in a Rideshare Accident?
Nearly all states mandate a minimum of auto insurance for all operating vehicles and their drivers. However, personal insurance policies are not always applicable in a rideshare accident case. This is because most insurance companies do not allow coverage for private plans to apply if the driver carries passengers in their vehicle in a commercial service capacity.
Covering Your Bases After the Crash
To protect your ability to recover compensation, collect as much information from the scene as possible. Some rideshare drivers attempt to avoid reporting the accident for fear of losing their job. For this reason, the first step after a collision with a rideshare crash is to collect the driver's information. If you are their passenger, screenshot the rideshare app where you booked your ride to have a receipt of the trip. Take photographs of the damages and any injuries on your body, and seek medical attention immediately. Next, call the police and wait for them to investigate the scene so you can get a copy of the accident report. Then you can look into what insurance company should pay for your damages.
Rideshare Company Insurance Coverage
Even though the driver's personal insurance coverage does not apply while they use the ridesharing app, most companies, such as Uber and Lyft, provide coverage for drivers and their passengers while the app is active. For example, the largest rideshare company, Uber, provides the following coverage when the driver is logged into the app and waiting for a ride request:
Property damage coverage in the amount of $25,000
Bodily injury coverage in the amount of $50,000 per person
A cap of $100,000 in bodily injury coverage per accident
Insurance coverage through the company changes when the driver is en route to pick up a rider or in the process of providing a ride. At this time, coverage includes:
Comprehensive and collision coverage for property damage contingent on certain circumstances
Third-party liability coverage up to $1 million
Uninsured/underinsured motorist bodily injury coverage if someone other than the rideshare driver is at fault but does not have sufficient coverage
Keep in mind that ridesharing companies work hard to avoid costly payouts. Unfortunately, they often make it difficult to file a claim or collect on a policy. Thankfully, there are other ways to recover damages in Utah, and a rideshare accident lawyer can help you navigate the claims process.
No-Fault Insurance Coverage
Utah is one of only a few states that adhere to the no-fault auto insurance mandate. This means anyone with a driver's license and a vehicle must purchase a personal injury protection insurance policy to cover the costs of bodily harm in an accident. The minimum requirement for PIP insurance in Utah is $3,000 in coverage. You have the option to purchase a higher threshold policy, meaning you will have more coverage in the event of an accident. If you do not drive, you may still have coverage under a spouse's policy or a household member with PIP insurance.
Through the no-fault auto insurance policy, you can access coverage for your medical expenses. Additionally, if you had to miss work during your recovery, you could also recover a portion of your lost income. If your losses exceed the $3,000 limit, you may then be able to file a lawsuit against the driver responsible for the accident and your injuries. In this case, you may have to battle the rideshare company's insurer, which is significantly less stressful with the help of a rideshare accident lawyer.
What Damages Can You Recover From a Rideshare Accident Lawsuit?
The compensatory damages from a rideshare accident lawsuit are more substantial than what you may collect from PIP coverage. For example, recoverable economic losses include the cost of medical care, lost wages, future lost wages, the repair or replacement of property damaged in the accident, and other applicable expenses, such as transportation costs for medical care, in-home help during recovery, or childcare services if you are unable to care for your children. In addition, you also have access to non-economic damages through civil court. These include pain and suffering, mental anguish, emotional distress, anxiety, loss of the ability to find enjoyment in life, and more. Your rideshare accident attorney will guide you through accurately valuing your losses to ensure you file a fair claim.
What Can a Rideshare Accident Lawyer Do for You?
Collisions involving a rideshare service can be more complex than a standard auto accident case in Utah. As a victim, you likely have questions about your legal options and how you can recover compensation for your losses. Thankfully, personal injury attorneys handle rideshare accident cases regularly and can guide you through the process, helping you understand the steps you should take to get your life back on track. In addition, if you sustained significant injuries, you might want to consider the various advantages a rideshare accident lawyer can benefit your lawsuit:
Adequately valuing your losses, including pain and suffering and other non-economic damages with no inherent financial value
Managing all communications with other parties involved so you can focus on healing
Investigating the accident to collect evidence supporting your losses and your negligence claim
Offering resources, such as access to expert witnesses who can testify to support your claim
Most auto accident cases settle, eliminating the lengthy trial process, and getting to a fair settlement requires understanding the law and strong negotiation skills. At Siegfried and Jensen, our team of lawyers has over 30 years of experience in personal injury law, especially in cases involving auto accidents. We will work with tenacity to protect your rights during the legal process and help you make choices that will better your chances of receiving a fast and adequately valued settlement. Contact us today for more information on how Utah rideshare accident law applies to your case and schedule your free, no-obligation consultation.