Salt Lake City Personal Injury Law Firm
Siegfried & Jensen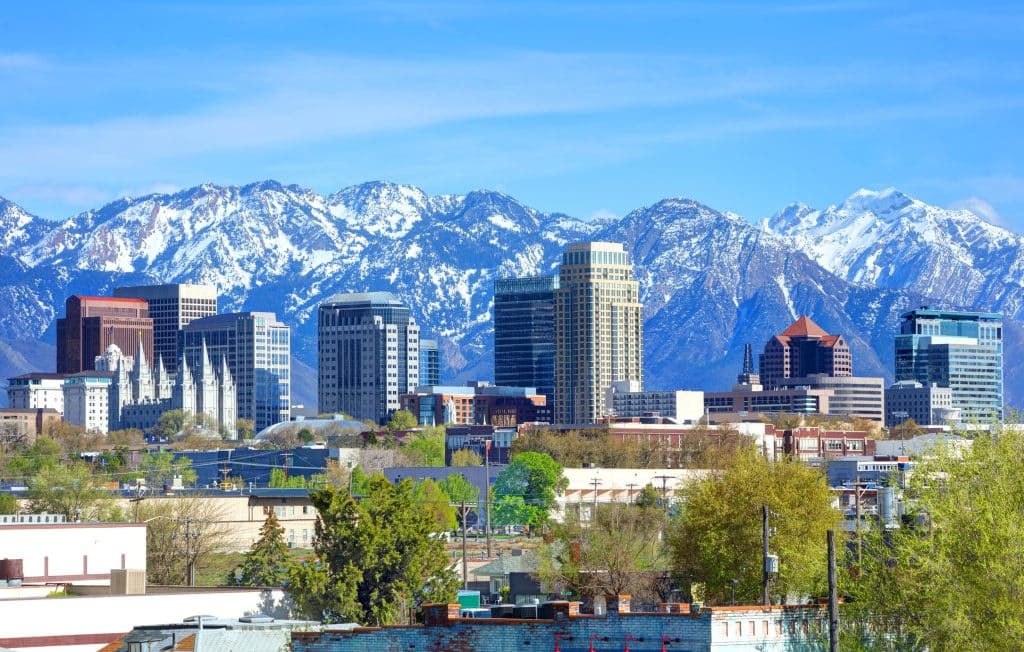 Home to the Utah Jazz professional basketball team, the 2002 Winter Olympics, and over 85 municipal parks, Salt Lake City, UT has something to offer all of its over 200,000 residents. For those who enjoy more cultural pastimes, Salt Lake City offers multiple theaters providing stage plays and other live productions, the Utah Symphony Orchestra, and the world -famous Tabernacle Choir at Temple Square.
An abundance of professional services are located throughout the city to assist residents with all the typical necessities such as home repair, healthcare, education, and legal services.
In a city as densely populated and physically active as Salt Lake City, there are bound to be a fair share of accidents. Salt Lake City personal injury lawyers assist victims of serious injury by providing legal counsel and assistance in personal injury claims and lawsuits.
Siegfried & Jensen is a family law firm dedicated to helping injury victims receive the maximum compensation they deserve for their losses. Serving Salt Lake City, Utah and the surrounding areas, Siegfried & Jensen has a 30 year track record of success with over $1.2 billion recovered for their clients. If you have been injured in an accident and want compensation for your injuries, call a personal injury attorney, call Siegfried & Jensen. (801) 845-2455.
Personal Injury Cases
Not all injuries meet the criteria required to qualify for a legal personal injury. A legal personal injury only exists if the accident was caused by the negligent or wrongful actions of another person or entity.
A personal injury claim is usually filed by a personal injury attorney to demand compensation from an insurance company. Victims are not required to have a personal injury lawyer to file a claim, however, it is often in their best interests to do so. Insurance adjusters are highly motivated to pay as little as possible for a claim. An experienced personal injury lawyer can present the evidence of negligence, show proof of injuries and damages, and negotiate a settlement that is in the best interest of the injured party.
In the event that a fair settlement with the insurance company cannot be made, a personal injury lawsuit can be filed with the court in an attempt to receive financial compensation for the victims losses. As with a personal injury claim, a victim is not required to have a personal injury attorney to file a lawsuit but their chances of success increase if they do so.
In accident scenarios where the defendant does not have insurance, a personal injury lawsuit may be the best way to seek fair compensation.
A personal injury lawyer can evaluate your case and advise you on whether or not it is in your best interest to seek compensation for your losses.
To find out if your injuries qualify for compensation, contact a Salt Lake City personal injury attorney as soon as possible after your accident. Insurance companies often pressure victims to agree to a settlement for far less than it is worth, often before the full value of the case has been discovered. An experienced personal injury lawyer will handle all the insurance company negotiations and will fight for you to receive the maximum compensation you deserve.
Salt Lake City Area Personal Injury Case Types
Personal injury accidents commonly fall into certain case types or practice areas. Not all personal injury attorneys handle all types of cases. For instance, some personal injury attorneys may limit their legal practice to car accidents, or spinal injuries. Other law firms may have the expertise, resources, and experience to handle a wide-variety of cases.
When choosing a personal injury law firm to represent your best interests, it is important to find legal counsel with experience in your case type and a personal injury attorney you feel confident will represent your best interests.
No two accidents are exactly alike and it is important that you contact a personal injury lawyer to discuss the specific details of your case.
Common personal injury practice areas include:
Unfortunately auto accidents happen so frequently they have become one of the most common ways people are injured due to someone else's reckless behavior.
According to the Utah Highway Safety Office dashboard there were over 18,000 motor vehicle accidents in Utah that resulted in injured victims for the year 2021 and tragically, in that same year over 300 people lost their lives in traffic accidents.
Of the over 60,000 total accidents reported in the year 2021, 8,000 were speed related and nearly 6,000 were due to a distracted driver. Both speeding and distracted driving are negligent actions that make the driver liable for the injuries they cause.
Common causes of injury accidents include:
Driving while under the influence of illegal drugs, alcohol, prescription medicines and other chemicals that cause impairment.

Operating a vehicle while talking on the telephone, sending text messages, answering emails and checking social media accounts.

Operating a car while too tired to safely drive.

Reckless driving, driving too fast for the conditions, failure to signal lane changes.
Motor vehicle accidents include car accidents, motorcycle accidents, semi-truck accidents, tractor trailer and commercial trucking accidents and even motorized scooter wrecks.
Injuries from motor vehicle accidents can be among the most severe. Motorcycle accidents in particular can cause catastrophic injuries that may take a lifetime to recover from.
If you have been involved in a car accident or other motor vehicle accident and your injuries were caused by the illegal or negligent behavior of another driver, you deserve just compensation that covers the full extent of your losses.
Siegfried & Jensen is a Salt Lake City personal injury law firm with a solid dedication to helping accident victims who have been harmed by the actions of another party. For over 30 years we have stood by accident victims and fought for justice on their behalf, winning over $1.2 billion and helping victims and their families rebuild their lives.
We know you can feel confident in Siegfried & Jensen's commitment to you and your best interests, but don't just take our word for it. Our website contains many reviews of real clients who are candid about their experience with our law firm.
Salt Lake City, Utah is conveniently located near many bodies of water open to the public for recreational boating. Unfortunately, the popularity of this type of recreation has also increased the occurrence of accidents.
Boating accidents that lead to injuries are caused by the same actions that cause car accidents: Distracted driving, driving while under the influence, and recklessness.
If you have been hurt while boating and it was someone else's fault, you deserve compensation for your losses.
A personal injury attorney can help you file a claim, negotiate with the insurance adjuster and make sure the person responsible is held liable for your losses.
Pedestrians are highly vulnerable to extremely serious injuries if involved in a car accident. Accidents involving pedestrians often lead to brain injuries, spinal cord injuries and worse. With no way to protect themselves, a pedestrian is defenseless against a reckless driver.
Tragically, these accidents often involve both the elderly and the young and even though there are many laws to protect pedestrians, not all drivers obey them. The end result is all too often a life forever changed and sometimes lost forever.
Recovering physically from a pedestrian accident is a full time job. That is why you need a personal injury attorney with the time and resources to dedicate to helping you recover financially while you heal.
Product Liability
Businesses, manufacturers and sellers have a duty to ensure that the products they offer are reasonably safe and free from defects that could harm the consumer. If they fail in this duty they may be found liable for the damages.
Common liability issues with products may include:
Design defects: The product has a faulty design that makes it dangerous to users.

Manufacturing defects: The product has a safe design but has been manufactured or assembled in such a way to cause a hazard.

Marketing defects: The item isn't labeled property, lacks warning information or incomplete instructions which make it dangerous.
Product liability claims can be tricky and most require a skilled personal injury attorney to be successful. Siegfried & Jensen is a personal injury law firm with the experience necessary to handle complicated claims. Our legal team will do the time consuming work required to make sure you get the maximum compensation you deserve. For a free consultation about your case call (801) 845-2455.
Premises Liability
Property owners have a duty to keep their premises reasonably safe from hazards that may cause injury to visitors. Common premises liability cases include:
Swimming pool accidents

Toxic chemicals or fumes

Inadequate security
Not all injuries that occur are the fault of the property owner, but if the owner failed in their duty to keep their property safe or post signs warning of possible danger areas, they may be liable for the injured parties medical bills.
Slip and Fall
Slip and fall accidents can have serious consequences that may result in extensive medical bills, lost wages due to time away from work, or even permanent disability. If you have been injured in a slip and fall accident in Salt Lake City, Utah, it is important to be aware of your rights under the law.
In Utah, property owners and tenants have a responsibility to keep their property safe for those who may enter. This includes removing or repairing hazardous conditions that could cause someone to slip and fall. If an individual is injured as the result of a hazardous condition on someone's property, they may be able to pursue legal action against the responsible party in order to obtain compensation for their injuries.
It is important to note that in order to be eligible for compensation, the injured party must be able to prove that the responsible party knew about the hazardous condition on their property and failed to take reasonable steps to repair it. Evidence such as photographs of the scene, witness statements, and medical records can all be used to strengthen a case.
It is also important for individuals who have been injured in slip and fall accidents to seek the advice of an experienced slip and fall lawyer. At Siegfried & Jensen, our attorneys can review the details of your case and advise you on how best to proceed with pursuing legal action against the responsible party. We understand the impact of slip and fall accidents on individuals and their families, and we are here to help.
If you or someone you love has been injured in a slip and fall accident in Salt Lake City, Utah, contact Siegfried & Jensen today for a free case evaluation. We will review your case and discuss your legal options with you to ensure that you get the compensation you deserve.
Workplace Accidents
All jobs carry an inherent risk of injury, even if the risk is very small. Typically injuries at the workplace are covered by the employer's worker's compensation insurance. In Utah, employers are required to carry insurance for all of their employees and in most cases this coverage is adequate to cover any injuries, that is if the claim is not denied.
If your workplace injury is very serious, complicated, or involves a questionable scenario, it is to your benefit to contact Siegfried & Jensen for a free consultation about your case. Siegfried & Jensen can look at your medical bills, lost wages, and medical records and help you file your claim. There are no upfront fees so you have nothing to lose by consulting the attorneys at Siegfried & Jensen about your case.
Medical Malpractice
When we are injured, sick or otherwise need help, we trust that medical providers will take care of us and provide a high standard of care. Unfortunately, that is not always the case. When the medical standard of care is not met and we are injured further due to negligence of a healthcare provider, it is considered medical malpractice.
Types of medical malpractice include but are not limited to:
Misdiagnoses

Lack of follow-up

Prescription mistakes
Medical mistakes can cause further pain and injury, delay recovery and even lead to a loved one's death.
At Siegfried & Jensen we believe that the medical establishment needs to be held accountable for their mistakes and negligence just like everybody else. If you believe you have suffered from medical negligence you deserve just compensation for your losses and medical expenses.
Losing a loved one in an accident is heartbreaking. When the accident is due to someone else's negligent or intentional actions, the pain is magnified. If you have lost a family member due to another person's actions a lawsuit can help you hold the at-fault party accountable for their actions.
At Siegfried & Jensen we know that no amount of compensation can begin to ease the pain of your loss. What a settlement can do is ease the financial burden placed on you and your family and bring some peace of mind that the person responsible was made to pay for their actions.
Utah law stipulates that a wrongful death suit can be filed by the deceased person's heirs or an executor of the estate. Individuals able to file a wrongful death claim in Utah include:
A spouse

Children, including adopted children

Parent or parents

Stepchildren if they are under 18 and were financially reliant on the person who passed

If none of the above are alive, other blood relatives may file a suit.
If you have lost a loved one due to the actions of another, you don't have to fight alone. At Siegfried & Jensen we practice law so we can help people just like you get justice on behalf of their loved ones. We are available 24 hours a day, 7 days a week to answer your questions. Don't hesitate to reach out for help from an attorney who cares.
Motorcycle accidents have become increasingly frequent in Salt Lake City, Utah. According to the National Highway Traffic Safety Administration (NHTSA), motorcyclist fatalities have risen by nearly 50% since 2017 in the state of Utah as a whole. While many of these fatalities occur on highways and rural roads, there is also an alarming number that happen within the city limits of Salt Lake City.
When it comes to the causes of motorcycle accidents in Salt Lake City, there are several common factors that have been identified. The most common causes include, but not limited to:
Impaired driving – either through the use of alcohol or drugs
Distracted driving.
Speeding.
Inclement weather conditions.
Poor road conditions.
Defective vehicle parts, and mechanical failures.
No matter the cause, motorcycle accidents can have devastating consequences. In addition to physical and emotional pain, victims of these accidents often incur hefty medical bills and property damage costs. If you or a loved one have been injured in a motorcycle accident, it is important to seek legal counsel from an experienced car accident lawyer. They can help you understand your rights and receive the compensation you deserve for your losses and suffering.
At Siegfried & Jensen, our experienced car accident attorneys are here to fight on your behalf to get you the compensation you are entitled to after your accident. Our team of seasoned attorneys will work tirelessly to make sure that you are taken care of and informed every step of the way. We understand how difficult and challenging this time can be, so call us today for a free consultation or visit our website to get started with your case.
Salt Lake City, Utah, is home to a large number of trucking companies and drivers, making it an area particularly prone to truck accidents. Unfortunately, these types of collisions can cause significant damage, both physically and financially. Victims of truck accidents in Salt Lake City may face serious injuries such as:
Traumatic brain injury (TBI)
Broken bones
Spinal cord damage
Internal organ damage
Burns
Emotional pain and suffering
In addition to the medical bills that typically accompany these injuries, truck accident victims may also be left with expensive property damages as well as lost wages from time away from work. These types of accidents can be caused by a variety of different factors, including driver fatigue or impairment, improper maintenance of the truck or cargo, inclement weather, or driver negligence.
No matter the cause of your truck accident in Salt Lake City, it is important to contact an experienced truck accident lawyer who can help you receive the compensation and care that you deserve. At Siegfried & Jensen, our experienced lawyers can investigate the accident and determine what caused it, allowing us to build a strong case on your behalf.  We fight hard to ensure that you are justly compensated for your medical bills, lost wages, and other damages.
You do not have to go through this process alone, we can help you get the justice and compensation that you deserve. Contact us today for a free consultation, and let us help you move forward from this difficult situation.
Personal Injury Compensation
The amount of compensation you will receive for your claim or lawsuit depends on the specifics of your case and the extent of your injuries. A personal injury attorney can evaluate your case and give you an estimate on what it may be worth.
Generally speaking, personal injury compensation consists of:
Medical Bills

Lost Wages

Future Medical Care

Future Lost Wages

Pain and Suffering

Disability
Additional compensation for a wrongful death includes:
Funeral and Burial Expenses

Loss of Companionship

Pain and Suffering

All Medical Expenses

Loss of Support
Your attorneys will use evidence to justify the amount of your claim. Medical records, medical bills, expert testimony and other forms of evidence will prove the full compensation that you deserve.
Siegfried & Jensen Helps Victims
Siegfried & Jensen is a full service law firm that represents victims of accidents caused by negligence. The law is on your side, you need a team of attorneys to make sure justice is served on your behalf. To schedule your free consultation call (801) 845-2455.
Salt Lake Office
5664 S Green Street
Salt Lake City UT 84123
Get Directions