30 Years
of fighting for you
Over 35,000
satisfied clients
Over $1.2 billion
recovered for our clients
Free Case Review 24 Hours a Day
Call us for FREE. We can probably tell you right over the phone if you have a case.
With us, you never come out of pocket for anything.
Call the number below for your FREE Case Review.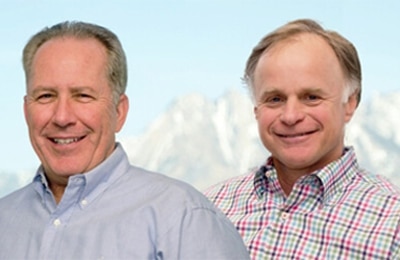 Ned Siegfried and Mitch Jensen joined together to start Siegfried & Jensen in 1990.
Siegfried & Jensen has 15 attorneys and a total staff of 75 experienced and dedicated professionals that are eager to help injured people like yourself.
We're here to help YOU get the money you deserve so you can pay your medical bills, fix your car and get back to the way your life was before your accident.
Let me let you in on a secret… The insurance company is NOT your friend.
They may play nice and pretend to be on your side… But as soon as you're injured in a car accident, they're interested in one thing and one thing only:
Minimizing your claim and paying you as little as possible. 
They do this by giving you the runaround… Telling you the accident was your fault (even when it really wasn't!)… Or just throwing so many hurdles in your way that you give up and go away.
All of this can make your life extremely stressful with mounting medical bills…
A wrecked car and being able to work… Not to mention constant pain and limitations from your injuries.
That's why we've made your first call FREE—and you never have to pay for anything out of your pocket if we handle your case.
You see, getting an attorney is one of the most important things you can do when you get injured in a car accident.
The reason is:
Men & women who hire an auto accident attorney often get as much as 3X more money from their insurance claim than those who don't.
I'm proud to say, Siegfried & Jensen has helped car accident victims in Utah get the money they deserve for over 30 Years.
We've helped more than 35,000 men & women just like yourself, with a 97% success rate.
Which means we're able to win (or get a settlement from the insurance company) in 97%of the claims we handle. In total, we've helped car accidents victims in Utah recover more than $1 billion in accident claims to date.
And today we're here to help YOU.
We have experience working with all kinds of clients, and we know how scary getting a lawyer can be.
That's why we want to make the process as easy as possible for you.
Here at Siegfried & Jensen:
Your first call is FREE
You will never pay anything out of pocket (we only get paid if we WIN you money!)
And we take care of all the phone calls and paperwork for you—you just focus on getting better
If we end up handling your case, I want you to rest assured… You will never have to pay anything out of pocket.
We only get paid if we win your case… our attorney fees come out of your insurance recovery.
That way, you can literally work with us risk-free… And get the insurance money you deserve for the injuries you've suffered.
You don't have to worry about going to court… Because in 97 out of 100 cases, we get the insurance company to settle out of court.
Here at Siegfried & Jensen, we've fought this battle thousands of times. And trust me—it is always a battle with insurance companies.
If you want to get the money you deserve, there's going to be a lot of lengthy phone calls… paperwork… investigations… and negotiations that you'll have to slog through if you decide to handle your case on your own.
If you want our help, we'll handle all of that for you.
When you hire us, we'll handle all of the phone calls, paperwork, investigations, legal work and negotiations that need to be done.
Feel free to call us as often as you'd like for updates on your case… Other than that, your job is to see your doctor(s), and recover from your injuries. Let us do the rest for you.
When we resolve your case, you'll get your money within a few days.
And finally…
You'll be able to pay your bills and move forward with your life, leaving this "headache" behind you.
I know that getting a lawyer sounds scary and a little overwhelming…
But in reality, it's very easy!
Remember: in this process, we're NOT fighting with the person you got in the accident with…
We're fighting with their insurance company who promised they would be there when an accident happened…
With us on your side, all you have to do is get the appropriate medical treatment and recover as quickly as possible.
In our 30+ years of experience, we've seen pretty much every insurance tactic designed to minimize the value of people's injury claims.
We know how to deal with all of the insurance companies' self-serving tactics.
So click the button below and get started today!
Testimonials
See what our past clients had to say
"At one of the most overwhelming times in our life, Siegfried and Jensen came to the rescue. While we were concentrating on getting our child better, they were working hard to make it right. Would and HAVE recommended Siegfried and Jensen to others. Thank you for everything!"
"Ten stars out of five stars for service. I was hit by a driver that failed to yield to me. Totaled my car, I had no job, very little money and was absolutely terrified as to what I should do next. I hired Steve Jensen as my attorney, I had months of chiro, and had to get an MRI. Steve got me the settlement I wanted and then some. His partner Lisa Kuhni did an incredible job. I would strongly advise giving Siegfried and Jensen a look. It changed my life."
"Siegfried and Jensen is a high quality firm. If you want a professional team on your side after an injury, choose them. I was seriously injured riding my road bike because of the negligence of another. Randy Payne, Esq. of S&J handled my case. He worked carefully and methodically to gather evidence, document third party opinions and videotape testimony before crafting a demand letter. The insurance company responded very quickly, agreeing to an out of court settlement."
Your post-accident survival guide
Everything you need to know – FREE Download
What to do immediately after
What to do days and weeks later
How to find the right attorney
How to document injuries & get compensated