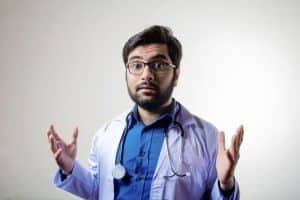 People trust medical professionals to care for them in their most vulnerable state. However, doctors are not immune to mistakes, and sometimes they make choices that result in harm or even death to their patients. If you suffered an injury or lost someone you love because of a healthcare professional's negligence, Utah civil court allows you an avenue through personal injury law to seek compensation for your losses. While you are entirely within your rights to represent yourself, your chances of a desired outcome are significantly better with the help of a medical malpractice lawyer.
What Are Common Examples of Medical Malpractice?
Medical malpractice occurs when a healthcare professional delivers improper care to a patient, causing harm or even death. Mistakes can happen without the patient's knowledge, but some negligence is apparent and typically results in a lawsuit. Examples include:
Anesthesia errors occur when a doctor administers the wrong anesthesia medication or dosage, resulting in harm to the patient. These are among the most severe malpractice claims.
Misdiagnosis is the most common type of malpractice and can be complex. It involves a doctor failing to diagnose a patient properly or delaying the diagnosis of a patient, causing them harm.
Surgical procedure mistakes can be a variety of specific incidents, including puncturing a vital organ, leaving tools in the patient's body, or failing to follow the standard of post-op care carefully. Operating on the wrong patient or wrong body parts are other apparent examples.
Medication errors can be deadly. Administering or prescribing the wrong medication to a patient or the right medication in the wrong dosage are common examples.
Childbirth injuries are among the most common malpractice complaints. These can be injuries to the mother or baby during pregnancy or birth. Common examples include brain injuries and broken bones inflicted on the baby during delivery or failure to recognize a medical condition in the mother.
There is no comprehensive list of malpractice examples. Medical staff can be held accountable for any misconduct, including neglecting or abusing patients under their constant care. If you suffered an injury while under the supervision of a medical professional, speak with a medical malpractice lawyer about the details of your case and the potential for compensation.
Potentially Liable Parties
Liability in a medical malpractice lawsuit can be complex. For example, the defendant can be a hospital or clinic rather than an individual. A hospital can be directly liable for misconduct or indirectly responsible for the negligent actions of an employee, including doctors, nurses, and other medical staff. A pharmacist can be liable for distributing the wrong medication or the wrong dosage of the medication prescribed to you.
You may even hold a pharmaceutical company responsible for a drug that caused you injury. These cases are particularly complex because these companies have vast legal resources. However, you can also expect to find other patients who suffered similar adverse reactions and strengthen your case with numbers.
Unfortunately, holding a negligent medical professional liable can be extremely difficult. The burden of proof falls entirely on the plaintiff, and the stakes are very high for the defendant. For that reason, allegations are always aggressively contested. As a result, victims of malpractice need an attorney to help them build a strong case.
What Utah Laws Apply to Medical Malpractice Lawsuits?
Before you pursue legal discourse for malpractice in Utah, it is important to understand the laws that would apply to your case. For example, suppose you are part of an incident involving anesthesia errors or misdiagnosis. In that case, you only have two years to file a lawsuit, starting from when you discovered the mistake or should have reasonably discovered it. Utah's statute of repose law places further limitations saying that no legal action can be taken past four years since the error occurred.
Another crucial law to consider is the notice of intent, which requires the patient to provide the healthcare provider with a 90-day notice of their intention to take legal action. It should also include the details of the incident, identification of the accused providers, specifics about the allegations, and the extent of the patient's injuries. As of 2019, Utah's previous law requiring an affidavit of merit, which was a statement from another healthcare provider saying the defendant's actions did not meet the medical standard of care, is no longer required to carry on with a medical malpractice suit. The Utah Supreme Court deemed this action unconstitutional.
What Damages Can You Recover From a Medical Malpractice Case?
Personal losses can be substantial when you suffer an injury from medical misconduct. The court recognizes these losses as damages and makes them financially recoverable. The two types of damages in any personal injury case are compensatory, which consist of economic and non-economic damages, and punitive. In Utah, the law caps the amount of certain types of damages from a medical malpractice case, namely non-economic damages.
Economic Damages
Economic damages are the financial losses associated with your injuries. They have specific values and objective, tangible evidence to prove that value. Examples include:
Your medical expenses. The medical bills for treatments, medications, medical visits, and necessary devices are all fully recoverable.
Loss of income. If your injury temporarily inhibited your ability to work or caused a permanent disability, hindering your ability to do the job you did before, you can recover the lost income.
All other related expenses. If you need help caring for your children at home or have to pay for transportation back and forth for doctor's visits, you can claim those expenses and any others directly related to your injuries. Even modifications to your home to accommodate medical devices could be recoverable.
Proving these expenses requires collecting bills and receipts. This process can be time-consuming, particularly gathering evidence for future medical needs. Still, you can start collecting and storing evidence immediately to share with your attorney.
Non-Economic Damages
Utah law places a $450,000 cap on non-economic damages in a medical malpractice case. These damages generally refer to the psychological impact of the healthcare professional's misconduct and your resulting injuries. Examples include:
Pain and suffering endured from your physical injuries
Mental anguish and emotional distress
Mood-altering disorders, such as anxiety, depression, and post-traumatic stress disorder
Disability
Disfigurement
Non-economic damages are more challenging to prove. As a result, a medical malpractice lawyer will typically use a combination of tactics to assign value to these losses. For example, they may interview expert witnesses in different fields of psychology and talk to those closest to you to gather statements about how the incident affected your daily life.
Punitive Damages
Utah places no cap on punitive damages, which do not compensate for financial or psychological losses. Instead, the court may use punitive damages as a form of punishment for gross negligence or malicious intent. The amount you can receive is based on the extent of your injury and damages and the defendant's financial status, including income and liquid assets.
Wrongful Death Damages
Any medical malpractice can lead to a wrongful death lawsuit if the victim dies due to the healthcare professional's misconduct. For example, anesthesia errors and birth injuries can commonly result in the death of a patient. In this case, a family member or representative can sue for recovery of medical expenses, funeral and burial costs, loss of companionship, loss of inheritance and income if the deceased was a primary provider to the plaintiff, and even loss of love and nurturing.
What Are the Advantages of Hiring a Medical Malpractice Lawyer?
Proving negligence in a medical malpractice case is typically challenging, and the only way to recover compensation is to demonstrate that the healthcare professional is liable for your injuries. Additionally, specific procedural requirements for this type of case would be challenging for someone with no legal experience to handle. If you are still unsure about speaking to medical malpractice lawyer about your case, consider some advantages of having legal representation during this time:
They handle all communications with defense attorneys and insurance companies.
They have the expertise needed to prepare a negligence claim backed by evidence.
They will investigate your incident using the help of experts in the relative field to collect the evidence needed to prove your claim.
They collect statements from witnesses and conduct depositions to build your case.
They use the evidence to negotiate a fair settlement or take your case to trial.
They are a professional presence during proceedings and court to provide an objective perspective to an emotionally charged situation.
They offer compassionate support to help you get your life back on track after a substantial loss.
If you or a loved one suffered harm because of a medical professional's misconduct, the medical malpractice lawyers at Siegfried and Jensen have the specialized expertise you need to build a case strong enough to recover compensation. Given the statute of limitations in Utah, there is no time for delays, and our team is ready and available to listen to the details of your incident. We will answer any questions you have about legal recourse. Contact Siegfried and Jensen today to schedule your risk-free case evaluation.