Washington Personal Injury Law Firm
Siegfried & Jensen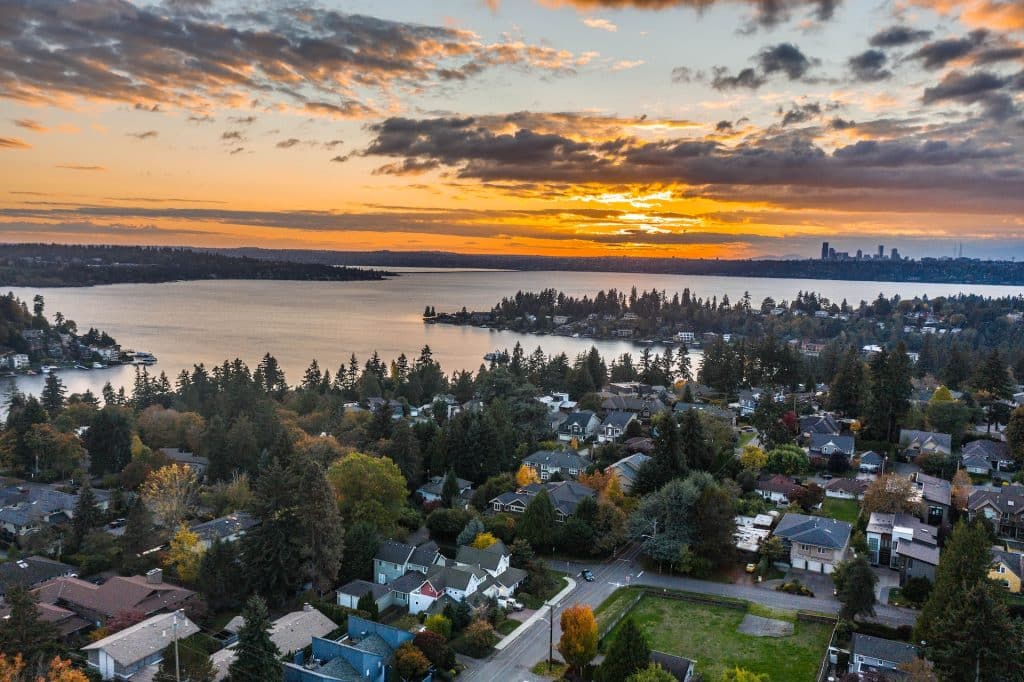 Arguably the most beautiful state in the Pacific Northwest, Washington State has a lot to offer in the way of natural resources, technology and thriving urban centers.
Western Washington offers a Mediterranean climate with moisture in the spring, fall and winter but relatively dry summers and mild temperatures year round.
On the other side of the Cascade mountains is Eastern Washington, which provides a semi-arid climate, much drier than its western neighbor. Agriculture in this part of the state is supported by dams and irrigation.
Washington State has 490 cities and towns, Seattle is the largest and Olympia is the state's capital. Other notable cities include: Spokane, Tacoma and Vancouver.
With a steady growth rate and a current population of over 7.7 million residents, Washington State has all the services, amenities, and outdoor recreational opportunities that you would expect in a state of its size.
Unfortunately, the large population also means that Washington State has its fair share of personal injuries.
Washington personal injury attorneys help people who have been injured by holding the responsible party financially accountable for their negligence and the resulting damages. Victims can seek financial compensation for their losses by filing a personal injury claim or personal injury lawsuit.
Personal Injury Basics
A working knowledge of the personal injury legal system is not at the forefront of most people's mind, that is, until they are in an accident due to someone else's negligence.
Understanding the basic principles and laws that govern personal injury cases can help you make the best decisions for yourself and your family following an accident.
Personal Injury and Negligence
Negligence is a legal term that personal injury law is built around. If your accident didn't involve the negligence of another party, then it is an unfortunate accident, not a personal injury case.
Negligence is found when a person fails to exercise reasonable care and injuries another person.
Proving Negligence
In order to recover damages in a personal injury claim or lawsuit, you must be able to show that the negligent party had:
A duty to reasonable care

A failure to exercise reasonable care

Their failure resulted in your injuries

Your injuries caused financial and/or other damages or losses
Establishing negligence is the key to a successful personal injury claim negotiation or personal injury lawsuit.
Personal Injury Claims
A claim for personal injury compensation can be filed with an individual, an entity or with a related insurance company. Typically, a demand letter is sent to the appropriate party requesting financial compensation for damages. Evidence is presented and the claim is settled, negotiated or denied.
Personal Injury Lawsuits
A personal injury lawsuit is usually filed when a fair settlement cannot be negotiated and it is in the best interest of the victim to pursue compensation in civil court. A judge and/or jury will consider the evidence and decide the amount of compensation that is to be awarded to the victim.
Do I Have to Have a Washington Personal Injury Lawyer to File a Claim?
You do not have to have a personal injury attorney to file a claim, but it is likely in your best interest to do so.
Negligent parties that are named in claims and lawsuits will likely have legal professionals and trial lawyers handling their defense, and you deserve the same.
The negligent party's attorney will try to settle for nothing, or at least as little as possible.
Your Washington personal injury lawyer or personal injury law firm works for you and is dedicated to seeking justice on your behalf and ensuring you get maximum compensation for your injuries.
At Siegfried & Jensen we have dedicated our legal career to helping accident victims successfully settle insurance claims and recover compensation for their medical costs. Our number one priority is helping you take the legal recourse necessary to hold the negligent party accountable for their actions.
How Much Does A Personal Injury Lawyer Cost?
The days, weeks, and months following a serious injury accident can be filled with physical pain and emotional turmoil. A victim may be unable to work and the thought of adding legal expenses to the mounting medical bills can be daunting.
The personal injury attorneys at Siegfried & Jensen understand the financial burden that an accident can put on a family, especially one caused by another person's negligence.
You can have access to an experienced attorney at Siegfried & Jensen with no additional financial risk by taking advantage of the following:
Free Case Consultation
After an accident you are bound to have lots of questions. What you need are answers. Not another bill. We offer accident victims a free consultation where you can discuss your case with a personal injury lawyer and decide what is best for you and your family moving forward.
Not all personal injury claims meet the standard of evidence required to be successful. We will evaluate your claim and the specifics of your case and determine whether it has merit. This saves you time and money.
No Upfront Fees
If it's determined that your case has merit and is in your best interest to proceed with a claim, our team will get started immediately, no fees or down payment required.
Contingency Fee Basis
Most personal injury attorneys work on a contingency fee basis. This means that the personal injury attorney fee depends on, or is contingent to winning your case. In short, if your personal injury attorney doesn't win you compensation for your injuries, you don't pay.
Personal injury lawyers that get paid on a contingency basis are extremely motivated to get you the maximum compensation allowed for your injuries. If they fail to win your case, you don't pay. It's that simple.
Contact Siegfried & Jensen to schedule your free consultation today.
Typical Compensation Available Through Personal Injury Law
Personal injury cases all begin with a unique set of circumstances that will determine the specific amount of compensation available to you. The severity of the accident, the evidence, prognosis and degree of negligence all have a factor in the final dollar amount of a settlement.
Economic Damages
Economic damages are the real tangible losses that are suffered in an accident. These losses are fairly easy to calculate and provide evidence for as most of them have a dollar amount already attached. Economic damages may include:
Medical Expenses

Lost Wages

Future Lost Wages

Property Damage
Non-Economic Damages
Non-economic damages are subjective and non-monetary in nature, making them more complicated to estimate and prove. However, non-economic damages are worth pursuing and often exceed the amount awarded for economic damages.
A Washington personal injury attorney can investigate your claim to make sure you are not missing out on any compensation that you are rightfully entitled to.
Non-economic damages may include:
Pain and Suffering

Mental Anguish

PTSD

Disability

Loss of Enjoyment

Loss of Consortium
Punitive Damages
Punitive damages are awarded in a personal injury lawsuit, not to compensate the victim for losses, but to punish the responsible party. Punitive damages are usually only awarded if the negligence was particularly callous and there was extreme disregard for life.
Wrongful Death Damages
In the tragic event that an accident results in loss of life, additional damages may be sought after and awarded to the surviving family members. These additional damages may include:
Funeral and Burial Expenses

Loss of Financial Contribution

Emotional Distress of Survivors

Loss of Inheritance

Loss of Companionship
Can I Be Compensated If I Was Partly To Blame?
In some car crashes and other incidents, both parties may be partly to blame for the wreck. If this is found to be the case, you are still entitled to compensation.
Washington State is a pure comparative fault state, which means that the amount awarded as compensation is reduced by the percentage it is found that the claimant was at fault.
For instance, if you are found to be 50% at fault for the accident, your settlement will be reduced by that amount.
The State of Washington Practice Areas
Serious injuries can occur in a wide variety of circumstances and if you have been injured due to negligence, it is important that you find a lawyer who is experienced in the type of injury law that is well suited to your case.
Some injury lawyers finish law school and decide to specialize in one practice area, while others may have the resources and experience to handle a broader variety of cases.
Hiring a law firm with a complete legal team and support staff, including trial lawyers, is always a smart decision.
Common personal injury practice areas include:
Motor Vehicle Accidents
Motor vehicle accidents are the most common personal injury case type. Motor vehicle accidents include, car accidents, commercial trucking accidents, motorcycle crashes, semi-truck wrecks, boating accidents and pedestrian vs car accidents.
If you have been injured in a car accident seek medical attention immediately, and then contact an attorney. A high percentage of motor vehicle crashes involve distracted driving, driving under the influence or other forms of negligence.
Medical Malpractice
Suffering an injury due to a medical mistake is particularly traumatic because we put so much trust in the medical establishment, and when that trust is broken by negligence, the results can be life-changing.
Taking on the medical establishment for compensation after an error can be daunting. An experienced Washington State attorney can help you through the process and give you the legal and emotional support you need to be successful in settling your claim.
Wrongful Death Cases
A wrongful death can occur in any accident. These complicated and sensitive cases are best handled by a skilled, compassionate attorney who will make sure the family of the deceased is fully compensated for their tragic loss.
Dog Bites
When man's best friend turns out to be anything but; it is often due to the negligence of the dog owner. If you have been injured by an animal that was allowed to roam free, was known to be aggressive, or was clearly unprovoked, you may be able to receive compensation for your injuries. It is important to hold dog owners accountable for their lax and negligent behavior.
Product Liability
Not every product that makes it onto store shelves is safe. Problems with packaging, labeling, manufacturing and shipping can create a hazardous product that endangers the health and well-being of the public.
Liability for injuries due to faulty products can be assigned to the engineer, packing company, manufacturer and in some cases, the store owner. You shouldn't have to pay for someone else's negligent behavior.
Traumatic Brain Injuries
When someone suffers a catastrophic brain injury, it can affect their life and their family's life far into the foreseeable future. Compensation for these types of injuries is best achieved by a personal injury lawyer who understands the long lasting effects of such an injury and will fight for a settlement that includes the current and future needs of the victim.
Contact Siegfried & Jensen In Washington Today
Serving residents of Washington, the law office of Siegfried & Jensen can help you recover the damages you suffered as the result of negligent actions.
Our team of lawyers have over 30 years experience and have won over $1.2 billion for our clients.
We are committed to helping accident victims settle their claim for the maximum amount they are due. Our lawyers will fight for you and your family to be made whole again.
Contact the personal injury law office of Siegfried & Jensen to schedule your free case review at (801) 845-9000 or visit our contact page.
Our lawyers are here to help you with your claim 24 hours a day, 7 days a week.