Your trusted Semi-truck Accident Attorneys in Utah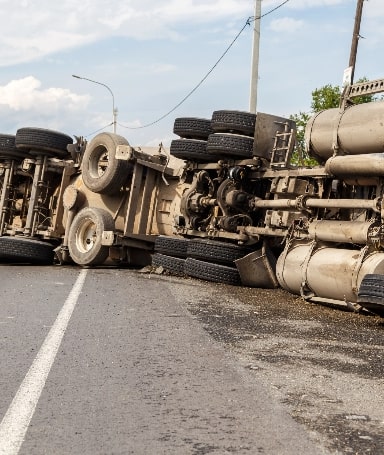 A big truck accident can happen any time of day or night. Even low-speed, low-impact collisions cause serious injuries or death. Find out below how Siegfried & Jensen's semi-truck accident attorneys can help you.
The most recent U.S. Department of Transportation statistics show that in 2014, there were 11 people a day killed and 304 people a day injured by semi trucks (includes information updated in May 2016).
Why so many? Too often, drivers and companies bend or ignore safety rules and regulations in order to increase profits.
Don't let companies put their finances before your safety! Contact Siegfried and Jensen today for a free, no-pressure consultation. We can help you whether you were a driver, a passenger, or a pedestrian.
You Need An Attorney Who'll
Fight For Fairness
Our experienced truck accident lawyers know the rules that businesses must obey and will hold them accountable.
Victims of semi truck accidents have a right to monetary compensation (a settlement) for their injuries and the damage to their vehicle, as well as reimbursement of lost wages, medical bills, and other costs.
However, filing an insurance claim against a trucking company is not as easy or as simple as filing a claim against in a regular car accident case.
The trucking companies and their insurance companies will often try to intimidate a victim who has no lawyer into taking an unfair, low-ball settlement. These settlements are almost never enough to meet the victim's needs and typically do not take into account the cost of continuing or future medical care, lost income, physical hardships, and other types of suffering and loss.
You need an expert team of semi truck accident attorneys who can act quickly on your behalf – it's the only way to level the playing field and make sure you're treated fairly.
Finding the Right Semi Truck Accident Attorney For You
Siegfried and Jensen is your best choice for experienced Utah semi truck accident attorneys. When you team up with us you can expect the best:
We'll answer your questions and address your concerns throughout the entire process.
We'll pull together the information needed to build your case, including examining the accident scene and vehicles involved, gathering and evaluating physical evidence and eyewitness testimony, etc.
Our experts who can stand up to the trucking company's experts.
We'll make sure the trucking and insurance companies play by the rules and treat you fairly.
We'll help you get what you need to recover your old life or adapt to a new one.