St George Personal Injury Law Firm
Siegfried & Jensen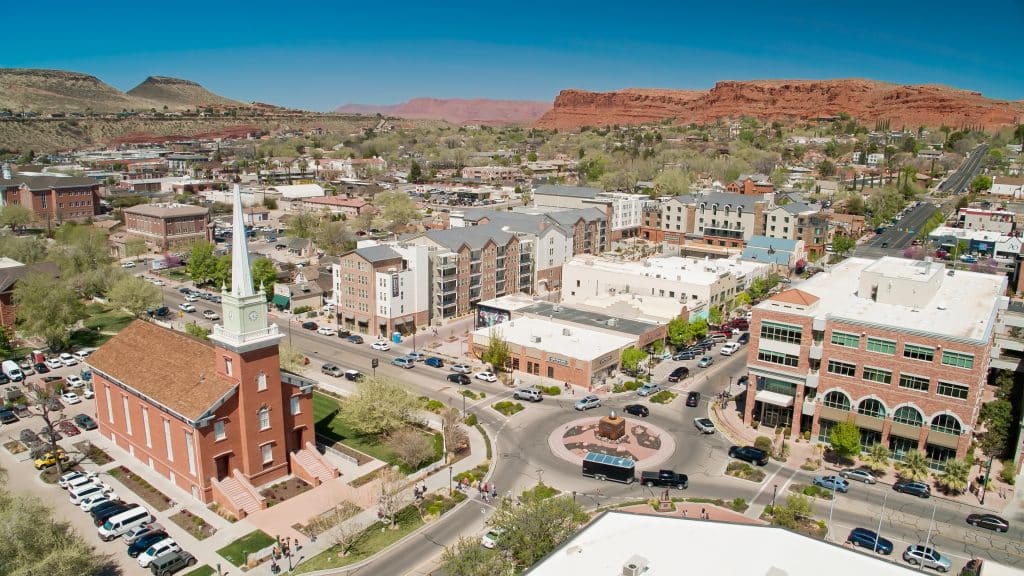 St. George Utah is located in the southwestern part of the state near the Arizona border and boasts very moderate winter season temperatures which makes it a very popular wintertime destination. As one of the fastest growing areas in Utah, St. George has a year-round population of over 95,000 residents.
Locals and visitors alike enjoy a variety of parks, cultural events, concerts and sporting venues. Golf courses take center stage for people seeking to escape the cold of northern Utah and St. George doesn't disappoint with over more than 12 award-winning golf courses available to residents and tourists.
An abundance of business and skilled professionals provide residents and visitors all the services you would expect in a thriving city the size of St. George.
In the event a resident or visitor is injured by the negligence of another party, the law firm of Siegfried & Jensen provides top-notch personal injury legal services that helps accident victims pursue compensation for their losses.
At the law office of Siegfried & Jensen, we believe personal injury victims should not be responsible for the financial devastation caused by another person's reckless and negligent actions. Even minor injuries can require expensive medical care, result in income loss and cause emotional distress. As your attorney, we can represent your best interests during settlement negotiations and make sure you get fair compensation for your losses.
If you or a family member have suffered a personal injury at the hands of another, the St. George personal injury attorneys at Siegfried & Jensen can help.
Personal Injury Basics
Personal injury is a legal term for the harm caused to a person due to the wrongful actions of another party. A personal injury includes the physical injuries and the emotional and mental injuries that were suffered.
Personal injury law is the system designed to help victims seek compensation for the damages they suffered due to the negligence of the at-fault party. Compensation is typically awarded through a personal injury claim or a personal injury lawsuit.
Every state has their own set of personal injury laws that govern certain aspects of a personal injury lawsuit. Laws stipulating the length of time a victim has to bring a suit are called the "statute of limitations". Other laws may regulate certain limits or caps on compensation, who can file a suit, and how a case is handled if both parties are partially at-fault.
Personal injury lawyers have the legal experience necessary to help victims of an accident navigate all aspects of their personal injury claim or lawsuit.
What's the Difference Between A Lawsuit and a Claim?
Personal injury claims and lawsuits are terms that are often used interchangeably but actually describe two separate actions.
Personal Injury Claims
A personal injury claim is a legal demand for compensation usually filed with the insurance company of the at-fault party. Filing a claim is often the best first step in seeking compensation in a personal injury case, that is, assuming the other party has insurance.
Insurance adjusters are motivated to pay as little as possible to the injured party and will typically offer far less than an injury case is worth in the hopes that a victim will cave under the pressure and sign an agreement without speaking to a personal injury attorney first.
Personal Injury Lawsuits
An injury lawsuit is a legal process or action filed by a plaintiff against a defendant for the purpose of receiving compensation for medical expenses and other losses. The outcome of a lawsuit is decided in court and the amount of financial compensation is determined by a judge and or jury.
A personal injury lawsuit is a civil action and while a defendant will typically provide evidence they hope will show they are not liable for the injuries, the threshold of guilt is different than it would be in a criminal defense of their actions.
While many personal injury cases start and finish as an insurance claim. A small percentage proceed to a lawsuit, typically because a fair settlement could not be made with the insurance adjuster. An experienced St. George personal injury trial attorney can file a lawsuit on the victim's behalf and seek compensation for medical treatment and other financial losses.
Can I Settle Without A St. George Personal Injury Attorney?
You are not legally required to have a personal injury lawyer to file a claim or lawsuit, however, in most cases, it is in your best interests to do so.
A Insurance Research Council (IRC) study shows that victims who hire experienced personal injury attorneys to work on their claim receive up to 40% more in financial compensation than those who decide to go it alone.
Injury attorneys have years of experience handling insurance claims from car crashes and other accidents. Personal injury attorneys understand the laws and regulations governing personal injury cases and have the knowledge that injury victims need to successfully file a claim or sue for compensation.
What If I Can't Afford An Attorney?
Siegfried & Jensen is a St. George personal injury law firm that believes all victims deserve legal representation regardless of their income. In order to ensure access to legal help regardless of financial status, we offer the following:
Free Consultation
If you've been involved in a car crash or other accident caused by the wrongful actions of another person, you can visit with a member of the Siegfried & Jensen legal team at absolutely no cost to you. A personal injury attorney can evaluate your personal injury case and answer any questions you may have about the process.
No Obligation
Once you've met with an attorney and discussed your case, you can decide for yourself whether or not it would be in your best interest to proceed and pursue compensation with the Siegfried & Jensen team. You are under absolutely no obligation, but we are happy to help in any way we can.
No Upfront Fees, You Only Pay If We Win Your Case
As experienced personal injury attorneys, we understand the financial burden that has been placed on your and family following a serious accident. If you've experienced significant injuries, your ability to continue working may be in jeopardy not to mention the growing pile of medical bills and other expenses.
In order to ease the mounting financial pressure, the St. George personal injury attorneys at Siegfried & Jensen do not require any money to get started on your case. In fact, we don't get paid anything unless we win your case.
Contact Siegfried & Jensen today to set up your free consultation. There is no risk, no obligation, just a team of St. George personal injury lawyers waiting to help you. 
How Can A St. George Personal Injury Lawyer Help?
Experienced St. George personal injury lawyers are skilled in all aspects of injury law and can help in the following ways:
CASE EVALUATION: Your personal injury attorney can evaluate your case and determine whether or not it is worth pursuing. The sooner you understand the merits of your case, its value, and whether or not it is in your best interests to pursue compensation the better. Getting this knowledge as soon as possible after an accident can help you avoid costly mistakes that may limit your ability to seek compensation.

INVESTIGATION AND EVIDENCE COLLECTION: Once you've decided to proceed, your personal injury attorney can investigate your claim, gather evidence to prove that the at-fault party was negligent in their actions and gather all the paperwork required to prove your case.

FILE YOUR CLAIM: You only have a limited time to file a claim after an accident. Your personal injury attorney will make sure your claim is filed correctly and on-time, eliminating the risk of it being rejected on a technicality.

SETTLEMENT NEGOTIATIONS: Armed with the evidence needed to prove your case and substantiate the amount of your claim, your St. George personal injury lawyer will meet with the insurance company to negotiate a settlement. Injury lawyers are not intimidated by insurance adjusters and don't fall for high-pressure tactics. Your attorney won't settle for less than what you deserve.

FILE A LAWSUIT: If the insurance company won't agree to a fair settlement, your attorney can file a lawsuit with the court. A judge and or jury will be shown the medical records and other evidence of your injuries and decide the amount of compensation you will be awarded.

COURT REPRESENTATION: Your attorney will represent you and your best interests in civil court. Your team will make sure that the laws and rules are followed, that your rights are not violated, and that your case is clearly presented to the court.
Deciding whether or not to hire a personal injury lawyer to help with your case is an important decision, one that could make the difference between receiving a fair settlement or getting far less than you deserve.
For a free consultation about your case, contact Siegfried & Jensen today. We are available 24 hours a day, 7 days a week. 
Common Practice Areas
When most people think of personal injury law, help with a car accident is the first thing that comes to mind. While it's true that motor vehicle accidents are frequently the subject of injury claims and lawsuits, the team at Siegfried & Jensen have the expertise and resources to successfully handle a wide variety of injury practice areas. Some of the types of cases we litigate include:
Car accidents are an unfortunate reality in St. George, Utah. In 2020 alone, there were almost 800 car accidents reported to the police, resulting in numerous injuries and fatalities. Of those crashes, nearly half of them involved alcohol or drugs being a factor. Speed was also a contributing factor in more than one-third of the accidents that occurred.
After a car accident, it is important to hire a car accident lawyer who can help you get compensation for any medical bills, property damage, and other costs related to the accident. At Siegfried & Jensen in St. George, we have helped many people recover financially after an accident by understanding Utah laws and helping them secure the compensation they are entitled to. Our team of experienced attorneys will work with you and the insurance companies to ensure that all your paperwork is done properly and that you have a fair chance of getting the compensation you deserve.
Truck accidents
in St. George, Utah have increased over the last several years, resulting in serious injuries and even fatalities. The number of reported truck-involved collisions has more than doubled since 2015, with some of the most common causes being speeding, driver fatigue, distracted driving and impaired driving. In addition to these primary contributing factors, other dangerous behaviors may also play a role in truck accidents, such as improper loading of cargo and equipment failure. The consequences of these truck accidents can be devastating for the victims involved, resulting in extensive medical bills, lost wages and emotional distress.
After an accident you should contact a truck accident lawyer in St. George, Utah to assist you with the legal process and maximize your chances of recovering compensation for damages. A truck accident lawyer will help investigate the accident, collect evidence, interview witnesses, and build a strong case against the responsible party. They can also negotiate with insurance companies to obtain a fair settlement on behalf of their clients.
The consequences of a motorcycle being struck by a car, truck, or other big vehicle may be disastrous. The motorcycle rider may get life-threatening injuries that take months or years to recover since they have little protection from the hit. A motorcycle accident's aftermath may be physically and financially taxing. You will require a knowledgeable motorcycle accident attorney on your side in order to receive recompense for your injuries.
Our motorcycle accident lawyers in St. George, Utah can help you understand your legal rights and options after being involved in a motorcycle accident. A knowledgeable attorney can be a valuable asset during the stressful process of dealing with medical bills, insurance companies, and other parties involved in the accident. They will work to protect your rights and interests both legally and financially.
Our lawyers will investigate the accident, review any police records, and assess all of the damages that have been incurred as a result of the crash. We will also look at your medical bills to see if the accident caused you to have to pay for medical care. If it did, you may be eligible for compensation. A motorcycle accident attorney can negotiate with insurance companies and other parties involved in order to obtain the best possible outcome for you.
After a dog bite, there are important steps that must be taken to ensure the victim's safety and health. The first step is to assess the extent of the injury. If there is any bleeding or other signs of serious injury, it is important to seek medical attention immediately. Even if there does not appear to be any serious physical damage, it is important to obtain medical evaluation as soon as possible.
The next step is to take time to collect information about the incident, such as identifying the owner of the dog and any witnesses who may have seen what happened. This information will be important in the event that legal action needs to be taken. It is also important to take photos or videos to document the injury.
Contact a dog bite injury attorney to get advice and explore your legal options. Our dog bite lawyers can help you understand the process for filing a claim, and explain any potential compensation that may be available to cover your medical costs, lost wages, pain and suffering, or other damages.
Medical malpractice is an act or omission by a healthcare provider, such as a doctor, nurse, pharmacist, or other medical professional that deviates from accepted standards of practice and causes harm to the patient. It can include failure to diagnose a condition, incorrect diagnosis, improper treatment of a medical condition, failure to give proper instructions for medications or treatments, or failure to provide adequate follow-up care.
Medical malpractice can lead to serious injury or even death of a patient. Victims of medical malpractice may have the right to seek compensation for their losses through a legal action called a medical malpractice lawsuit. Such lawsuits are complex and should only be handled by an experienced attorney who is knowledgeable about medical malpractice laws.
It is important for victims to understand their rights and be aware of the time limits for filing a claim. Victims may also have access to legal aid programs that can provide assistance with these cases. Knowing what to do in a medical malpractice situation can make all the difference in getting justice and compensation for those who have suffered harm because of medical negligence.
A wrongful death accident is one in which someone's death occurs due to the negligent or reckless act of another. This type of accident could involve any number of scenarios, from motor vehicle accidents, medical malpractice, workplace accidents, and more. In a wrongful death case, the surviving family members may be able to seek compensation for their loss through civil court proceedings. To be successful, the family must prove that negligence or recklessness caused their loved one's death. This typically involves demonstrating that the at-fault party was responsible for providing a reasonable level of care and failed to do so, causing injury or death.
A cherished family member or spouse passing away cannot be replaced by money in any amount. However, monetary compensation can help you with any financial difficulties you may be having and guarantee your family's future stability. Some comfort might come from knowing that those accountable for your loss were found and punished.
If you or your loved ones have been affected by a wrongful death accident, it is important to contact an experienced wrongful death attorney as soon as possible. An attorney can guide you through the legal process and help you obtain the compensation you may be entitled to. Additionally, an attorney can provide legal advice to ensure that your rights are protected throughout the duration of the case.
Nursing Home Abuse
Nursing home abuse is a serious issue affecting thousands of elderly people in the US every year. It can take many forms, including physical, emotional and sexual abuse; neglect; financial exploitation; and even denial of basic necessities such as food, clothing or medical care. In many cases, these victims are unable to report their experiences due to a lack of knowledge or trust, leaving them vulnerable to abuse and exploitation.
Nursing home abuse can have serious consequences for the victim, including physical injury, emotional trauma, depression, anxiety and even death. Nursing home staff members are often responsible for neglect or abuse, but other family members and visitors may also be involved in such incidents.
Furthermore, it is important to be aware of the signs of nursing home abuse. If you suspect that a loved one is being abused, it is essential to take action and report your concerns to the relevant authorities. It may also be helpful to contact a nursing home abuse lawyer who can provide advice on how to proceed and help get the justice you and your loved ones need.
A workplace accident is an unexpected event that occurs in a work environment that results in physical, psychological, or material damage. Common workplace accidents include slips and falls, equipment malfunctions, over-exertion injuries, motor vehicle crashes, and other similar events.
If you have been injured in a workplace accident, it is important to seek medical attention right away, regardless of the severity of your injury. It's also important to contact an experienced workplace accident lawyer as soon as possible in order to protect your legal rights and ensure that you receive fair compensation for your injury. A qualified and experienced workplace accident lawyer will be able to review the facts of your case and advise you on the best course of action. They will also ensure that your employer follows all applicable safety regulations and laws in order to prevent future accidents from occurring.
If you've been injured in a workplace accident, don't hesitate to contact our experienced workplace accident lawyers who can help you in your time of need. We will work hard to ensure that you receive the compensation that you deserve.
A construction accident is any injury or death that occurs when working on or near a construction site. Common causes of construction accidents include: falls from heights, falling objects, slips and trips, scaffolding collapse, and electricity-related injuries. If you have been injured in a construction accident, it is important to contact an experienced attorney as soon as possible.
A St. George construction accident lawyer can help you understand your rights and seek financial compensation for your injuries. They can also fight to hold the responsible parties accountable, ensuring everyone's safety is taken into consideration before, during, and after the construction process. Furthermore, an experienced construction accident lawyer will be familiar with the many laws and regulations that apply to these types of cases and can aggressively advocate for your rights.
At Siegfried & Jensen, our St. George construction accident lawyers are dedicated to helping victims of construction accidents get the compensation and justice they deserve. Our attorneys have extensive experience handling these types of cases and will work tirelessly to help you get the best possible outcome in your case.
When you have been injured in any type of accident, it is important to seek medical attention first and foremost. Once your initial treatment has been completed and your condition has stabilized, it may be time to contact an injury lawyer to help protect your rights and ensure that you are compensated for any damages or losses caused by the accident.
Our St. George injury attorneys can provide valuable advice, negotiate with insurance companies and other parties involved in the case, and ensure that you receive the best possible outcome. We can also help collect evidence to support your claim, such as accident reports, medical records, and witness statements. If you have suffered serious injuries or financial losses due to an accident resulting from another person's negligence, an injury lawyer here at Siegfried & Jensen will be able to help get you the compensation you are entitled to and ensure that your legal rights are protected.
Personal Injury Compensation
The amount of compensation a victim will receive for injuries depends on the specifics of the case, the extent of the injuries and the ability to prove that the at-fault party was negligent and therefore liable. Consulting an attorney about your specific case is the only way to get an accurate estimate for your claim, however, there are some basic damages that are often awarded in injury cases.
Economic Damages
Economic damages are losses that are fairly easy to calculate and justify using bills, pay stubs and receipts. Examples of economic damages include:
Medical bills

Ambulance fees

Rehabilitation expenses

Home health care

Lost wages

Anticipated future medical expenses

Future lost wages
In short, any out of pocket expenses from gas money to extended hospital stays and rehabilitation can be included as economic damages. Your injury attorney will be able to thoroughly investigate your claim and make sure that no justified item is missed.
Non-Economic Damages
Whether you've been injured in a car wreck, been disfigured by chemicals at work or suffered brain injuries due to a slip and fall accident, you know that there are losses you've endured that go beyond what can be found on a hospital bill. Non-economic damages include the following types of damages:
Pain and suffering

Disability

Loss of society or companionship

Emotional distress

PTSD

Loss of enjoyment of life
Severe and catastrophic accidents change the lives of individuals and families forever. You deserve the maximum compensation allowed by law so that you have a fighting chance to get your life back.
Wrongful Death Damages
Tragically, an accident all too often results in a fatality. If you have lost a family member due to the wrongful actions of another party, you may qualify for additional compensation. Wrongful death compensation may include:
Funeral and burial expenses

Loss of support

Survivor pain and suffering

Loss of future earnings

Loss of inheritance
At Siegfried & Jensen we understand that no amount of money can make up for the loss of a loved one. However, financial compensation can ease the tremendous burden placed on your family and is another way to hold the defendant accountable for their actions.
Siegfried & Jensen
If you or a family member have been in an accident in the St. George Ut 84770 area, we are here to help you recover. Call day or night (435) 222-2837.