Ogden Personal Injury Law Firm
Siegfried & Jensen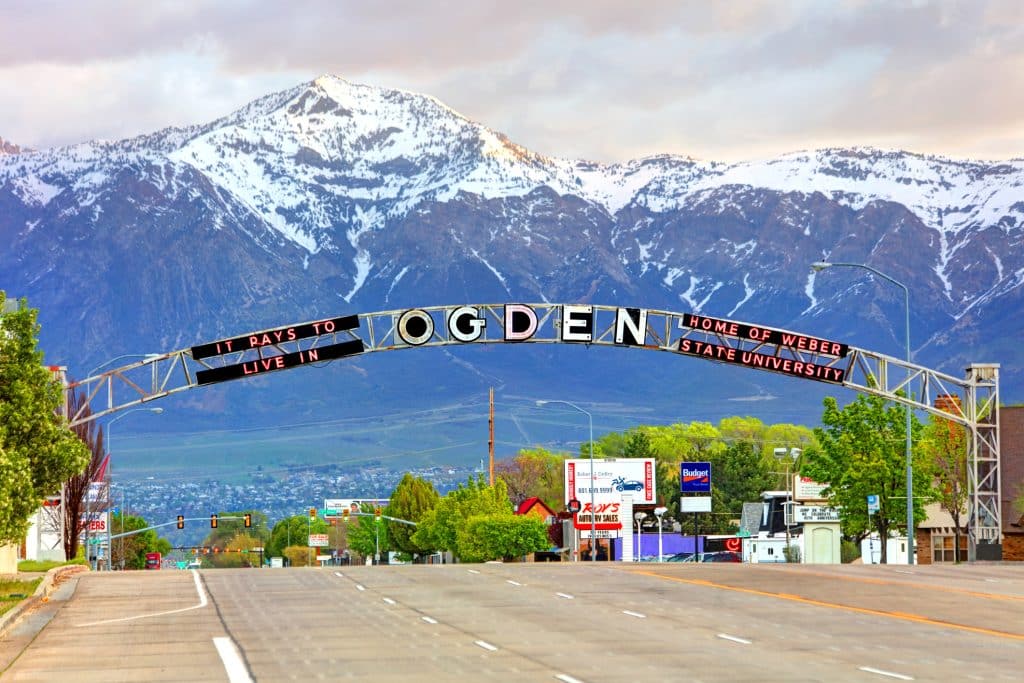 Approximately 35 minutes from the Salt Lake International Airport is the city of Ogden, UT. Residents and visitors of this vibrant city have access to mountain bike trails, hiking paths, boating reservoirs, rivers for fishing and three ski resorts.
In addition to the abundance of outdoor activities, Ogden also boasts a rich heritage of railroad history, firearm design by John M. Browning, military aircraft and other artistic and cultural gems found in museums, galleries and a variety of festivals throughout the year.
The city of Ogden UT has a population of nearly 90,000 residents with all the amenities, professional services and educational opportunities you would expect in a city of its size.
Siegfried & Jensen is a legal team of Ogden personal injury attorneys with over 30 years experience helping residents successfully resolve their Ogden personal injury claims.
At Siegfried & Jensen exceptional client communication is the foundation of our practice. We are available for a free case evaluation 24 hours a day by calling (801) 845-9692, or you can visit us online at www.siegfriedandjensen.com. If you prefer an in-person free consultation, you can call and schedule an appointment at any of our four Utah offices or arrangements can be made to meet with you at your home or even at the hospital if needed.
If you have been injured in an accident, you need an Ogden injury lawyer that makes the process of recovering maximum compensation as easy and convenient as possible. Contact Seigfried & Jensen for help today. 
What Is A Personal Injury?
Personal injury is a legal term used to define a situation wherein a person has been injured physically, mentally or emotionally as the result of another person's negligent or wrongful conduct.
Personal injury law is sometimes called "tort" law and is a system set up to allow victims of a personal injury to take legal action and recover compensation for their losses.
In order for a personal injury case to be successful, the victim must file a claim within the deadline or statute of limitations, must provide evidence that an injury did occur and proof that the at-fault party acted negligently and caused the accident.
Personal injury attorneys, Siegfried & Jensen can evaluate your personal injury case and determine whether it meets the legal criteria of personal injury. Initial consultations at Siegfried & Jensen are free and you are under no obligation to proceed if you feel it is not in your best interest to do so.
Do I Have To Have A Personal Injury Lawyer to File A Claim?
No. You are not required to have legal representation in order to file a personal injury claim, however, statistics show that it may be in your best interests to do so.
A survey conducted by NOLO revealed that 91% of personal injury victims who used the services of a personal injury attorney received a monetary settlement or award. Comparatively, only 51% of personal injury claims filed without the help of a law firm were successful in getting the victims compensation.
In addition to the increased rate of successful claims as a whole, the amount of monetary compensation won for victims with personal injury lawyers was also significantly higher-nearly 3 times higher. This increased dollar amount awarded victims with personal injury lawyers handling their claim holds true even taking into account the attorney fees.
Hiring an Ogden personal injury attorney such as Siegfriend and Jensen to help you with your claim makes good sense and because we work on a contingency fee basis, you don't pay anything out of pocket until we win you money.
Having legal assistance is the best way to ensure that you receive the compensation you deserve.
Negligence: The Key To A Successful Claim
Only injury accidents that are caused by the defendant's negligence meet the standard for a legal injury claim. In order to prove negligence the victim must show that: a) A duty of care existed between the two parties, b)The duty of care was breached, c) The breach directly caused the accident, d) The accident caused the injuries.
In some accidents both parties may be partially to blame for what occurred. Individual state's may have what are called comparative negligence laws. Depending on how a state's comparative negligence law is written, a victim that is partially responsible for the accident may receive less compensation.
In Utah, if the victim is judged to be 50% at fault or more for the accident, they are not eligible for additional compensation. However, a decreased settlement is available if, as the victim, you are found to be less than 50% responsible for the accident.
Duty Of Care
Duty of care is a legal term that refers to the obligation we all have to exercise caution, attention, and watchfulness when dealing with each other in society in order to avoid causing harm to one another. Duty of care is often measured by what a reasonable person in a particular set of circumstances would do. For example, business owners have a duty to keep their property reasonably safe for visitors. Doctors are required to provide care that meets or exceeds the acceptable medical standards and motor vehicle operators have a duty to stay focused and not be distracted by text messages while they drive in order to prevent a car accident.
Breach Of Duty
When a person fails to exercise reasonable care it is considered a breach of duty. If a breach of duty leads to an accident that causes injury and loss to the victim, then that person may be held liable for the damages due to their negligence.
Accident Caused By Breach of Duty
Evidence in a successful injury case must show that the defendant's negligence directly caused the accident. Simply stated, if it wasn't for the breach of duty, the accident would not have occurred.
Injuries Caused By Accident
Victims of accidents must be able to show that the injuries they suffered are from the accident and that the dollar amount they are seeking accurately reflects the losses that they have suffered. Some conditions and injuries may have existed before the accident but if the accident made them worse, those losses can be included in the amount being sought.
An attorney with experience in injury cases will have the knowledge necessary to evaluate your claim and ensure that it meets the standards to prove negligence against the responsible party.
How Can A Personal Injury Lawyer Help Me?
The Ogden personal injury lawyers at Siegfried & Jensen are dedicated to ensuring that justice is served for every auto accident victim, victims of dog bites, medical malpractice, all severe injuries and families who have lost a loved one in a deadly accident.
We can help you in the following ways:
Case Evaluation
The Ogden personal injury team at Siegfried & Jensen will evaluate the merits of your case during a free consultation conducted online, by phone or in person. During the consultation we will look at the facts and evidence of your injury claim and make a determination as to whether it is worth pursuing, saving you valuable time and resources.
Collect Evidence
As your Ogden personal injury lawyer, we will compile all the evidence needed to prove the at-fault party's negligence. This evidence may include police reports, eye-witness testimony, expert car accident reconstruction, and video and photo evidence.
Additionally, we will gather evidence to justify the amount of your claim. This may include; medical bills, medical records, statements from employers, wage and salary stubbs, medical specialist testimony etc.
Insurance Company Negotiations
No one wants to be involved in a personal injury lawsuit, they can be time-consuming and stressful. If we can settle your personal injury case outside of court through negotiations we will make every attempt to do so.
As your personal injury attorney, we will negotiate a fair settlement with the insurance company on your behalf to cover medical bills and all other losses. We won't cave to high-pressure tactics by the insurance company and we will file a personal injury lawsuit if a settlement cannot be reached and it is in your best interest to do so.
Continued Legal Services
As your Ogden personal injury lawyer, we will file all paperwork accurately and on-time, we will conduct our own investigations into your case and handle negotiations with various involved party's. Phone calls, texts, emails and all the legal work regarding your case will be handled by the Siegfried & Jensen team.
Types of Personal Injury Cases
The types of personal injury cases a lawyer handles are called practice areas, and may vary from law firm to law firm. Some attorneys only handle car accidents, while others may have the resources, attorneys and support staff to handle a wide variety of claims.
Common practice areas for personal injuries include:
Vehicular Accidents
Animal Attacks
Scratches

Bruises

Fall Injuries

Head Injuries
Wrongful Death
Automobile Accidents

Workplace Accidents

Medical Malpractice

Product Failure and Defects

Plane and other Aviation Accidents
Medical Malpractice
Nursing Home Abuse and Neglect

Medication Mistakes/over or under medicated
Dangerous Premises
Burns

Electrocutions

Toxic Chemicals

Lack of Security

Inoperable or missing smoke alarms

No emergency exits or locked emergency exits
Catastrophic Injuries
Paralysis

Amputation

Severe Scarring

Long Term Disability
Many personal injury cases fall into the above categories but regardless of the type of accident, an injured party has the right to seek compensation when they are negatively impacted by another person's negligence. Contact the legal team at Siegfried & Jensen for help with your personal injury claim. We have all the resources and personnel required to handle all types of personal injury cases. Schedule your free consultation today.
Compensation For Your Personal Injury Claim
The amount of compensation you are eligible to receive for your claim depends on the specifics of your case. Discussing your individual claim with a personal injury lawyer is the best way to get an accurate estimate on what your claim is worth. However, generally speaking, the amount of your settlement will depend on the severity of your injuries, the actual financial losses you incurred, and your long-term prognosis.
Economic Damages
Economic damages are awarded to victims to compensate for actual financial losses that occurred as a direct result of the accident. Examples of economic damages include:
Medical expenses including ongoing medical treatment

Future medical care expenses

Lost wages

Future lost wages

Replacement costs of damaged property
Non-economic Damages
Non-economic damages are awarded to an accident victim in an attempt to compensate for losses that are non-tangible and therefore don't have a receipt or a bill to submit to the court.
These types of damages are no less real and often the victim is awarded a substantial amount to compensate for these losses. Examples of non-economic damages include:
Pain and suffering

Mental anguish

PTSD

Loss of enjoyment of life

Disability

Disfigurement
Additional Damages Available in a Wrongful Death Claim
Other damages that can be awarded to certain surviving family members in a wrongful death case include:
Medical expenses

Funeral and burial expenses

Loss of support

Loss of inheritance

Loss of services
At Siegfried & Jensen we understand that no amount of financial compensation can even begin to make up for the loss of a loved one. However receiving a settlement can go a long way toward easing the financial burden such a loss places on a family.
Punitive Damages
Punitive damages are not intended to be compensatory to the victim but are awarded by a judge or jury to punish the defendant and to act as a deterrent to future negligent actions. Punitive damages aren't especially common and are reserved for cases where extreme recklessness and wanton disregard for human life is shown by the negligent party.
Siegfried & Jensen is a law firm dedicated to the belief that accident victims have the right to pursue legal action in order to receive the maximum compensation allowed for their injuries. Holding the responsible party accountable for their negligent actions is critical to prevent future injuries to another victim. Filing a personal injury civil claim is an important step in seeking justice for harm you suffered due to no fault of your own.
Siegfried & Jensen: Helping Utah Residents Recover From Serious Injuries
If you or a loved one have been injured in an accident and it wasn't your fault, you need to call the Ogden personal injury attorney law firm of Siegfried & Jensen. At Siegfried & Jensen we specialize in helping car accident and other accident victims recover compensation for their losses.
We are positive that we can help you reach the best outcome possible, but you don't need to take our word for it, visit www.siegfriedandjensen.com and view the client testimonial page to see what other victims have to say about our services.
Please call us today for a free consultation or visit www.siegfriedandjensen.com. There are no upfront costs and we don't get paid unless we win your case. (801) 845-9692
Ogden Office
2389 Washington
Blvd Suite 430
Ogden Utah 84401