Truck companies that do not properly follow industry or state regulations can cause accidents when their drivers hit the roadways. Negligent trucking companies can hire unqualified drivers, improper truck maintenance, failure to inspect or make repairs, and not complying to federal regulations. These are reckless actions that can seriously affect drivers and passengers negatively, putting them in danger.
Semi crashes are common in Utah. The number of semi-trucks involved in accidents is in the thousands. They happen all the time, and this means it can happen to you, too. Be safe and protect yourself by partnering with a local law firm that specializes in trucking accidents.
If you or a loved one has been injured in a commercial trucking accident due to someone else's negligence, you need to contact a skilled Utah truck accident lawyer at Siegfried & Jensen to fight for your claim. We can help you understand how the trucking company and the commercial driver are liable for your injuries, and we can help you hold them accountable to cover your damages.
Unqualified Drivers
There is a massive lack of truck drivers in the United States. This causes commercial trucking companies to rush to fill positions by hiring drivers who may not have adequate experience. This results in new drivers being sent out to the roads without the necessary training. Some drivers may not have the experience operating larger vehicles causing them to incur traffic violations. If the employee does not have a license, understanding of the laws, or qualifications, the company can be held liable. Unprepared drivers put others on the road at risk. The large size of commercial trucks makes this particularly deadly, as these vehicles can easily harm other drivers or passengers sharing the road.
Failure to Report Driver Violations
Sometimes commercial trucking companies will fail to report driver violations and other poor habits. Reporting these violations is important because it helps keep the roads safe for both drivers and passengers. There are some common violations that untrained drivers may incur when they are traveling in Utah and across state lines. These violations and unsafe behaviors include:
Driving under the influence of drugs or alcohol

Safety violations like speeding, running traffic lights

Driving with lack of rest or sleep

Hauling loads over the truck's weight limit
More often than not, the trucking company will actively engage in or encourage risky habits when the driver is a new hire. They may even ignore when the new driver violates or breaks a safety rule. This is usually to prevent the company from expending resources and cutting corners. However, this is a dangerous trend that can result in real injuries when their drivers hit the road. Don't be another casualty of a large commercial company that isn't looking out for your best interest.
Truck Maintenance and Inspection
To prevent mechanical failures and other dangers, trucking companies are supposed to have regular inspections and maintenance of the vehicles in their fleet. The brake system could give out, or items being transported may be adjusted improperly. The company is supposed to use these inspections to spot these defects and find out what may need to be replaced, like brake pads or tires.
For these inspections to be effective, there needs to be periodic maintenance. Failure to do so can result in truck accidents, and this is when the company can be found liable for damages. Issues of maintenance can bring to light evidence of rusty parts, degraded truck beds, and trailers that are not loaded properly.
Noncompliance of Federal Regulations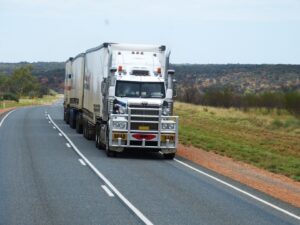 Regulations from the federal government mandate that these commercial trucking companies provide their drivers with times to sleep and take breaks while operating their vehicle. Depending on the driver's schedule, the trucker is required by the state to have downtime to be away from the vehicle and rest. Truckers who drive without adequate sleep can experience:
Drowsiness or fatigue

Lack of attention

Restlessness due to excessive caffeine
Health issues

Headaches

Decreased reaction time
When the company actively breached its duty to comply with federal guidelines, it can be responsible for repaying compensation to those who were injured. This is because the company's negligence had a role in causing the crash, and this can be cited in an accident claim to hold them liable for your damages.
Failure to Properly Load the Truck
To adequately load a commercial truck, the company has to measure and check all equipment and straps used. This is to make sure that the cargo is secure and won't come loose from the vehicle, potentially injuring another driver. If the vehicle does not have proper balance shifting cargo can come off or make the truck rollover. In these cases, the truck can cause severe injuries or deaths in particularly catastrophic incidents. When trucking companies avoid necessary safety measures, they cause crashes on the road, putting other drivers and passengers at risk.
Utah Area Commercial Truck Crashes
Utah is a state with many miles of highway, and it lies as a connection between the west and the rest of the United States. For this reason, semi-trucks often travel through Utah in order to transport goods. In 2001, there were 2,884 accidents involving a semi. 36 of these were fatal crashes, resulting in the death of a driver or passenger. You need to protect your rights after an accident and hold the trucking company liable for your damages.
If you or a loved one have been harmed in a semi crash, you need Sigfried & Jensen on your side. We fight for our clients because we believe in holding at-fault parties accountable for their negligent actions. We have recovered over $850 million dollars for our clients, and we want to help you. With a total of 35,000 cases under our belts, we have the expertise and knowledge to negotiate your claim with the insurance provider in order to cover your damages. Call us today at (801) 845-9000 to talk about your claim with a qualified Salt Lake City semi crash attorney.