One of the most common injuries sustained by car accident victims are neck and back injuries. These are often some of the most difficult injuries to treat, as they often require ongoing treatment that can last for several months or years.
Unfortunately, medical treatment is not the only cost injury victims sustain from neck and back injuries. There are numerous long-term consequences, which include diminished productivity, emotional turmoil, and drastic financial loss.
Quite often, there are very few visibly noticeable symptoms associated with a neck or a back injury. Individuals who sustain these types of injuries do not usually experience swelling or bleeding at the site of the wound. Even though a victim cannot see their injury, the consequences of it can be quite catastrophic.
Individuals who sustain neck or back injuries should contact an experienced attorney from Siegfried & Jensen. We help victims recover compensation for their damages that help alleviate some of the financial burdens they face due to their injuries. There are several long-term consequences associated with neck and back trauma.
Financial Damage To Victims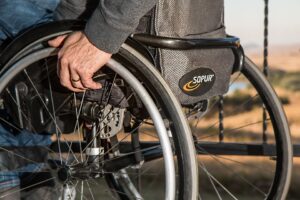 Financial burdens often appear in the wake of a neck or back injury. Not only do these injuries often require extensive medical care and hospitalization, but they require patients to undergo months, or even years, of repetitive physical therapy and rehabilitation.
These treatments are often extremely expensive. Unfortunately, a lot of insurance companies do not cover the costs for these treatments, or they require egregious out-of-pocket copays. In cases where victims are forced to go to rehab and therapy for months or years, these expenses can be astronomical.
Productivity Loss Sustained By Victims
Individuals who suffer from neck and back injuries often experience excruciating pain. In addition to having to deal with constant pain, they often suffer from limited mobility and movement. Not being able to move and function in the same manner as before the incident can drastically limit a person's daily activities and may have a serious impact on their professional life.
Many victims become extremely frustrated with the level of difficulty associated with performing even the simplest task around the house. The spouses of victims often face immense pressure in keeping up the home and working more when victims are no longer able to do so. Even simple tasks like picking up groceries, helping with household chores, looking after the children, or other daily activities become difficult or even impossible.
Lowered Quality Of Life
Neck and back injuries will commonly lead to severe limitations in activities performed by most injury victims. Unfortunately, this has a dramatic impact on their quality of life. Neck and back injuries often prevent victims from exercising or hiking, playing sports, or enjoying some of their favorite activities. A lot of injury victims are simply unable to participate in activities they enjoyed prior to their trauma. Instead, they are faced to deal with stacking challenges that cause immense emotional distress.
Sustaining a neck or back injury goes beyond physical pain. These victims often suffer from depression, anxiety, and feelings of hopelessness, which can have a severe impact on their mental wellbeing and can further disrupt their home and family life.
Unfortunately, injuries of this kind can have numerous health consequences for victims who suffer them. Individuals who sustain neck and back injuries often suffer from:
Headaches;
Nausea/vomiting;
Dizziness;
Stiff or tender muscles;
Pain;
Numbness/tingling;
Limited mobility; and/or
Paralysis.
How Neck And Back Injuries Occur
Although we mentioned previously that neck and back injuries are very common in automobile accidents, these types of injuries can occur anywhere. Some other ways victims sustain neck and back injuries include:
Premises Liability, including slip and fall, trip and fall, and unsecured products falling from shelving;
Violence;
Sports injuries;
Motorcycle accidents;
Pedestrian accidents;
Dangerous/defective products;
Construction accidents; and
Worksite accidents.
Types Of Neck And Back Injuries Sustained
Any type of accident can cause serious neck or back injuries to victims. The nature of the injury depends on both the severity and the location of the injury, as well as the circumstances of the accident. Some injuries can impact victims for several weeks or months, while others can have a lifelong impact on the victim.
Some of the most common types of neck and back injuries include:
Traumatic Brain Injuries: TBIs can have serious consequences that can take several weeks to manifest. Individuals who sustain these injuries, as well as their family members, may notice behavioral changes following an accident. The victim may also notice simple tasks gradually becoming more difficult. Individuals with TBIs often suffer memory loss, inability to pay attention, loss of vision, loss of hearing, mood disorders, seizures, and problems concentrating or remembering.
Spinal Cord Injuries: These injuries can be life-altering. Injury victims can suffer from paralysis as well as chronic and debilitating pain. Some victims of spinal cord injuries require long-term nursing care and suffer severely limited mobility.
Slipped, Herniated, Bulging, Or Ruptured Discs: These terms refer to conditions where the spine becomes cracked or displaced, causing the spinal fluid to leak out. When these accidents occur, individuals can experience a major loss of mobility and will experience constant pain.
A Salt Lake City Personal Injury Attorney Can Help You
At Siegfried & Jensen, we understand that neck and back injuries do not only affect the injured person; they affect the entire family. Chronic headaches, memory loss, problems paying attention, mood swings, cognitive issues, inability to drive or work, and an inability to care for oneself all dramatically impact a victim and their loved ones.
Although no one is able to undo the tragic event that caused these injuries, victims can recover compensation to help them alleviate some of the financial burdens they face from their injuries and diminished earning capacity.
Contact Siegfried & Jensen at (801) 845-9000 as soon as possible so we can help you protect your rights and help get you the support you need to rebuild your life.