Idaho Personal Injury Law Firm
Siegfried & Jensen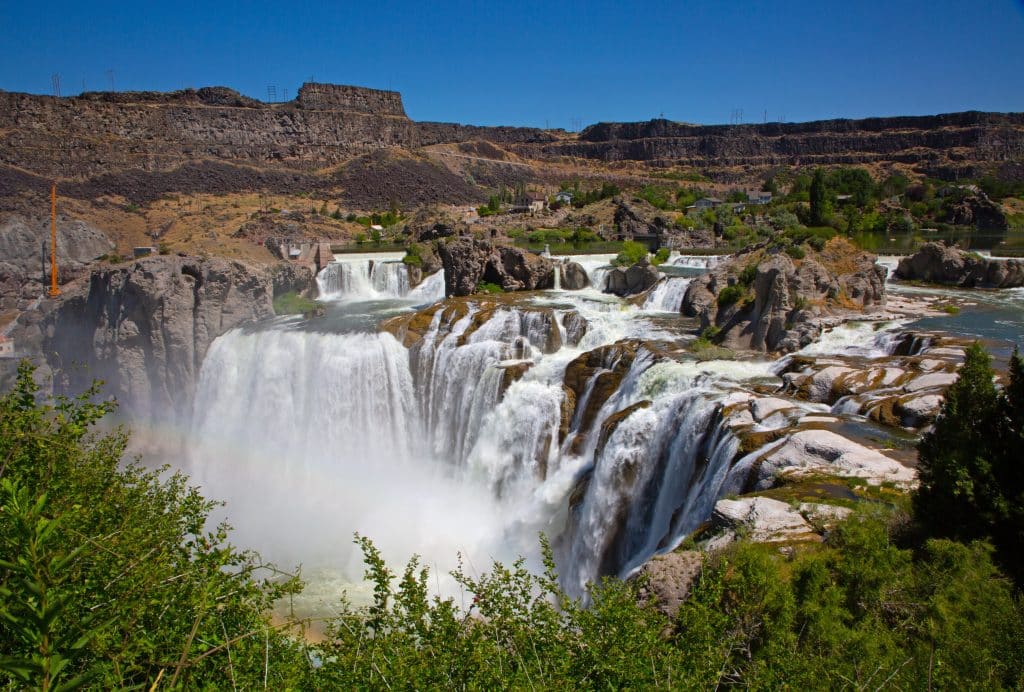 Sometimes referred to as the Gem State, the beautiful state of Idaho is located in the Pacific Northwest in the Western region of the United States. Sharing a border with Montana, Wyoming, Nevada and Utah as well as Washington and Oregon, the state of Idaho is the 14th largest state by sheer land mass but ranks as the 7th least densely populated state in the union, but that ranking may be changing.
Data collected and reported by the United State Census Bureau shows that as of July 1, 2021 the population of Idaho has increased by 21% and that increase includes a net migration of over 75,000 people, proving that it is not just natural born Idahoans that are adding to the numbers.
The natural beauty found in Idaho earned it the nickname of the "Gem State" and is part of what makes Idaho such a desirable place to live. Additionally, Idaho has a fairly robust economy and a wide variety of job and career opportunities. Higher educational needs are met by the presence of three universities: The University of Idaho, Idaho State University, and Boise State University.
The cities and towns that make up Idaho have a wide range of populations ranging from small tourist towns like Lava Hot Springs with a population of under 400 people, to the capital city of Boise with over 235,000 residents. Regardless of size, visitors and residents of Idaho will find all the amenities, businesses, and professional services one would expect to find in a growing state like Idaho.
For high quality legal representation in the state of Idaho, the injury law firm of Siegfried & Jensen is a well established and experienced team of personal injury lawyers available to help Idahoans twenty four hours a day, seven days a week. With practice areas ranging from brain injury and car accidents to dog bites and slip and fall. We have the expertise and staff to handle the most challenging cases.
Idaho Personal Injury Attorneys: Siegfried & Jensen
If you or a family member have been injured in an accident, the legal team at Siegfried & Jensen is here to help. With over 30 years experience and a stunning track record of success, Siegfried & Jensen is well qualified to handle a wide-range of case types. Visit us at www.siegfriedandjensen.com or call (208) 203-8350. Let us help you on your road to recovery.
Idaho Personal Injury Claim Process
Filing an injury claim is the first step an accident victim can take to ensure they receive fair compensation for their losses after an accident. Personal injury law is based on the concept of negligence or fault. In order for an injury claim to be successful, the victim must be able to prove that their accident related injuries resulted from the negligent, illegal or reckless actions of another person, persons or business. In addition to negligence, you must also show that your injuries resulted in financial and other losses. Opening an injury claim against the responsible party begins the process to recover compensation.
Do I Have To Have An Attorney To File A Personal Injury Claim?
No. Accident victims are not required by law to have legal counsel before or during the claims process, however, there are many real and compelling reasons to consult a qualified attorney as early as possible in the process. Statistics show that individuals who use legal services to pursue compensation have greater success and recover a higher dollar amount than those who choose to go it alone.
If you have been injured in a serious accident and wonder how you are going to pay medical bills and other expenses related to your accident, the lawyers at Siegfried & Jensen would love to help you. For questions regarding your personal injury case, call (208) 203-8350.
Why Should I Hire A Idaho Personal Injury Lawyer?
If you have suffered injuries due to someone else's negligent actions, an experienced lawyer working on your behalf is often the deciding factor between your receiving maximum compensation and being saddled with long-term financial burden that isn't legally yours to bear.
Personal injury litigation can be nuanced and complicated. Unless the personal injuries you suffered were very minor, such as a few bumps and bruises, it is in your best interest to consult with a personal injury attorney as soon as possible after your accident.
At Siegfried & Jensen we understand that hiring an attorney and getting involved in a legal process can be overwhelming, especially when you are still recovering from an accident. In order to relieve as much stress as possible, we offer a free consultation where you are under no obligation to retain our services. You have nothing to lose and everything to gain by seeking legal representation. Call Siegfried & Jensen today at 801-845-9000.
Experienced personal injury attorneys are able to help victims in the following ways:
CASE EVALUATION
Every injury accident is unique. Being able to determine if your accident has the legal merit to justify a personal injury claim can be hard to do without a solid grasp of the legal system regulating the process. Your personal injury lawyer will listen carefully to the specifics of your case and be able to give you solid information on the pros and cons of pursuing compensation. Knowing your case has merit before you begin saves you time and future disappointment.
CLAIM VALUE ESTIMATE
Often people injured in an accident will see the medical providers' statements piling up and assume that their medical bills are the full extent of the compensation they are allowed to seek. Experienced personal injury lawyers know that in accidents that cause serious personal injury, medical expenses are only the tip of the iceberg.
Your injury lawyer will be sure to include all the losses and damages you suffered so that you receive the full amount you are owed for your personal injury case. Once a claim has been settled, there is no going back to recover additional damages. It is critical that the claim estimate is done right the first time.
DRAFT AND FILE LEGAL DOCUMENTS
Personal injury cases officially begin with a demand letter, but the paperwork drafting, filing deadlines, and other clerical matters don't stop there. In the legal process, technicalities matter. Mistakes in this area can lead to you losing your right to seek compensation. Your personal injury attorney and support staff will make sure that all the "I's" are dotted and the "T's" are crossed so you can continue to recover without the additional stress of worrying about important clerical details.
INVESTIGATE THE ACCIDENT
Your Idaho personal injury lawyers will conduct their own investigation into the accident and make sure that your claim of negligence is provable beyond a doubt. They will review accident reports, existing witness statements, and even hire their own experts to get to the truth of what happened. Personal injury cases hinge on these investigations and your attorney will make sure it's done right.
GATHER EVIDENCE TO PROVE FAULT AND CLAIM AMOUNT
In addition to investigating your accident, your personal injury team will gather evidence to prove that the negligent party is legally responsible for your injuries and the losses you suffered. Evidence may include:
Police reports

Medical bills

Eye-witness testimony

Medical expert testimony

Photo and video evidence

Accident reconstruction results

Other evidence




It is the injury victims' burden to prove negligence occurred and caused the damages. The law firm of Siegfried & Jensen will help you do just that. For a free initial consultation, contact Siegfried & Jensen today.


NEGOTIATE WITH INSURANCE ADJUSTERS
Motor vehicle crashes, brain injuries, negligent drivers, or medical malpractice, regardless of the case type, it is likely that an insurance company will be involved at some point in the process. This is where injury victims who have a personal injury attorney working on their behalf really reap the benefits. Statistics show that an insurance company is more likely to agree to full and fair compensation when Idaho personal injury attorneys are involved.
An insurance company is motivated by their own best interests, not necessarily the best interest of injured victims. An adjustor may use high-pressure tactics to get the injured party, without legal representation, to agree to settlement before the full extent of their injuries are known, let alone the future ramifications of those injuries.
Your personal injury attorney works for you and will protect your best interests. You can rest assured that while you are recovering, your lawyer is working hard on your behalf and won't be bullied by the insurance company.
COURT REPRESENTATION
If a successful settlement cannot be reached with the insurance company or the individual or business responsible for your injuries, you can then seek financial compensation through a personal injury lawsuit.
Your legal team will file all the documents with the court, schedule court dates, hearings, and other legal procedures and will be by your side through it all. Your lawyers will ensure that the evidence in your case is presented and that your rights are protected throughout the whole process. Your personal injury case is too important to leave to chance.
Types of Idaho Personal Injury Claims
Injury claim types are categorized as legal practice areas. Some firms may specialize in a certain practice area, while others have the resources, personnel and experience to offer legal services in a wide range of practice areas. Some typical practice areas include:
Injury cases encompass a wide range of circumstances but the legal concept that ties them all together is negligence by the at fault party. If you or a family member have suffered injuries and financial losses as the result of someone else's negligent actions, you have a personal injury case and are entitled to compensation.
Compensatory Damages You Can Obtain Through a Personal Injury Lawsuit
Compensatory damages are awarded to an individual who has been injured and suffered financial and other losses due to the negligence of another party. Personal injury damages fall into two different categories, each requiring evidence to support their validity during a settlement negotiation or a personal injury lawsuit.
ECONOMIC DAMAGES
Economic damages included in personal injury claims include all tangible, real losses suffered by the victim. This may include but is not limited to:
Medical expenses

Hospital charges

Ambulance fees

Surgery and anesthesia

Outpatient therapy

Home Health

Prescription and non prescription medications

Wheelchairs, crutches, walkers

Lost income

Future lost wages

Rehabilitation

Physical therapy
NON ECONOMIC DAMAGES
Negative effects and losses from an injury accident often go far beyond the financial expenses victims suffer. These losses, while not as easy to prove by showing a bill, receipt or statement, are no less real and deserve to be compensated for by the at fault party.
Examples of these types of losses include:
Pain and suffering

Mental anguish

Disfigurement

Loss of enjoyment of life
In the tragic case of a wrongful death, other damages sought may include: Funeral and burial expenses, pain and suffering before death, loss of support, loss of future earnings.
Siegfried & Jensen is a personal injury law firm dedicated to making sure you receive full and complete compensation for all of your losses, even ones that may be overlooked or seem insignificant at the time. To discuss the specifics of your case, please schedule your free case evaluation as soon as possible after an accident by calling (208) 203-8350.
Is There A Deadline For Filing A Personal Injury Case?
Yes. Idaho law does have a filing deadline, commonly called a statute of limitations. The statute of limitations in Idaho is two years from the date of the accident. Failure to file a claim within the allotted time period will likely mean you will forfeit your right to recover damages.
By contacting the lawyers at Siegfried & Jensen as soon as possible after an accident, you eliminate the concern about missing a filing deadline, as well as ensuring that ample time is available for a thorough investigation into the circumstances surrounding your accident.
The long-term financial impacts of an accident are too important to put off to the last minute. For a free case evaluation, call today.
Injured Citizens Deserve Experienced Legal Representation
Car accidents, a slip and fall brain injury, medical mistakes, a dog bite. Unfortunately, these accidents happen every day in Idaho and throughout the United States. The good news is that you don't have to fight for justice alone. Siegfried & Jensen is here to help. With over 30 years experience and a proven track record of over 1.2 billion awarded to our clients, we have the knowledge, determination and compassion required to help you win your case.
At Siegfried & Jensen we not only offer free case evaluations, but we also work on a contingency fee basis. This means that we don't get paid unless we win your case. There are no upfront fees and no obligation to use our services if we are not a good fit, but please, don't just take our word for it.