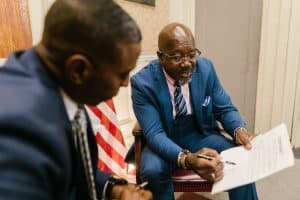 Nearly 40,000 die each year in auto accidents in the U.S., and many more suffer serious injuries. The Centers for Disease Control and Prevention states that many motorists get substantial settlements after car accidents. In fact, traffic accident deaths cost the U.S. economy more than $55 billion each year in medical expenses and lost wages.
You have the right to file a claim and seek compensation following a car accident. Various factors including the extent of your injuries and the cost of the property damage impact may impact your settlement amount. Understanding your rights and knowing how much the average car accident victim receives can help you make the best choices after your auto accident.
How Are Auto Accident Settlements Calculated?
Not every car accident victim receives a cash settlement. If the insurance company does offer a settlement, many factors impact how much you receive. Every auto accident is unique and the circumstances surrounding the crash will influence how much compensation you receive.
For instance, settlements for crashes that only result in property damage are usually substantially less than injury settlements. Compensation covers the losses a crash victim experiences. The following factors impact settlement amounts:
Medical costs
Pain and suffering
Lost wages
Property damage
Emotional stress
State laws
Your insurance and which motorist caused the accident will also impact the average car accident settlement.
Factors That Affect the Amount of Car Accident Settlements
Not all car accident victims receive a settlement. As discussed above, there are many factors that determine how much money you may receive.
1. Insurance Coverage
Most U.S. states require drivers to possess basic liability insurance before they can register a vehicle or obtain a driver's license. Liability insurance gives compensation to victims if the policyholder is responsible for the accident. However, the insurance company will only provide compensation up to the policy limits. If property damage or medical bills exceed the liable party's insurance coverage, the insurer will not cover the excess.
However, you can pursue a legal claim against the responsible driver for expenses not covered by insurance. Keep in mind that some people do not have money to pay damages to the victim, even if awarded by the court. As a result, it is important to decide if pursuing a legal claim is worth the time and money.
2. Responsibility
Generally, settlement amounts are larger if there is a clear responsible party. In these cases, the liable party's insurance company will generally accept responsibility and provide a reasonable settlement offer to avoid a lawsuit. While you will need to negotiate with the insurance company to get the best offer, insurance companies will generally make a fair settlement to avoid further legal action if the at-fault party is clear.
The insurer may offer a lowball offer if the at-fault party is less clear. If a few drivers share responsibility, the following scenarios may happen:
Some states use the term contributory negligence to determine settlement amounts when there is more than one at-fault party. In some states, drivers found even 1% responsible for a collision cannot collect compensation. Even if the other driver is mostly to blame for the accident, contributory negligence dictates that no motorist can receive compensation.
Some states use the term pure comparative negligence to dictate how much compensation a driver can collect. In these areas, drivers can collect compensation for their injuries, even if they caused the accident. For instance, a motorist who is 75% at fault for a crash can still pursue a claim against the other motorist. In these cases, the driver is likely to receive compensation for 25% of the total losses.
Some states use the term modified comparative negligence to dictate how much compensation a motorist can receive. In these areas, drivers can collect money as long as they are not more than 50% responsible for the crash. In these cases, the driver's share of the fault dictates the compensation.
Some U.S. states use complex laws to dictate settlement amounts after car crashes. Thus, it is important to seek legal representation if you plan to pursue compensation after a crash. A lawyer can help you understand your liability in the crash and how it may impact your settlement amount.
3. Extent of Injuries
The extent of your injuries is one of the biggest factors in determining car accident settlement amounts. A recent survey found that the average settlement amount for injured crash victims was $29,700, while car accident victims who were not injured received approximately $17,000.
Do not exaggerate your injuries to receive more compensation. The insurance company requests detailed medical records before paying out claims and will likely discover the true extent of your injuries. Your dishonesty may reduce your settlement amount, even if your injuries warrant more money.
4. State Laws
In no-fault states, motorists must first utilize their personal insurance coverage to pay for their medical costs. No-fault states require motorists to use their own insurance policy to pay for covered injuries, even if the other motorist caused the accident. Motorists can only seek compensation from the at-fault party once their insurance coverage is exhausted.
No-fault states require all motorists to carry personal injury protection to register a car or possess a driver's license. These policies cover up to $10,000 in medical costs and lost wages after car accidents. Generally, these policies do not award extra compensation for pain and suffering.
How To Seek a Car Accident Settlement
The first step is to file a claim with your insurance company and insurers of the other drivers. In some cases, your policy may cover your needs. However, there are instances when your insurer will not cover any medical expenses. If the other driver does not have adequate insurance, you may need to file a legal claim. Most people who pursue legal action have serious injuries. Most courts will automatically deny your claim if you cannot prove substantial pain and suffering.
Most people choose to negotiate with their insurance companies before pursuing legal action. Your carrier may deny your claim or offer a low settlement amount. Because of this, many people seek legal representation to negotiate on their behalf. Whether or not you seek legal representation, keep a detailed record of medical expenses including hospital costs, prescription drugs, surgical procedures, rehabilitative services, and doctor's appointments.
Do not accept the first offer from the insurance company as the initial offer is usually low. Many insurance companies initially offer low settlements, hoping that victims are too strapped for cash to delay the payment process.
It is a good idea to seek legal counsel before you begin negotiating with the insurance company. A lawyer can help you understand your rights and will fight to get you the money you deserve so you can focus on recovering.
Get Legal Assistance
Were you injured in a car accident in Utah? Don't wait any longer to get the compensation you deserve. Siegfried and Jensen can assist you with your insurance or legal claim. Our lawyers understand the claims process and can help you understand your rights. Don't try to negotiate with the insurance companies alone. Contact us today to set up a no-obligation consultation with one of our personal injury lawyers.