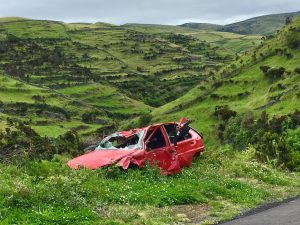 Car accident cases make up the majority of personal injury claims, and victims often have questions about their right to compensation. If you sustained a severe injury because a negligent driver caused your car accident, you have the right to pursue payment for all the losses you suffered as a result. A fair settlement collectively reflects the value of those losses, and a car accident attorney will fight to ensure you receive it.
What Damage Creates the Value of a Settlement?
The specifics of personal injury vary among the states. Still, all states generally refer to your recoverable losses as compensatory damages, which further divide into economic and non-economic losses. With the help of an attorney's investigation on your behalf, you will identify and assign a monetary value to all compensatory damages. That value is what you fight to receive as a settlement. In rare cases, you may also receive punitive damages.
Economic Damages
Your economic damages already have a monetary value. These include the financial repercussions of your accident. Examples are:
Missing income. You can request payment for the time off work you need to recover. If your injuries inhibit you from ever doing your job again, you can claim loss of earning capacity.
Medical expenses. All medical expenses related to your injuries are recoverable. This includes emergency care costs, medications, surgeries, in-patient and out-patient treatment, medical devices, and rehabilitative care.
Damaged property. The liable party is responsible for the cost of repairing or replacing any property damaged during the accident.
Wrongful death costs. If you lost a loved one due to the accident, you could claim the cost of funeral and burial or cremation expenses, loss of income, and loss of benefits, such as retirement accounts.
Anything you paid out-of-pocket is recoverable if it relates directly to your accident and injuries. For example, if you paid for transportation to medical treatments or needed childcare during recovery, you can include those in your claim. Your attorney will help you collect the evidence required to support them.
Non-Economic Damages
Non-economic damages are less objective than economic losses. Without personal injury experience, you could significantly undervalue your claim by missing recoverable non-economic losses. Examples include:
Pain and suffering associated with your physical injuries
Emotional distress or mental anguish
Loss of your ability to enjoy life as you once could
Depression and anxiety
Post-traumatic stress disorder
Disability or disfigurement
If you lost a loved one, you can claim loss of companionship or consortium and loss of the love and nurturing that person provided for you. Valuing these claims can be more challenging than economic damages. However, if you hire an attorney, they have the experience to value your claim adequately.
Punitive Damages
Punitive damages are unlike compensatory damages in that they do not compensate for anything you lost as a result of the accident. Compensatory damages are designed to make the victim whole again, but punitive damages punish the defendant for their behavior. In car accident cases, punitive damages are rare. The defendant must behave particularly egregiously to warrant an order for these damages. For example, suppose the driver in your case intentionally hit you in a fit of road rage. In that case, the court may deem it necessary to award you punitive damages to deter the defendant from similar behavior in the future.
What if You Are Partially Liable for the Accident?
In some cases, liability is relatively straightforward, but in others, it can be more complex depending on the unique details of the case. As the plaintiff, you are responsible for proving that the other driver owed you a duty of care and breached that duty, which caused the accident that resulted in your injuries. In most cases, the defense will respond by alleging you were either entirely or partially at fault for the accident. In most states, should the court determine you are partially liable, they will apply the comparative negligence rule.
Comparative Negligence
According to the comparative negligence rule, you could still receive a portion of the total value of damages. This is because the court determines what percentage of the fault belongs to both parties and then deducts your share from the claim. This same concept will appear during settlement negotiations without inference from the court.
Additionally, there are two types of comparative negligence. The pure comparative negligence rule states that you can receive a portion of the damages as long as you are not entirely at fault. This means you could be 99% responsible for the accident and still recover 1% of the damages. However, most states follow the modified comparative negligence rule, which only allows you to recover damages as long as you are less liable than the other party. Some states set the threshold at 50%, while others put it at 51%. Before considering how these factors affect your case, you must know whether you are eligible to sue.
Can You Still Sue in a No-Fault Auto Insurance State?
Some states require drivers to carry no-fault auto insurance, known as personal injury protection. In these states, you must file a claim through your own policy, and liability does not play a role in recovering compensation. However, the law recognizes that PIP insurance will not always be sufficient, especially in cases involving severe damages.
Most states have a serious injury threshold, which allows you to bypass no-fault coverage and file a lawsuit against the responsible party. For example, Utah allows an injured driver with a minimum of $3,000 in medical debt to sue if their injuries cause permanent disability, disfigurement, or impairment. Other no-fault states have similar policies with varying qualifying injuries.
Can a Car Accident Lawyer Help You Get a Fair Settlement?
The fallout from a car accident can drastically change your life. However, you do not have to face the legal ramifications alone while you deal with physical and emotional recovery. Personal injury attorneys handle car accident cases daily. Some tasks your legal representation will do for you include:
Preparing all the paperwork you need to file your claim
Investigating the accident to look for evidence of negligence
Collecting supporting information to prove your losses
Identifying all the damages from your case
Valuing your economic losses
Negotiating with the insurance company to ensure you receive a fair settlement
Preparing your case for trial if necessary
Accessing experts in fields relative to your case to provide supporting evidence
Offering moral support and an objective point-of-view during an emotionally charged time in your life
People who hire legal representation for a car accident case overwhelmingly receive a higher settlement. If you have questions about the value of your claim for a car accident caused by another person's negligence, you have nothing to lose from speaking with an attorney.
At Siegfried and Jensen, we have over 30 years of experience working with auto accident victims. The insurance adjuster assigned to your case acts only in the company's best interest. You deserve to have someone operating in your best interests as well. Contact us today for a free consultation. Your initial meeting with a car accident attorney will cost nothing. You are under no obligation to hire us, but we can answer your questions and help you take the next step toward getting your life back.