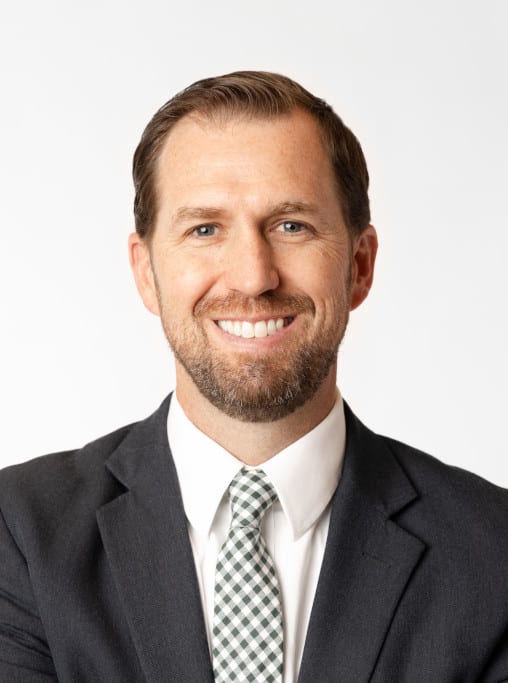 Clint McAdams is the supervising attorney at Siegfried & Jensen's Orem office. He has over 15 years of experience working on personal injury cases. Clint completed his undergraduate at Brigham Young University where he graduated with a Bachelor of Arts in English, and a minor in Spanish. Clint graduated from University of Utah's S.J. Quinney College of Law in 2005, and immediately clerked for the Honorable Judge Derek P. Pullan in the Fourth District Court.
Clint recently returned to Siegfried & Jensen in 2021 after serving as the managing attorney for 3 years at another personal injury law firm. In his previous stint with S&J, Clint worked solely as a litigation attorney at Siegfried & Jensen. In that capacity, he focused on helping clients with difficult cases that required a lawsuit in order for his clients to get fair compensation.
Clint was a partner at and worked for 11 years at J. Joyce & Associates, a firm that specialized in insurance defense litigation. In his time at J. Joyce & Associates Clint defended and helped resolve cases including automobile accidents, slip and fall accidents, products liability, asbestos, construction defect, DUI injury, defamation, and insurance coverage issues. While working as a defense attorney he served on the Utah Defense Lawyers Association board and received the Horizon Award given to lawyers who contributed to the legal community. Clint's experience as a defense attorney benefits his personal injury clients because he understands the tactics insurance companies use against them.
Clint has successfully resolved hundreds of cases through negotiation, mediation, arbitration, and trial.
Clint spends his time away from work driving his 5 children to their many sporting activities. Clint has enjoyed coaching girls' and boys' soccer, baseball, football, and basketball teams. He and his wife enjoy traveling, ultimate frisbee, and competing in triathlons, road races, and ultramarathons together.
Meet some other members of our legal team...