Millions of individuals across the United States get behind the wheel of a car daily. In some cases, these individuals become involved in car accidents that often result in debilitating injuries. Unfortunately, in Utah, over 164 motor vehicle occur daily across the state. In most cases, those involved do not sustain any serious injuries. Typically, when they do, minor injuries and damages occur.
Sadly, however, there are a number of individuals involved in car accidents in Utah that have their lives changed forever. 2.4% of all accidents result in incapacitating injuries or death to those involved. After being involved in a car accident caused by a negligent driver, you may not immediately think about calling a personal injury attorney. Without a doubt, this is something that needs to be done. If you suffer serious injuries in a crash caused by another driver's recklessness, distractedness, or intoxication, you need to contact a personal injury attorney as soon as possible to protect your legal rights to remuneration for your injuries and damages.
Personal injury attorneys do a lot more than just file a lawsuit on behalf of injured clients. Rather, attorneys help accident victims document their injuries, negotiate insurance settlement offers, and ensure that victims receive fair and full compensation and the justice they deserve.
Injuries From Car Accidents Can Have A Lasting Impact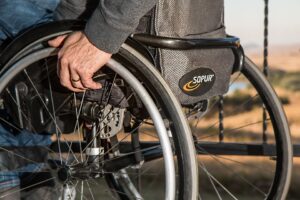 Even the most cautious and careful drivers can suffer severe injuries in motor vehicle accidents caused by other drivers on the roadways. Some of the most common life-altering injuries victims sustain include broken limbs, penetrating trauma, back or spine injuries, or traumatic head injuries. Quite often, severe injuries require patients to remain hospitalized for days, weeks, or even months, costing thousands of dollars in medical bills. What makes this matter even worse is victims are often forced out of work through their recovery, or potentially indefinitely. This can result in thousands of dollars in lost wages.
Depending on the severity of the injuries, it can take anywhere from days to years to completely recover from an accident. Some injuries never heal, which can lead to permanent mobility problems. Physical injuries can also have negative emotional impacts on victims. Injuries can cause personality changes, emotional trauma, and severe mental fallouts.
In some cases, individuals are forced to go to years of therapy to cope with the mental and emotional traumas of car accidents. Having to go through mental health treatment places additional financial burdens on an accident victim. Working with a personal injury attorney will ensure you recover the maximum amount of compensation for your injuries and other damages you sustain in a car accident.
Recoverable Damages In A Car Accident
If you are injured in a car accident due to the negligence of another driver on the roadway, you are able to obtain restitution for your damages. Some of the most commonly awarded damages in car accident cases include:
Medical Expenses: Individuals who sustain injuries often have to obtain immediate medical attention. Sometimes, injuries require surgeries and therapy to address. Courts are able to award injured claimants repayment to cover past, current, and future medical expenses related to their injuries. The court will review medical records to determine how much money you have acquired in medical bills as well, as any future medical care plans to determine anticipated needs for medical care.
Lost Wages: Individuals who are forced out work to tend to their injuries and go through surgeries, appointments, or therapy are able to obtain compensation for the amount of time they miss from work. This amount is easily calculated by figuring out a victim's hourly wage and multiplying it by the number of hours they miss from work. Sometimes, there are cases where injuries force victims out of work indefinitely. Calculating a worker's expected wages over the remainder of their career is far more challenging. Working with an experienced attorney will ensure you have the financial experts necessary for helping you calculate this total amount.
Pain And Suffering: Individuals who are injured in car accidents often sustain injuries that result in both physical pain and mental suffering. In these cases, claimants are required to prove to the courts and jury how much of an impact their injuries are having on their lives. Courts are able to award reimbursement based on the devastating impact the injuries have on a person.
Property Damage: Individuals are able to obtain recompense from the at-fault driver to cover the costs for the repairs or replacement of their vehicles. If the injured victim has personal belongings that were damaged in the vehicle, they are able to obtain remuneration for them as well.
In some cases, judges award punitive damages in addition to compensatory damages in Utah. Punitive damages are not given to a victim to compensate them for a loss. Instead, these awards are given to an accident victim as a form of punishment toward the negligent party. These awards are provided in hopes of preventing future wrongdoings from the defendant.
How A Personal Injury Lawyer Can Help You
Dealing with doctors and insurance companies during your recovery can be extremely challenging after a car accident. By hiring a personal injury attorney, you can focus on your recovery while knowing that your best interest is protected. You do not have to handle this stressful situation on your own. Attorneys at Siegfried & Jensen have over 30-years of experience helping accident victims obtain the maximum amount of compensation for which they are entitled to for their injuries. We have helped over 35,000 accident victims obtain over $850 million for their injuries and damages. Contact our law firm today at (801) 845-9000 to schedule a free consultation to see how we can help you obtain the remuneration and justice you deserve.