Each year, somewhere between 20 and 50 million individuals are harmed in the aftermath of a car crash, and another 1.3 million sustain fatal injuries as the result of a roadway collision. No matter what caused the accident, or who is responsible for it, it is crucial to understand what to do next.
If you are ever involved in a car crash, keep these steps in mind. 
Get to Safety
If you are able to, get your car off the roadway and away from danger. Put your car into park and turn it off. During this time, you should check yourself to make sure you weren't harmed in the crash. If you don't see or notice any apparent injuries, you should get out of the car. If you are unable to move your vehicle out of the way of traffic, and you were not harmed in the crash, get out of the car once it is safe to do so and move to the far side of the roadway. Once you are certain that you weren't harmed, check any passengers, pedestrians, or other drivers involved for injuries. If anyone was harmed in the crash, contact 911 and get help as soon as possible.
Call the Police
Calling the police does not necessarily mean that you have accepted liability or placed blame on another driver. It is in your favor to obtain the police report from the collision. It will ultimately help your insurance provider process your accident claim. If you call a lawyer for any reason following a car crash, you will likely need it then as well. Be sure to cooperate fully with the responding officer and answer questions as honestly as possible. If no one was harmed in the crash, the police may not report to the scene of the crash. In this case, you should file the accident report through the local DMV.
Never Accept Blame or Liability
Your insurance carrier may deny your claim if you accept blame or liability for the crash. Even worse, you may think it is your fault and then later find out it was caused by the other driver. Do not provide any more information than is necessary, but try to be polite and helpful. Only talk about the incident with the police, medical professionals, the insurance adjuster, or any other professional involved in the accident.
Exchange Contact and Identification Info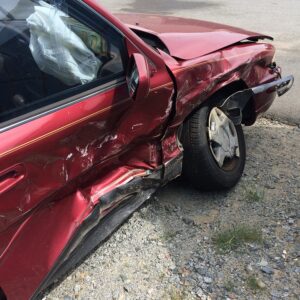 You can wait until the police are at the scene or do it while you wait, but be sure to exchange certain information with the other drivers involved:
Name of the driver and any involved occupants;

License plate numbers of all involved cars;

Insurance information of the other driver;

Vehicle make, model, and year;

Location of the crash; and

Name and badge number of responding police officials.
Also, it will be beneficial to gather contact information from any witnesses at the site who may have stopped and are willing to offer testimony on what took place.
Document the Scene of the Accident
More likely than not, you have a phone with a camera function. You can use this to take photos of the area of the crash, the placement of the cars, and the damage resulting from the car accident. Be sure to get photos from as many different angles as possible. Take your time to ensure that the images are clear.
File an Insurance Claim
As soon as you are able to, after talking to the police and getting all the contact information, you should then contact your insurance provider to file an accident claim. Stay vigilant and keep on top of the process and follow up with whatever information is needed by the insurance adjuster. You will likely receive a damage valuation of your car. If you disagree with the amount that the insurance adjuster valued your vehicle or the sustained damage, you should seek independent estimates on your own. Two should be sufficient for your claim, and you can offer this information to your adjuster. 
Track Your Medical Treatments and Expenses
If you were harmed in a car crash, you should track everything very closely. Maintain journals of your injuries, the doctors you have visited, and what treatments have been done. This includes keeping copies of your medical expenses. Track of the days you have missed from school or work due to your injuries, as well as your feelings following the accident. If you end up going to trial, it can often be hard to demonstrate "pain and suffering." While you are recovering from your injuries, keep a journal, take notes, or use a mood tracking app to document your feelings daily.
Consult with a Personal Injury Lawyer
You may decide on calling a Salt Lake City car crash lawyer immediately after the crash, or maybe you will wait until you hear back from your insurance provider. Whatever the reason or whenever you make the call, share all the information you have — the police report, information from your insurance carrier, and your documented medical expenses. From this point, you and your lawyer can decide on how to move forward. 
Salt Lake City Car Crashes
No one ever expects to be involved in a serious car accident, but they happen to many people each and every day. It only takes a few seconds to be seriously injured, and these crashes are often unforeseen accidents that are the fault of another motorist.
There are about 3 million people injured in car crashes every year in the United States. These accidents can result in significant damages, including property damage to a vehicle, expensive medical bills, and intense emotional suffering. In certain situations, the victims of a crash can contact an experienced Utah auto accident lawyer in order to hold the at-fault driver accountable for their actions and to regain lost compensation.
Siegfried & Jensen works tirelessly for our clients in order to regain the settlements they deserve after a crash. If you have been harmed by another driver's negligence, give us a call at 801-845-9000.