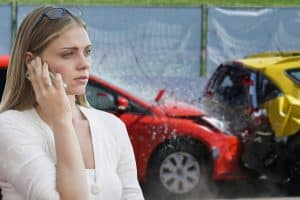 If you have a car accident due to someone else's negligence that results in injuries, you have enough on your plate without the added stress of finding someone to help you with a legal claim. Finding the name of a car accident attorney isn't challenging. The tricky part of the process is sorting through the firms and names to find a reputable and successful lawyer who will work hard for you.
How Do You Find the Right Car Accident Lawyer?
Car accident lawyers practice personal injury law. They often handle multiple types of personal injury cases. If you see a commercial, internet ad or billboard advertising personal injury legal service, most of those attorneys handle car crash cases. Searching for an accident lawyer on the internet produces a seemingly endless number of results pages. To narrow your options, you need to filter your search and ask a few questions.
Apply Search Filters
Often, attorneys advertise broadly and may even hold licenses in various states. Not all lawyers who can practice in your state have the in-depth knowledge about your state's judicial system, laws or legal precedent you need to ensure the best possible outcomes. When you conduct an internet search, insert location search terms.
Once the results list populates, check where firm offices are located and eliminate those that aren't in your region. Though you may find attorneys locally, you may need to broaden the geographic area if you live in a sparsely populated county.
Look at Attorney Experience
Experience refers to both practice focus and years of experience. If you sustained injuries in a car crash, you have a lot riding on the outcome of your case. Though every seasoned attorney was once a newbie, you may want to look for lawyers with plenty of experience under their belts.
Large firms have multiple lawyers to choose from. Often, they each focus on specific types of personal injury cases. Some may work on product liability mass tort cases; others might concentrate on construction accidents; and still, others spend most of their time on car accident cases. If you file a personal injury lawsuit after a car crash, you want someone with an extensive background in helping traffic accident victims recover fair compensation.
Approximately 95% of all personal injury cases settle out of court. Only the most complex car accident cases tend to go to trial, so there's a good chance your claim won't see the inside of a courtroom either. However, you do not want to overlook an attorney's trial experience. A 5% trial rate means there is no guarantee of an out-of-court settlement. It's a good idea to look for attorneys who have represented car accident plaintiffs in the courtroom.
Check Their Results
Car accidents can lead to significant losses for those injured. If your injuries are severe, there might be long-term or permanent impacts. In addition to initial medical treatment, your losses may include the following:
Future medical expenses
Rehabilitation and therapies
Psychological therapy
Lost wages
Reduced earning capacity
There may also be non-economic damages, including physical pain and mental anguish. A fair settlement accounts for all potential losses. An attorney's achievements in handling car accident cases should reflect success in obtaining settlements that adequately compensate clients. In the 30 years we've been in business, we've won $1.2 billion in settlements for our clients.
Investigate the firm's and the accident attorney's results. What is their success rate? You should also find out how many cases they've handled. Ideally, you want a firm and lawyer with a high success rate handling a large number of cases. Siegfried and Jensen has a 97% success rate as a firm, and we've handled more than 35,000 cases.
Read the Reviews
An attorney may check all the boxes for experience and results but not provide satisfactory client services. It helps to learn what other clients say about the lawyer and the firm the attorney works in. Any individual or business can tout their own horn, but the people who use their services have no reason to gloss over the truth.
Take some time to read reviews. If the lawyer's website doesn't provide reviews, look for them online. Check out how many reviews their ratings are based on and spend a little time reading through a few reviews, including negative ones if there are any.
Look Into Their Fees
Car accidents are costly, and many people can't afford to pay out of pocket for an attorney. You can learn some information online, such as whether the lawyer offers a free case review. You should be able to find out whether the car accident attorney will assess your case for free and if the firm charges any upfront costs.
It might not hurt to call the office to find out if you are responsible for expert testimony or filing fees upfront. While you have the office on the phone, you can ask what the lawyer charges if you win your claim. Though there is no established fee, many attorneys charge around a third of your settlement.
Find out How They Communicate
Communication is critical. You should not be left in the dark about how your case is progressing, and you should be able to get answers to any of your questions quickly. You can probably learn quite a lot about communication through reviews, but you can also get a good idea during your initial interactions. If you've narrowed your search to a handful of possibilities, you may want to ask the attorneys on your list about their protocols for communicating with clients.
Check Into the Support Staff
A lot goes into building a solid car accident case. You don't want to work with a lawyer who is spread too thin. Having direct access to and contact with your attorney is essential, but you also want to know that the lawyer has a supportive team helping with your case.
Do You Need a Car Accident Attorney?
In 2021, there were 61,406 car accidents in Utah, but only 18,220 resulted in injuries. Not all those injuries would have been serious enough to warrant a lawsuit. Only those with injuries that meet the state's threshold for filing can pursue a legal claim. If your injuries fall within one of the following categories, you may benefit from working with a car accident attorney:
Permanent disfigurement
Permanent disability
Permanent impairment
Bodily dismemberment
You can also file a lawsuit if your medical expenses exceed the $3,000 minimum personal injury protection coverage state law requires.
Your role in your accident is a second consideration for whether you might benefit from an attorney. Utah follows a modified comparative fault law. You are entitled to compensation for your losses if you are less than 50% at fault. However, the courts will reduce the settlement award by the same percentage of liability you hold. An attorney should assess your case to determine whether it has merit and qualifies for a lawsuit.
Can Siegfried and Jensen Help You With Your Car Accident Case?
Siegfried and Jensen's car accident attorneys are here to help you understand your rights and your case. After a free case review, you will know your options. If your case has merit and you choose to hire us, we'll work with you throughout the process to ensure you have a solid case and the best chance for a favorable outcome. Contact us today to learn more about what we can do for you.