Drivers often maintain their vehicles by rotating their tires every few months. The constant rotation of the tires allows the wear to distribute evenly. This is a critical part of maintenance, as it ensures the tires do not bald in any spots. Bald spots on tires can cause blowouts that lead to very dangerous situations.
Unfortunately, regardless of the amount of care and dedication a car owner places in maintaining their vehicle adequately, they are unable to protect themselves in the event of a defective tire. Tires which are defective can be grounds for a product liability claim. These cases require claimants to present evidence that demonstrates negligence or a breach of the manufacturer's duty of care. When individuals suffer bodily harm due to accidents caused by defective tires or other defective vehicle parts, Utah liability law provides victims the legal route toward filing lawsuits against liable parties, in order to seek monetary compensation for all losses and damages.
If you or a loved one was injured in a car accident caused by a defective tire, it is crucial to contact a personal injury attorney from Siegfried & Jensen as soon as possible. Our team of legal professionals is available to help assist with your claim. Our attorneys will review the details of your case to determine whether you have a valid claim for product liability for your accident.
How Defective Tires Cause Accidents In Utah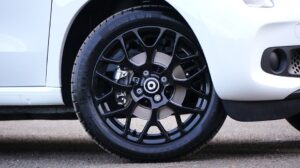 There are many ways a tire can be considered faulty. Generally, tire defects occur due to errors during manufacturing. When it comes to determining if a tire is defective, the age and quality of the product purchased is critically important. Defects can cause accidents when thread separation occurs. This typically happens to tires in which a design flaw exists. Older tires and blowouts are extremely common because of the greater pressure or degradation these products face. Tire defects can occur for various reasons, including:
A failure in the design;
When specific components are mistakenly left out of the design;
When they are improperly repaired from punctures;
When the tires are unsuitable for a specific vehicle;
When retread failures occur after purchasing; and
When the tires are damaged during mounting.
When Tire Recalls Are Made For Defective Products
It is extremely common for companies to recall tires due to defects. Quite often, these defective tires will pass through inspection without any issues being noticed. When these vehicles are installed and used on vehicles, it can lead to serious injuries or loss of life, as well as extensive property damage for vehicles involved in accidents caused by them.
Some of the most commonly recalled tire manufacturers include BF Goodrich, Firestone, Goodyear, Yokohama, Bridgestone, and Michelin. These products often contain dangerous defects, including those which cause:
A sudden loss of air pressure in the tires;
Failing strength tests;
Separation of the tire belt;
Drivers lose control of vehicles due to tire belt separations; and
The tire sidewall separates from the rest of the wheel.
Holding The Tire Manufacturer Liable for Accidents Caused By Defective Products
Manufacturers are charged with creating products that are safe and reliable to use. Products offered are expected to function in a manner which it is offered. When manufacturers violate their duty to provide safe and reliable products to consumers, they can be held liable for any injuries and damages that occur as a result. Tire companies can be held liable in instances where:
Thread separation occurs, even when the tire is properly inflated and used;
The manufacturer knows about the defect but fails to issues a timely recall;
The retailer sold tires which they knew were defective; and
Any defects that cause serious injuries or death.
Generally, those injured in tire defect cases have up to two years to file personal injury lawsuits against the manufacturer to recover compensation for damages and injuries. Working with a personal injury attorney will help you to collect the maximum compensation for which you are entitled.
Compensation Available For Victims In Accidents Caused By Tire Defects
In Utah, a claimant must be able to provide the tire defect was the cause of the accident. Furthermore, you will need to prove that the tire was unreasonably dangerous and it directly resulted in your injuries or the death of a loved one. Individuals who are able to successfully prove liability in defective product cases are able to obtain restitution for various economic and non-economic losses. Some of these include:
Medical expenses;
Lost earnings;
Mental anguish; and
In some instances, victims are able to obtain punitive damages in addition to compensatory damages. Punitive damages are awarded in cases which involve severe negligence as a form of punishment toward the liable party.
A Utah Car Accident Attorney Can Help You
If you were injured in a car accident caused by a defective tire, it is crucial to contact a personal injury attorney from Siegfried & Jensen as soon as possible. Our knowledgeable lawyers are well-versed in product liability laws in Utah. For over 30 years, we have helped accident victims collect over $850 million in compensation for injuries and damages caused by negligent parties across the state.
Our team of attorneys will help you with your legal claim by gathering all the necessary evidence to build a strong case. We will interview witnesses, gather documents from medical professionals and law enforcement, hire expert witnesses, and take photographs of your vehicle, the accident, your tires, and other important items that accurately and thoroughly demonstrate how the at-fault party is responsible for injuries and damages you sustained.
Furthermore, our attorneys will aggressively negotiate fair and full compensation that enables you to take care of your financial responsibilities while focusing on your recovery. If you were injured in Utah, due to a defective product, contact Siegfried & Jensen at (801) 845-9000 as soon as possible to schedule a case evaluation.