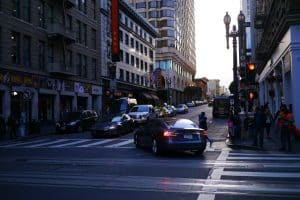 Two of the country's longest and most traveled highways, I-15 and I-80, pass right through the heart of Salt Lake City. So it comes as no surprise that the Utah Department of Public Safety reported Salt Lake as being the county with the highest crash rates.
Where do these accidents occur? The same report showed that 45 percent of crashes in Utah take place at intersections.
The Dangers of Intersections
Most Salt Lake City drivers pass through numerous intersections every day on each commute. Roadways intersect to connect people driving from one route to another.
Unfortunately, the increase of vehicles, pedestrians, and bicyclists at intersections commonly leads to congestion, confusion, and an increase in accidents.
Some of the top reasons why intersection accidents occur in Salt Lake City include:
What Are Some of Salt Lake's Most Dangerous Roadways?
While a car accident can occur on any roadway in SLC, there are some roadways where crashes more commonly occur.
The following are some locations in Salt Lake City where accident victims have suffered severe injuries or fatalities:
I-15
US-89
I-80
SR-68
Redwood Rd
Which Intersections in Salt Lake City Are Most Dangerous for Pedestrians?
Drivers are not the only ones at risk of being harmed in a car accident. Tragically, many pedestrians are injured or killed every year in Salt Lake City.
The following are the top 10 intersections in Salt Lake where pedestrian accidents have occurred:
4100 South and Redwood Road
4500 South and State Street
7800 South and 700 East
7200 South and State Street
3500 South and 4000 West
3300 South and State Street
900 East and Fort Union Boulevard
900 East and 2100 South
1300 East and 400 South
3500 South and Redwood Road
Plans to Improve Roadways and Prevent Accidents in Salt Lake City
Government officials have recognized the need to improve some of Salt Lake City's roadways to make them safer for all users. Several projects are currently in the works.
For example, 200 South, which is Utah's busiest transit street, began reconstruction in 2022. The goal is to rebuild 200 South in a way that improves mobility and safety for drivers and pedestrians.
Some of the many improvements include curbside loading and parking zones, transit priority lanes, buffered bike lanes, and in-lane bus stops with floating platforms to board.
200 South is just one of the many areas in Salt Lake where roadway improvements are planned or underway. The number of pedestrian crashes in recent years has led to officials brainstorming possible solutions for some of the city's more dangerous roads.
The following are some of the planned improvements:
Speed lumps: Areas where the pavement is elevated, forcing drivers to reduce their speed
Roundabouts: A circular intersection where drivers travel counterclockwise around a center island to maximize safety and minimize traffic delay
Pedestrian refuge islands: A small raised area providing a safe area for pedestrians to stand while traffic circulates around them
Speed feedback signs: Digital signs that are used in school zones and other high-traffic areas to measure the speed of oncoming drivers
Raised crosswalks: A speed table that brings the level of the roadway to that of the sidewalk, forcing cars to slow down before driving over the crosswalk
Common Types of Salt Lake City Car Accidents and How to Avoid Them
While it's true that you can't control the actions of those you share the road with, there are steps you should take as a driver to be safe and do your part to prevent a motor vehicle accident.
Consider some car accidents that commonly occur and the steps you can take to avoid them.
Rear-end collisions
Rear-end collisions are the most common type of car accident. You can take measures to avoid these by:
Keeping your distance. Stay at least 3 seconds behind the vehicle in front of you.
Avoiding driving while distracted. Avoid texting and engaging in other distracted driving behaviors.
Refraining from reckless driving. Do not tailgate, speed, brake check, or engage in other reckless driving behaviors.
Intersection accidents
As we discussed earlier in this article, the highest number of car accidents in Utah occur at intersections.
Here are three tips to avoid crashes at intersections:
Pause after the traffic light changes. Take a moment after the light changes to look for drivers and pedestrians still making their way through the intersection.
Obey traffic signals. Unfortunately, many drivers see a yellow light and think it means to drive faster and race through the intersection. However, yellow traffic lights indicate that drivers should reduce speed and prepare to stop.
Avoid distractions. Intersections are not the time to check your phone, apply make-up, make a call, or engage in other forms of distracted driving.
Head-on collisions
A head-on collision usually results in devastating injuries to all parties involved.
The following can help you to avoid head-on collisions:
Avoid speeding. Driving at high speeds increases your chances of losing control and veering out of your lane, especially around curves in the road.
Keep from engaging in distracted driving. You may have noticed a theme here, as avoiding distracted driving is key to preventing a wide range of car crashes.
Side-swipe accidents
Side-swipes happen when two vehicles traveling parallel to each other collide.
Follow these suggestions to help prevent side-swipe accidents:
Check your blind spots. Most side-swipe accidents occur when drivers fail to check their blind spots.
Use your turn signal. Always use your vehicle's indicator to let others know of your intent to turn or change lanes.
Contact Siegfried & Jensen After a Salt Lake City Car Accident
At Siegfried & Jensen, we understand that a car accident can leave you coping with physical pain, emotional trauma, and financial difficulties. You do not have to go through this difficult time alone. If you have sustained severe injuries in a Salt Lake City car accident, the lawyers at our law firm are here to help.
We can review your case, determine whether you have a claim for compensation, and offer legal assistance. You may be entitled to compensation for medical bills, lost wages, pain and suffering, and other damages.
We have been defending the legal rights of Utah car accident victims for over 30 years. Contact our local Salt Lake office at (801) 845-2455 or complete the easy online contact form to schedule a free case evaluation.