Semi-truck accidents are often far more complicated than collisions that involve multiple passenger vehicles. Although semi-truck accidents can result in far more severe injuries and damages, these collisions are often more complicated because there are numerous parties who are potentially liable for causing the accident.
Attorneys at Siegfried & Jensen are well-versed in Utah's semi-truck laws as well as federal regulations which are imposed on trucking companies across the country. We will work diligently to identify the cause of your truck accident and determine which of the parties are liable for your damages. We are determined to help individuals who are injured in semi-truck accidents recover the maximum amount of compensation they are entitled to for their injuries and damages.
What Parties Are Involved In A Semi-Truck Accident Claim
Unlike standard car accidents, semi-truck accidents can have several parties who may be held liable. There are several parties involved with putting semi-trucks in service and maintaining them. Given the shared responsibilities for these vehicles, several parties can be held liable for accidents in which they are involved. Some of the most common liable parties include:
The driver of the truck;
The company that leases the truck;
The owner of the truck;
The loader of the truck's shipment; and
The manufacturer of the truck or the truck's components.
Given so many parties are involved in the semi-truck operations; it can be extremely difficult for most individuals to determine who is actually responsible for the accident. Our experienced team of attorneys at Siegfried & Jensen will perform a thorough investigation to determine the cause of the accident and the responsible parties.
Determining The Liable Parties
Truck drivers must operate their vehicles in a safe and responsible manner. They need to respect others on the roadways and meet federal requirements to obtain commercial driver's licenses.
Unfortunately, regardless of the training these individuals receive, they are still ten times more likely to cause accidents in comparison to dangerous road hazards, poor weather conditions, and poor vehicle maintenance.
There are several errors truck drivers commit that can result in their liability for a truck accident. Some common errors are:
Substance Abuse: There are extremely severe regulations on all commercial vehicles and driving under the influence is one factor that is never overlooked. Trucking companies are required to routinely test new drivers for illegal substances before hiring. Truck drivers are not allowed to do drugs or consume alcohol while operating their vehicles. Truck drivers who are involved in accidents are required to submit drug and alcohol tests immediately after the accident occurs.
Truck drivers are prohibited from refusing to submit a drug or alcohol test. Any act of refusal can result in the loss of a job or severely restricted employment. Drug and alcohol screenings that come back with levels of 0.04 percent or higher can result in fault for the accident.
Driver Fatigue: Truck drivers are required to follow a strict hour schedule set by the Federal Motor Carrier Safety Administration. Sleep deprivation is one of the leading causes of truck accidents, which is why there have been so many regulations enacted to cut back on truck drivers' hours. Drivers who are fatigued may have problems recognizing dangers on the roadway, reacting to sudden changes in traffic patterns, making sound decisions, and focusing on the roadways.
Equipment Failure: Another leading cause of truck accidents is mechanical failures and defective parts. Quite often, these include:
Defective brakes;
Broken hitches;
Transmission failures;
Defecting steering systems;
Worn or defective tires; and
Defective lighting.
Trucking companies are required to inspect their vehicles regularly and uphold a sound maintenance schedule that details when vehicles were serviced and what repairs are made. Attorneys at Siegfried & Jensen will recover these records to determine whether a performance issue was the cause of your accident.
When The Trucking Company Is At Fault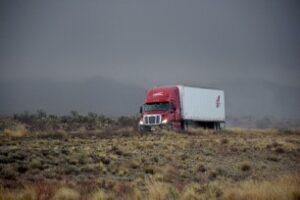 A lot of trucking companies attempt to distance themselves from accidents to avoid liability. Fortunately, there are numerous ways attorneys at Siegfried & Jensen may be able to prove the company liable for the victim's damages.
Determine if the driver is an employee. Truck companies that directly employ drivers can be held liable for accidents. Unfortunately, if a truck driver is a contractor, the company usually doesn't hold any liability. Employment records will prove which type of employee the driver was in order to determine if the company is liable.
Determine if the company owns the vehicle. Truck companies can be held liable for accidents if they own the truck that was involved. Trucking companies often lease trucks from other companies that are charged with maintaining and inspecting vehicles. An experienced truck accident lawyer can request vehicle registration records and proof of ownership to determine who the legal owner is.
Determine the company's practices. Although laws and regulations strictly prohibit truck companies from imposing unrealistic deadlines on drivers, they often do not comply. Not following the FMCSA's orders can result in a company being held liable for the accident.
Hire A Utah Truck Accident Attorney To Help You
Being involved in a semi-truck accident can be devastating. These massive vehicles can cause catastrophic injuries, which lead to hefty medical bills and long-term treatments. Individuals who sustain injuries due to negligent drivers or companies can recover compensation for their damages. Siegfried & Jensen help accident victims recover compensation for:
Medical expenses;
Lost wages;
Pain and suffer; and
Property damage.
In some cases, where extreme negligent was involved, accident victims can recover punitive damages in addition to compensatory damages. Working with an experienced and diligent attorney from Siegfried & Jensen will ensure you recover the compensation you deserve for your injuries. We understand the struggles accident victims face in the aftermath of an accident, which is why we are determined to obtain justice and compensation to help alleviate some of the financial struggles they face. Contact our law office today at (801) 598-1218 to schedule a free consultation.