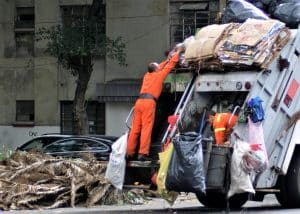 A garbage truck is a vehicle designed to collect waste from residential and commercial properties and transport it to a recycling center or landfill. Local municipal governments own these trucks and employ the drivers who operate them. If a garbage truck hits a vehicle or pedestrian, the damage can be catastrophic.
If you've been hit by a garbage truck, it is important to contact a legal professional as soon as possible. Many personal injury lawyers are experienced in handling cases involving large trucks. Here is everything you need to know about these accidents and what you should do if you collide with a garbage truck.
Causes of Garbage Trucks Crashes
Unfortunately, garbage truck accidents are not rare. Because of the frequency in which these vehicles travel on roadways, garbage trucks commonly crash into passenger vehicles, cyclists and pedestrians. It is important to understand the main causes of garbage truck crashes so you're prepared. These are some of the main reasons behind garbage truck accidents:
Bad weather: Garbage truck operators must collect waste and recycling items regardless of if it is raining or snowing outside. Unfortunately, inclement weather conditions such as snow and sleet can make it difficult for operators to operate safely on narrow city streets. If a garbage collector does not exercise extreme caution during inclement weather, a crash can quickly occur.
Early morning trash routes: Garbage collectors often begin their routes early in the morning, before sunrise. Visibility is often poor during the early morning hours, and crashes can occur if a driver is tired or not exercising caution.
Frequent stopping: Waste collection requires garbage men to frequently stop to pick up trash from homes and businesses. It is common for other motorists to rear-end a garbage truck when the driver suddenly stops. Frequent stopping can also wear out a truck's tailgate lights, making it difficult for other drivers to see when the truck is slowing down.
Overloaded trucks: It is a substantial hazard if a trash collector piles too much trash on top of the truck. Overloaded trucks are more difficult to control, and debris may fall from the truck without warning, endangering other drivers on the road.
Faulty equipment: Garbage trucks must be inspected and maintained on a regular basis to perform optimally. If design and manufacturing defects are not caught during an inspection, these defects can cause a collision. Manufacturers should inspect trucks on at least a yearly basis to prevent collisions that occur due to disrepair.
Driver error: Garbage trucks are large, and drivers must take significant care while driving to prevent collisions with pedestrians or other vehicles. Unfortunately, it is not uncommon for garbage collectors to text, consume food, or talk on the phone while operating a work truck. If you believe driver negligence was a factor in your garbage truck accident, you should contact a lawyer to see if you are eligible for compensation.
This is not a comprehensive list of causes of garbage truck crashes. Many other factors including roadway hazards or driver intoxication can also cause collisions.
What Should I Do if I Am in an Accident with a Garbage Truck?
Colliding with a garbage truck is a scary experience. Even if you are not injured, simply making contact with such a large truck can cause a significant amount of structural damage to your vehicle. If you're involved in a garbage truck accident, follow these steps:
1. Call for Help
It is important to contact emergency services as soon as you are in a safe location. If necessary, request an ambulance when you contact the police. Even if you do not think you suffered any injuries, it is a good idea to seek medical attention. Adrenaline will shoot through your body immediately following a collision, temporarily numbing pain from injuries.
2. Make a Report
As soon as the police arrive, report any crucial details to the responding officer. The report will contain the critical information you may need later on if you decide to file a claim. Failure to make an official report can hurt your ability to receive compensation in the future.
3. Obtain Contact Information
If possible, collect contact information for emergency personnel and any witnesses while you are still at the scene. You may need to contact witnesses or responding officers down the line for more information if you decide to file an insurance claim. Collects names and phone numbers of witnesses and names and badge numbers of responding police officers.
4. Snap Photos
Take photos of the garbage truck and damage to your car before emergency services clear the scene. You should also document your physical injuries as soon as you are able.
5. Report the Crash to Your Insurance Company
Even if you did not cause the car accident, call your insurance company and report the accident as soon as possible. However, refrain from making any official statements before consulting with an attorney. Making a statement about the facts of the case before speaking with a legal professional can damage your chances of being awarded compensation.
6. Obtain a Copy of the Police Report
Call your local police station and request a copy of the official report. The police should not charge you a fee for a copy of the report. Once you receive the document, make a few copies. Save a copy for your records and give one to your lawyer.
7. Keep a Detailed Expense Record
Keep a detailed log of all expenses incurred as a result of the accident including medical expenses, lost wages, time off from work, legal fees, and any other costs associated with treating your injuries. These records are crucial to establishing the amount of compensation you should receive.
8. Keep Copies of Medical Records
Most medical injuries come with extensive hospital paperwork, medical records, and test results. Make copies of all medical records and ensure you give a copy to your attorney once you've signed a retainer. Make sure your records contain a detailed list of all hospital stays, medical appointments, procedures, medications, and treatments.
Contact an Experienced Attorney
Without proper legal training, it is unlikely that you will be able to collect all of the documentation needed to properly showcase your injuries and establish responsibility for your injuries. A garbage truck accident lawyer has the experience needed to properly document your injuries and present your case to the courts.
Even if you are not sure if you have a viable case, contact a garbage truck accident lawyer as soon as possible. Many attorneys will evaluate your case for free. Make a few appointments with different attorneys and come prepared with a list of questions to ask. Choose a lawyer who you think will best represent you in court.
Work With a Legal Expert
Were you involved in a garbage truck accident in Utah? Don't wait any longer to find out if you have a viable case. Seek the help of an experienced garbage truck accident lawyer as soon as possible. Utah law firm Siegfried and Jensen has successfully handled hundreds of personal injury cases. One of our attorneys will review the facts of the crash and let you know how much your case may be worth. Contact us today to schedule a consultation.