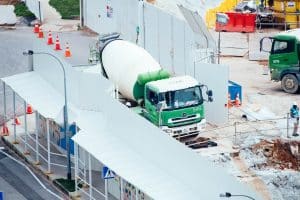 A cement truck, also known as an agitator truck or concrete mixer, delivers concrete from the mixing site to the construction location. While the average passenger vehicle only weighs around 4,5000 pounds, cement trucks can weigh upwards of 40,000 pounds. Given the large mass of an agitator truck, collisions involving one of these vehicles can be catastrophic.
It is important to understand your rights if you're involved in an accident with a cement truck. Working with a lawyer is one of the best ways to ensure you get the compensation you need to pay for your medical bills. Here is everything you need to know if you've collided with a cement truck.
Common Causes of Cement Truck Accidents
Cement trucks are unique in the commercial trucking industry because the delivery must be made within a narrow time frame. Unlike other types of cargo trucks, cement trucks must deliver the product within two hours to ensure the mix is usable. These tight time restrictions may cause drivers to go above the speed limit, drive erratically, or make driving errors.
1. Speeding
Speeding is one of the main causes of cement truck accidents. Drivers may forfeit their earnings if the concrete is not delivered on time. For this reason, drivers may travel faster than the speed limit to reach the drop-off location on time. Speeding may even cause a driver to hit another driver or spill concrete out of the mixer, causing a roadway hazard.
2. Mass
The unusual size and heavy weight of a cement truck is often a factor in motor vehicle crashes. Because the load is concentrated in the mixer, the truck may become unbalanced if the operator is driving too quickly around a sharp turn. A cement truck accident not only puts the driver of the truck at risk but also endangers pedestrians and occupants of other vehicles.
3. Driver Error
Unfortunately, human error contributes to a high percentage of cement truck accidents. The National Highway Traffic Safety Administration estimates that driver error contributes to more than 94% of motor vehicle crashes. Cement trucks are difficult to operate, and drivers without proper training may easily lose control of the vehicle or make other careless errors. Inattentive driving or texting also contributes to a large percentage of cement truck accidents.
Who Is Responsible for Cement Truck Accidents?
Many parties may share responsibility if you're involved in a cement truck accident. Depending on the cause of the crash, the truck driver, trucking company, or construction company may share responsibility. If a truck driver's negligence causes an accident with another vehicle, the driver is likely solely liable for any damages.
In other crashes, another third party may share liability. For example, the truck manufacturer is liable if a mechanical flaw contributed to the collision. If third-party employees improperly loaded or unloaded cargo from the truck, they may share responsibility with their employer. A truck accident lawyer can help you ascertain which party is liable in your case.
Steps To Find a Cement Truck Accident Lawyer
When you've been involved in a cement truck accident, the steps you take to find a lawyer can have a big impact on the rest of your life. Hiring an experienced legal professional may help you get the compensation you need to cover your medical bills.
Not sure where to start looking for a lawyer? Keep reading for a list of steps to follow to make hiring an attorney a breeze.
1. Ask for Recommendations
One of the best ways to ensure you hire a competent attorney is to ask for recommendations from friends and family. Tell your family and friends about your plans to hire a lawyer and ask if they have any recommendations. While your aunt may know a great litigation attorney, don't bother contacting legal professionals who do not specialize in personal injury law.
You may already have a relationship with an attorney who specializes in a different area of law. Ask your contacts if they can recommend a colleague who works in personal injury law. Lawyers are often familiar with other legal professionals in the local area and may be able to give you a great recommendation.
Take your recommendations and create a list of four to five legal professionals who you want to conduct more research on before making a decision.
2. Do Your Research
Take your short list of attorneys and start gathering information about each of the legal professionals your friends and family recommended. Check the lawyer's website and look for online reviews on a couple of lawyer review sites. While reading one or two bad reviews is not a deal breaker, you should avoid working with individuals who consistently receive poor reviews. You may also want to check out the lawyer's social media to find information on discounts, new client forms, and scheduling an appointment.
3. Schedule a Consultation
Once you've investigated the online presence of each attorney, schedule appointments with your top three choices. Many lawyers will schedule an initial consultation with prospective clients for free. However, don't discount a lawyer simply because they charge a small fee for an initial meeting.
Make note of how quickly the phone is answered and if the receptionist is polite and accommodating. When you arrive for the appointment, pay attention to the lawyer's mannerisms and whether you feel comfortable. Ultimately, you want to work with an attorney who listens to your concerns and will represent you well.
4. Ask a Few Key Questions
When you come to your initial consultation, it is a good idea to come up with a list of questions. Don't expect to receive the information you need by listening to the lawyer's sales pitch. Some of the questions you should ask include:
Do you specialize in personal injury law?
How long have you been licensed?
What is your success rate?
Have you done a case like mine before?
Do you think I have a case?
How much compensation do you think my case is worth?
What are your fees?
Who will be handling my case?
How much is the retainer?
How often do you communicate with clients?
How soon can you start working on my case?
Work with an attorney who is genuine and honest in answering your questions. Take notes during the appointment and review them once you return home. Even if you think you will remember what the lawyer says during the interview, you will likely forget key details once you leave.
5. Assess Fees
Cost is not the most important factor when hiring a lawyer, but it is something to consider. Ask the lawyer to explain their fee schedule and when the costs are due. You should also ask if the attorney receives a percentage of your compensation if you win the case.
Get the Help You Need Today
Were you involved in a cement truck accident in Utah? Don't wait any longer to get the money you need to cover your medical bills. Siegfried and Jensen is one of the most respected personal injury law firms in Utah. We can review the facts of the crash and let you know if you have a case. Contact us right now to schedule a no-obligation appointment with one of our experienced lawyers.