Being involved in a car accident can be terrifying. This random event can happen to anyone; even the safest driver, driving in the wrong place at the wrong time, can be victimized by a negligent or reckless driver. You may not have ever imagined this type of incident could happen to you, but it can. When it does and you are trying to recover mentally and physically, the very last thing you will want to deal with is the insurance company.
Dealing With Difficult Insurance Companies
Insurance companies are often reluctant to pay out full and fair compensation to injury victims. In Utah, we maintain a no-fault car insurance system. This covers instances when accidents are due to negligent drivers. Injury victims are able to file claims against their own insurance company in order to recover additional compensation for damages.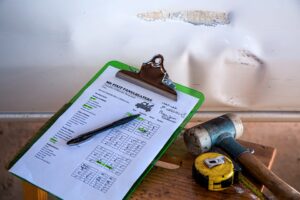 In order for a driver to file a lawsuit against the at-fault driver, their injuries must meet a certain threshold. Individuals injured in car accidents must have incurred at least $3,000 in medical expenses or suffered injuries resulting in a permanent impairment, disfigurement, disability, or dismemberment.
Anyone that is looking to file a lawsuit against an at-fault driver should be aware of the damages they can receive compensation for. Knowing the time limitations is another important factor in determining the success of an auto accident case. Working with an attorney from Siegfried & Jensen will ensure you recover the maximum amount of compensation you are entitled to for your injuries.
Types Of Damages Awarded In A Car Accident
There are generally two types of damages that can be awarded to the claimant: compensatory damages, which cover expenses endured by the injured; and punitive damages, which punish the at-fault driver.
Individuals are often awarded compensatory damages to cover financial, emotional, or physical expenses endured. Some of the most common damage awards provide compensation for:
Lost Wages: In cases where car accident victims are forced out of work due to their injuries, victims may be able to recover compensation for lost wages. Compensation for lost damages can cover short-term loss acquired from being off work immediately following the accident or for having to miss work to attend doctor's appointments. In cases where serious injuries have occurred, patients may receive compensation to cover lost wages for the money they would have earned throughout the remainder of their working career. It is crucial to have an experienced lawyer who can hire a financial expert to provide a detailed calculation of lost earnings, in order to get the maximum amount of compensation.
Vehicle Damage: Individuals who are injured in automobile accidents are able to earn compensation for damage to their vehicles. This compensation can go toward repairing damages made to the vehicles or replacing the vehicle entirely if it is deemed totaled. In cases where the vehicle is totaled, injured parties are able to recover the fair market value of the vehicle in order to purchase a comparable replacement.
Medical Bills: Being involved in a car accident often results in extensive medical bills. Individuals are forced to go to the emergency room and undergo testing to determine the extent of their injuries. Some injury victims are required to stay in the hospital for several days, or even weeks, to receive care and monitoring for their injuries. After leaving the hospital, victims can be required to attend follow-up appointments or physical therapy. All of the costs for past, current, and future medical bills can be recovered by filing a claim against the at-fault driver.
Pain And Suffering: Car accidents cause immense physical pain and emotional suffering to injury victims. Being involved in a car accident can drastically limit a person's physical and mental wellbeing. They may be forced to deal with excruciating pain throughout the entire day that prevents them from enjoying life. As a result of their pain, injury victims often feel hopeless and depressed — some even experience extreme fear and anxiety, especially when they attempt to get back on the road. Injury victims are able to claim compensation for the pain and suffering they are forced to endure. Putting a price on a victim's pain and suffering is a complex task, so it is crucial to contact Siegfried & Jensen to ensure you recover the maximum amount of compensation for your case.
Limitations in Utah Courts
In Utah, car accident victims must adhere to strict time limitations, which govern when they can file a lawsuit against an at-fault driver. Individuals who sustain injuries in car accidents have three years from the date of the accident to file a lawsuit against the other driver. In cases where a loved one is killed in the accident, a wrongful death claim must be filed within two years from the date of the death.
In cases where punitive damages are awarded, claimants can recover up to $50,000 directly for their accidents. Amounts over $50,000 are awarded but have to be divided between the claimant and the state. Working with an experienced attorney will help you maximize the compensation you earn for your accident.
Hire A Car Accident Lawyer In Salt Lake City To Represent You
Being involved in a car accident is physically, mentally, and emotionally overwhelming. Victims often scurry to deal with insurance companies while trying to recover fully from their injuries. Hiring experienced legal representation ensures you are able to focus on your recovery without the added stress of handling litigations alone.
At Siegfried & Jensen, we work diligently to protect the best interest of car accident victims. Our legal experience enables us to explore all of the legal options available to clients so we can help them recover the maximum amount of compensation for their injuries and damages. Since 1990, we have helped clients recover over $850 million in damages for their injuries in Utah. Contact our law firm today at (801) 598-1218 to schedule a free consultation, so we can get started on your case.