Automobile accidents are scary. Even minor accidents seem like an unexpected attack on your peace and safety. The fear and anxiety of the situation are further amplified when you take into consideration the physical disruption accidents cause to your life and your vehicle.
The only thing that makes the situation worse is knowing that you will have to deal with medical professionals, insurance companies, and endless paperwork. Automobile accidents come with nonstop problems to tackle and a continuous to-do list that causes many victims to give up on their claims before ever really getting started.
What's worse is finding out that you made a big mistake that could jeopardize your entire claim. At Siegfried & Jensen, we recognize that mistakes can happen. Fortunately, there are several mistakes that accidents can avoid by working with an experienced car accident attorney.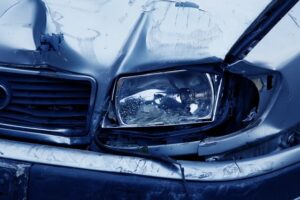 Thankfully, we have compiled a list that coves some of the most common mistakes drivers make that can jeopardize your case. We hope that providing this information can prevent you from engaging in these harmful activities so you can obtain the best possible outcome.
Driver's Do Not Get Police Reports
Not getting a police report can have a very negative impact on your ability to recover compensation for injuries and damages sustained in a car accident. A lot of insurance and medical companies require police forms and other legal documents in order to process your claims for medical treatments and repairs. Without a police report, these companies may refuse to cover the expenses you endure.  If you do not get a police report immediately after an accident, it can be nearly impossible to obtain one at a later time. It is critical to call the police immediately after an accident and obtain a police report. This report is often necessary to process any claims. Furthermore, it is crucial to obtain a copy of the police report from the responding officer. If you do not collect a report on the scene, it can take several weeks to obtain a copy.
Driver's That Refuse Medical Treatment
Even being involved in a minor accident can result in major injuries. Quite often, drivers refuse to seek medical attention after their accidents because they do not feel like they sustained any injuries. Unfortunately, there are an array of hidden injuries that could arise a later time with long-term consequences. Organ damage, neck strains or whiplash, and even back injuries can take several days to manifest into obvious problems. By that time, it could be too late.
Instead, it is critical to seek medical attention immediately after a car accident. You should request a thorough exam and have x-rays, and other tests performed to check for injuries. If you are experiencing any pain, tell the doctor immediately so they can document your complaints.
Giving An Official Statement To Insurance Companies
Individuals who are involved in car accidents often rush to contact insurance companies regarding their accidents. Insurance companies will try to coerce accident victims into signing forms and providing official statements. Although it is acceptable to file a claim and contact the insurance company about an accident, it is critical that you do not provide them with any more information.
Your lack of information surrounding the details of the accident will often prompt insurance companies into offering you minimal amounts of compensation or refusing to pay for your damages and injuries. Instead, it is crucial to contact an attorney from Siegfried & Jensen so we can contact the insurance companies to ensure you receive a full and fair amount of compensation for your injuries.
Selecting The Cheapest Auto Repair Shop For Your Vehicle
Quite often, insurance companies request accident victims to take their vehicles to their preferred auto body shops. They often select the shops because they are the cheapest around or because they do quick assessments. You should not be conned into bringing your vehicle to a shop simply because the paying company requests you to do so.
Instead, take your vehicle to a shop that you are comfortable with. You can take your vehicle to a shop you trust to obtain an estimate for repairs. It may even be helpful to take your vehicle to several locations to get a better idea of which company has the best services or can repair your vehicle in an acceptable amount of time. You do not need to be bullied into selecting an auto body shop you know nothing about because the insurance company requests it. You do have rights.
Not Hiring An Attorney To Help Your case
It is important to recognize that, as an accident victim, you have rights. You have a legal right to compensation in a full and fair amount to cover all of the financial setbacks you are forced to deal with because of your accident.
Unfortunately, a lot of accident victims believe they can handle their cases on their own. This often causes them to lose out on compensation they are entitled to for their injuries and damages. Not hiring an attorney often has lasting consequences for accident victims. It is critical to hire legal representation to help guide you through every step of the legal process and ensure you recover the maximum amount of compensation you are entitled to for your accident.
Hiring A Salt Lake City Car Accident Attorney Is In Your Best Interest
Setting up a free consultation at Siegfried & Jensen will save you time when filing your legal claim for compensation from your accident. Our experienced attorneys work diligently to help accident victims obtain the best possible outcome for their case.
We understand that is being involved in a car accident is frightening and confusing.  Dealing with the legal process afterward can be a nightmare. Fortunately, if you take a minute to make sure you do all of these things right and hire a reputable attorney from Siegfried & Jensen, you can come out of your accident safe and taken care of. Contact our law office today to schedule a free consultation so we can get started on your case.