The rights of a passenger who was recently injured in a car crash can be a bit confusing. You may feel guilty about filing a claim against the driver of the car, but you need to remember that you are not taking action against the person themselves. You are just trying to protect your own rights and be compensated for the injuries you sustained from the insurance company.
The law firm of Siegfried & Jensen are committed to our clients and protecting their rights after being in a serious accident. That includes passengers who experienced some type of injury. We are going to explain the rights of passengers who sustained injuries in a car accident so you can understand how to proceed with your own claim. We will put your needs first when negotiating with the insurance company. We know all the tricks these companies try to use in order to cheat victims out of their full settlement. When you hire our attorneys, you will have an experienced legal professional on your side who will use their knowledge to fight for your accident claim.
How to Determine Fault
The person who is at fault for the accident may be financially liable for the injury expenses. This includes medical costs, lost wages, property damage, and general suffering. This means that the first step in filing a claim is establishing who is at fault for the accident.
One vehicle accident cases are pretty simple to place responsibility. It is usually the fault of the driver. In the case that more than one driver is involved in the crash, it can become more complex. At this point, the insurance company will begin an investigation in order to find out who is actually at fault.
Utah is a comparative negligence state. This means that the victim can only recover damages to the extent that they are responsible for the crash. If one motorist is determined to be 80 percent at fault while the other is 20 percent at fault, the insurance company of the first driver would be responsible for 80 percent of the damages. The other party would be liable for 20 percent of the damages. Utah is known as a defendant-friendly state because it places the need of the plaintiff to assign blame to the at-fault party.
It is typical in this situation for various insurance companies to attempt to blame each other in order to place a greater degree of liability on the other driver. When you have the counsel of an experienced legal professional, you are better able to protect your own legal rights and to get the claim needed to recover. However, you shouldn't let large insurance companies push you around. With the team at Siegfried & Jensen on your side, you will have the expertise needed to get the largest settlement for your accident claim.
What to Do if the Driver Doesn't Have Insurance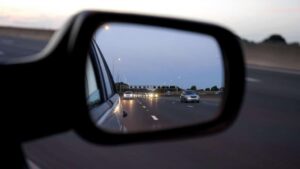 Like a lot of states, Utah mandates that all drivers have a minimum amount of car insurance to protect themselves and others if they are involved in an accident. The minimum requirements include:
$25,000 injury per person per incident

$65,000 injury for all persons per incident

$15,000 property damage liability

$3,000 personal injury protection

$25,000/$65,000 uninsured/underinsured driver coverage
This insurance is meant to cover medical costs, property damage, and other expenses that injured motorists, pedestrians, or passengers may have incurred, up to the policy's limit.
If the motorist does not have minimum insurance, other insurance may potentially apply. An example is a family member who is driving a car or if the car's owner gave permission for the person to use the car. In this case, the car owner's insurance liability coverage may come into play. If the motorist was using a commercial vehicle, the insurance of the employer may cover the costs of the injury. Another option is filing a claim against your own insurance policy's medical coverage portion. A lawyer can find out what other insurance is able to cover injury damages.
How to File a Passenger Accident Claim
A passenger injury claim process is similar to other types of injury claims. You can file a claim against both drivers if it is shown that both somehow contributed to the incident. At the scene of the crash, you should ask for the insurance and contact information of all drivers. This information will be useful when you are filing your claim and will ensure that you are able to contact the at-fault party after the incident. Some useful information to get at the scene includes:
Name

Contact information

Insurance company

Insurance policy number

Description of vehicle
When filing a claim, it is not required that you give a recorded statement. During this point of the claims process, you will likely want to call an attorney that is able to help with negotiations to get you a better settlement for your claim.
Passenger Accidents in Salt Lake City
A majority of deaths involved in vehicle crashes are occupants of larger passenger vehicles such as minivans, SUVs, pickup trucks, and large passenger vans. There is a greater likelihood of fatal crashes, and the larger the vehicle more they are able to absorb crash energy. Lighter vehicles are at a disadvantage when they are in collisions with heavier cars and trucks. In Utah, 30 percent of deaths in car accidents are due to unrestrained occupants. Protect your legal rights and your loved ones by working with a skilled Utah car crash lawyer after suffering injuries in a crash.
The attorneys at Siegfried & Jensen are here to help you after sustaining injuries in an accident. We have recovered over $850 million for our clients in order to get their life back on track after a crash or car accident. We proudly have a 97 percent success rate with our combines 35,000 cases. If have any questions about your claim, or are interested in a free consultation, contact us today at (801) 845-9000 to discuss your claim.