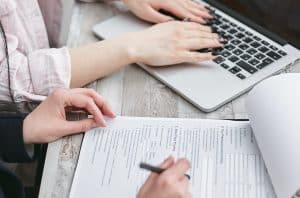 If you're one of the approximately three million people injured in car accidents in the U.S. every year, you probably have several questions. You'll want to know who will pay your hospital bills, how to file insurance claims, and if you should hire a car accident lawyer.
Many people hire car accident attorneys to help them with various tasks related to their car accidents, including filing insurance claims and obtaining favorable settlement offers. You may not realize that you can negotiate. Will your car accident lawyer deal with the insurance companies on your behalf? Siegfried & Jensen will.
Why Do You Need To Deal With Insurance Companies?
Licensed drivers in Utah are required to have car insurance. The minimum allowed is:
$25,000 bodily injury liability per person
$65,000 bodily injury liability per accident
$15,000 property damage
$3,000 personal injury protection
After an accident, you'll need to report it to your insurance company and make a claim. Depending on how many vehicles were involved in the collision, you may have to deal with multiple other insurance companies as well — unless you hire a car accident attorney.
When you hire legal representation, you can give us permission to handle all interactions with insurance company representatives. We can even speak to your insurance company. Letting your lawyer be your spokesperson has several advantages.
Won't Insurance Companies Pay Claims Willingly?
The one thing all the insurance companies representing drivers involved in your collision have in common is the fact that they don't want to pay for damages. They have many strategies to minimize their payments or deny them altogether. While you might not recognize these tactics until it's too late, your car accident lawyer from Siegfried & Jensen can spot them immediately.
Fake Sympathy
Insurance company representatives routinely record conversations they have with injured accident victims. They present a sympathetic facade to trick you into making statements they can use against you.
Assign Unfair Fault
One way that insurance companies try to take advantage of you is by trying to say that you're mostly or totally responsible for causing the accident. You'll need to prove that their fault assignment isn't accurate.
Lowball Settlement Offers
Many injured accident victims face immediate financial strain. Insurance companies try to minimize payments for damages by offering a low, unreasonable amount. They understand that you're likely to accept it just to get some compensation to alleviate the current financial difficulties. The catch is that they know you're probably entitled to much more.
Many injuries require long-term medical treatments, and you may not be able to accurately predict how much they will cost. Once you accept a settlement offer, you can't go back to ask for more compensation for these future expenses.
You might also face extended periods away from work, meaning that you'll lose income. You may even face temporary or permanent disability, meaning that you won't be able to return to work. You can seek compensation for these damages, but insurance companies won't tell you that.
Accuse You of Lying
Insurance companies can claim that you didn't receive your injuries in the car accident or that they're not as severe as you say they are. Some of the compensation you can obtain after a car accident depends on how severely your injuries impact your life. Some of these injuries are difficult to prove, but you know they exist. You deserve compensation.
Non-Economic Damages
Many people aren't aware that you can seek non-economic damages after sustaining injuries in a car accident. These are some of the difficult-to-prove injuries we mentioned. If your injuries qualify, you can receive compensation for things like:
Inconvenience
Pain and suffering
PTSD, anxiety, and depression
Losing your enjoyment of life
Relationship damage
Permanent disfigurement
When you hire Siegfried & Jensen, your attorney will calculate the amount of compensation you can seek for non-economic damages. We have experience in this area, but do you?
Negotiations
Some people think that they have to accept the first insurance company settlement offer they receive. That's not the case. You have the right to make counter-offers. You can also reject all offers and file a civil lawsuit. Negotiating with experienced insurance company representatives takes skill.
What Advantages Do Car Accident Lawyers Provide?
When you hire a car accident lawyer to represent you, you don't have to deal with insurance companies at all. Our experience and knowledge of the laws involved and how these companies act gives you an advantage you wouldn't have if you spoke to them yourself.
We won't let these companies get away with their schemes to avoid payment. In fact, many injured accident victims receive more compensation when they have a car accident attorney on their side.
There are other tasks a good car accident lawyer will accomplish on your behalf as well, including:
Evaluating your case and telling you how much it's worth
Providing pertinent information and legal advice
Investigating your accident and gathering evidence
Assigning fault correctly
Completing and submitting paperwork
Negotiating favorable settlement offers
Taking your case to court if the insurance companies won't negotiate
Making sure you have appropriate care
Why Is Fault Important?
In many car accidents, multiple drivers share a portion of the blame for causing them. Each driver is assigned a percentage of fault. In some cases, other parties share responsibility as well. You don't want an unfair degree of fault assigned to you because it will reduce the amount of compensation you can receive.
Say that you're 20% to blame for your accident, and the total damages are $100,000. You can only receive $80,000: $100,000 – 20% = $80,000.
In Utah, you won't be eligible to seek compensation if you're at least 50% responsible for causing your accident because of the state's modified comparative negligence statute. Ensuring that you're not unfairly blamed for causing your crash is vital. Your Siegfried & Jensen will ensure that blame is assigned correctly.
What Damages Can You Receive?
We've already discussed non-economic damages. In Utah, you may also receive economic and punitive damages.
Economic Damages
You'll incur many expenses following a car accident, and you deserve reimbursement. Eligible expenses include:
Medical treatments, including hospital stays, rehabilitation, therapy, medications, and medical equipment
Lost wages
Some daily costs, such as paying a caregiver
Property damage
Your attorney will need copies of your bills and receipts to calculate your economic damages accurately.
Punitive Damages
According to Utah laws, not all car accident claims are eligible for punitive damages. The party responsible for causing the accident must exhibit willfully malicious behavior, intend to cause harm, or certain other behaviors. Punitive damages may be awarded to victims to punish the defendant. Ask your car accident attorney if you qualify to seek punitive damages.
Why Should You Hire Siegfried & Jensen?
Car accident victims need assistance from attorneys who focus on handling car accident claims. Siegfried & Jensen has decades of experience in this area. We have helped injured accident victims since 1990 with a 97% case success rate, and we've won more than $1.2 billion for our clients.
You won't owe us anything until we win compensation for you, so contact us today for a free case review. Submit our contact form or call us 24/7 at (801) 845-9000.