Being involved in a car accident is often overwhelming for victims. Individuals sustain extensive injuries, thousands of dollars in medical expenses, and are forced out work to deal with their recovery. The sudden nature of accidents often leaves victims unsure of what to do. They need money quickly so they can keep paying their bills, but they may not have the ability to gain it. Unfortunately, the desperation a lot of victims deal with in the aftermath of their accidents is what leads them to sign agreements with insurance companies to accept small settlements in exchange for signing away their legal rights.
If you are ever injured in a car accident, by no fault of your own, it is imperative for you to speak with a personal injury attorney as soon as possible before speaking with the at-fault driver's insurance company. You may be able to file a personal injury lawsuit against the at-fault driver to win restitution for your injuries and damages.
In order to file a successful claim for compensation, you will need to meet the burden of proof required in Utah courts for holding the at-fault driver liable for your damages and injuries. There are four key factors of proof that you need to meet in filing your claim in order to show that the defendant should be held liable for any injuries and damages you sustained.
Proving The Duty Of Care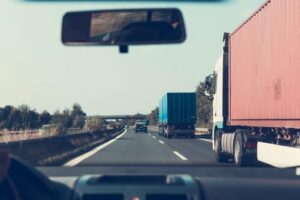 When driving along roadways in Utah, individuals behind the wheel are required to provide others on the road the duty of care. Providing this duty is agreed upon by drivers when they receive their license. What this means is that drivers must remain cautious of others on the roadways and they must drive safely and responsibly while keeping others in mind.
Breaching The Duty Of Care
There are many actions which a driver can take that demonstrate a breach to their duty of care. Driving while distracted, driving while impaired, acting recklessly behind the wheel, or engaging in otherwise negligent conduct are all seen as breaches in the duty of care.
The Breach Led To The Accident
In addition to proving that the driver had a duty of care and that they breached their duty to provide care to others on the roadway, you must prove that their breach of the duty of care is the cause of the accident. If the driver's actions were illegal or negligent in nature, their carelessness contributes to them being liable for the accident. You must prove that their actions, which caused the crash, were actions in breach of their duty.
The Accident Caused Damages
The final factor of proof which you will need to successfully demonstrate in court is that you sustained injuries and other damages as the result of the accident. Although you cannot claim pre-existing conditions were caused by the accident, you can claim worsening conditions in cases where pre-existing injuries were severely aggravated as a result of the accident. If the accident caused new injuries or made your other injuries worse, and you are able to successfully prove the other three factors, the case for liability may be protected.
Being able to successfully prove all of these factors will place you on the path toward obtaining restitution for your injuries and damages. Working with a skilled legal professional will ensure you are able to recover the maximum amount of compensation for your case.
Damages Available To Accident Victims
Individuals who are able to prove an at-fault driver liable in court are able to obtain repayment for their injuries and various damages sustained in their accidents. Some of the most common awards for accident victims in Utah include:
Medical Expenses – These damages are awarded to cover all past, current, and future medical treatments related to injuries and conditions caused or worsened by the car accident.
Lost Wages – These damages are awarded to cover accident victims for wages they lost due to having to attend doctor appointments, go through surgery, stay in the hospital, or go to therapy. In cases where victims are unable to return to work, courts are able to provide a settlement to victims for the wages they would expect to earn for the remainder of their careers.
Pain and Suffering – Individuals who sustain injuries in car accidents often suffer from excruciating pain. This pain can be temporary or permanent, depending on the extent of injuries. In some cases, individuals sustain injuries that are life-altering, like severed spinal cords leading to paraplegia. Courts consider the amount of pain and lifestyle changes they will have to make due to their injuries and base these awards of the impact.
Mental Anguish – Sustaining injuries can cause victims to suffer from anxiety, depression, feelings of hopelessness, and even posttraumatic stress disorder. Courts often award victims compensation related to the treatment of mental health conditions as well as the extent of mental suffering injuries cause.
Property Damages – Victims are sometimes able to be reimbursed for the repair or replacement of their vehicles. These damages are further extended to cover the costs related to personal property damaged in the accident.
Loss of Consortium – There are certain instances where victims sustain injuries that have an immense impact on their ability to engage in spousal or parental relationships. When the victim is unable to engage in these activities in a manner in which they enjoy, courts are able to award victims compensation due to their familial sacrifices.
There are also instances where victims can obtain punitive damages for their cases. These damages are often awarded to victims where they suffered injuries as the result of extreme neglect or reckless behaviors. These awards do not compensate a victim for any loss. Instead, they are awarded as a punishment toward the at-fault driver.
A Utah Car Accident Attorney Can Help You
Working with an attorney from Siegfried & Jensen will ensure you are able to obtain the maximum amount of compensation for your case. Our attorneys have been helping victims since 1990 win monetary repayment and justice for their accidents. Together, our attorneys have helped over 35,000 victims collect $850 million in damages. If you were injured in a car accident caused by a negligent or reckless driver, contact our law firm at (801) 845-9000 to schedule a free consultation.