Roadways across the nation are dangerous enough when drivers operate their vehicles sober. Unfortunately, catastrophic automobile accidents involve alcohol or drugs occur every day. When cautious drivers are forced to share the roadway with drivers who are under the influence and behind the wheel, the risk of a more serious or fatal accident occurring increases immensely.
If you or a loved one has been injured in an automobile collision caused by a driver who was impaired by the use of alcohol or drugs, or your loved one was killed by a driver in a DUI accident, you deserve reimbursement for the losses and expenses you sustained. Although no amount of money can ever take away your injuries or bring back your loved one, having remuneration for your damages can help alleviate some of the financial burdens you face.
We urge you to contact Siegfried & Jensen as soon as possible to schedule a free case evaluation. We would be pleased to help you determine the best legal approach for your case so we can get you the compensation and justice you deserve.
Drunk Driving In Utah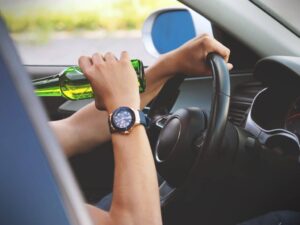 Since the 1980s, the state of Utah has seen a major decline in the number of individuals killed by drunk drivers in automobile accidents. Each year between 1982 and 1989, there were 93 – 140 people killed. This number has dropped drastically, until the last half-decade.
Sadly, the state of Utah has seen an unfortunate increase in the number of drunk drivers hitting the roadways. Between 2013 and 2014, alcohol-related accident deaths nearly doubled, rising from 23 to 45. In addition, another 38 individuals lost their lives in automobile accidents caused by individuals driving under the influence of drugs.
The dramatic increase represents the highest total for DUI automobile accidents that Utah has seen in decades. What makes matters even worse is that nearly 25% of these accidents involved drivers who were previously convicted of driving under the influence within the previous five years.
What Damages Are Recoverable In DUI Auto Accidents?
Individuals who are injured in accidents caused by drunk drivers may be able to recover repayment for some of the damages they sustain. Some of the most common awards for compensation include:
Lost Wages: Claimants are able to request compensation for lost wages dues to their accidents. Whether they are required to take off for several weeks or forced out of work indefinitely, car crash victims can request compensation in civil court to cover their lost wages. In cases where victims are killed or cannot return to work due to the severity of their injuries, a financial expert will calculate the total amount of wages they would have earned throughout the remainder of their working life.
Medical Expenses: Individuals who are injured in auto accidents can request compensation to cover past, current, and future medical expenses for injuries or illnesses related to the accident. These damages cover bills for testing, doctor appointments, hospital visits, surgeries, therapies, and any medical equipment required.
Pain and Suffering: Being involved in an automobile accident takes an immense toll on victims, physically, emotionally, and mentally. Victims often experience pain from their injuries that greatly limits their ability to get around and function. Dealing with physical pain constantly can leave victims feeling hopeless, depressed, and anxious. Courts are able to award compensation for all of the pain and suffering victims experience.
Loss of Consortium: Not only do the injuries sustained by car accidents impact the victims, the pain and suffering often extend to their spouse and children. Courts allow victims and their spouses to recover compensation for loss of companionship. Children are able to receive restitution for the loss of parental guidance. In addition, accident victims can recover remuneration for the loss of enjoyment in life they may experience from their injuries.
Punitive Damages: In cases where at-fault drivers are under the influence, courts can award punitive damages to victims. These amounts do not compensate victims for any financial loss. Instead, they are awarded as a form of punishment toward the negligent and reckless driver to let them know their actions will not be tolerated in the court.
When a person is killed by a drunk driver, the surviving family members file a wrongful death claim on behalf of their deceased loved one. In addition to the damages awarded above, individuals who file wrongful death lawsuits are able to obtain compensation for:
Funeral Expenses: Families who file wrongful death suits are able to claim repayment for funeral expenses incurred due to the loss of their loved one. These awards are provided to cover all the end-of-life arrangements for the deceased.
Burial Expenses: These awards are also given in wrongful death lawsuits to cover the costs for burial, headstones, and any other final expenses resulting from the death.
Loss of Benefits: Individuals who lose a loved one in a DUI accident caused by another driver can recover compensation for loss of benefits. These awards are provided to cover the loss of health insurance, workplace savings plans, education savings plans, and other benefits the victim had accrued for their family.
If a DUI driver injured you, or your loved one lost their life due to another person driving while under the influence of drugs or alcohol, it is crucial to contact an auto accident attorney as soon as possible. Hiring an experienced attorney to work diligently on your behalf will ensure you recover the maximum amount of remuneration you are entitled to for your injuries and damages.
Contact A Utah Auto Accident Attorney Today
At Siegfried & Jensen, we work diligently to protect accident victim's rights to compensation and justice. We assist our clients with conducting investigations into their accidents, collecting witness statements, gathering evidence, and negotiating fair and full reimbursement for injuries and damages. Contact our law office today at (801) 598-1218 to see how we can help you.