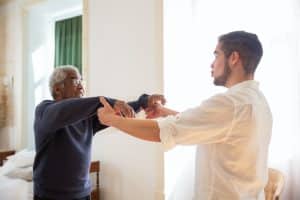 If you have had to make the difficult decision to move your parent into a nursing home due to his or her advanced age or deteriorating health, your biggest concern is likely whether or not the nursing home is providing the level of care that he or she needs. Unfortunately, your concern may well be justified. While most of our Utah nursing homes take good care of their residents, a few do not. This puts their residents at high risk for injury or even death.
Nursing Home Abuse Statistics
Nursing home abuse statistics are sobering at best. Consider the following:
Between 1 and 3 million nursing home residents nationwide develop an infection each year, accounting for upwards of 400,000 deaths.
Between 2% and 28% of nursing home residents develop bedsores.
Nearly 25% of nursing home residents nationwide report experiencing at least one instance of physical abuse.
Approximately 33% of nursing home caregivers admit to emotionally abusing their residents.
Approximately 12% of nursing home caregivers admit to neglecting the needs of their residents.
Types of Nursing Home Abuse
As shown in the above statistics, nursing home abuse comes in many forms, including:
Physical
Emotional or psychological
Sexual
Financial
Physical Abuse
In addition to developing bedsores, physical abuse includes such things as:
Slapping
Hitting
Punching
Kicking
Pushing
Shoving
Pinching
Emotional or Psychological Abuse
Emotional and psychological abuse likewise takes many forms, including:
Bullying
Taunting
Ridiculing
Browbeating
Gaslighting
Name-calling
Guilt-tripping
Cold shouldering
Sexual Abuse
Believe it or not, many nursing home residents become victims of sexual abuse, often perpetrated by other residents. Keep in mind that this egregious type of abuse consists of any form of unwanted and uninvited physical contact by someone else.
Financial Abuse
Financial abuse in a nursing home setting usually takes the form of stealing, either by caregivers or other residents, of your parent's personal property, such as:
Money
Cellphone
Clothing
Toiletries and grooming aids
Nursing Home Neglect
While perhaps not as discernable as outright abuse, the results of nursing home neglect can be just as devastating. Some red flags that indicate that your parent is being neglected include:
He or she is improperly dressed when you come to visit.
You notice an odor coming from his or her body or mouth.
His or her hair is uncombed.
His or her fingernails or toenails are too long.
He or she complains of being hungry or thirsty.
He or she seems unusually subdued, distant or uncommunicative.
His or her room smells.
You notice mold in his or her bathroom.
Abuse and Neglect Consequences
As you might expect, the consequences of nursing home abuse and neglect can be quite devastating, such as:
Broken bones
Cuts and lacerations
Sprains
Skin ulcers
Depression
Increased likelihood of hospitalization
Disability
Increased risk of an early death
Abuse and Neglect Causes
The causes of nursing home abuse and neglect are as varied as the people who perpetrate it. Nevertheless, some common causes include:
Insufficient staffing
Improper hiring practices
Inadequate policies and procedures
Caregiver stress or burnout
Inadequate supervision of caregivers
Inadequate supervision of residents
Required Services
Nursing home laws, rules and regulations vary by state. In general, however, your parent's nursing home is required to provide him or her with:
A safe environment in which to live
Adequate food and hydration
Adequate bathing services
Adequate mobility help whenever needed
Timely medical care
Adequate supervision, both of him or her and of the people providing his or her care
In addition, if your parent's nursing home accepts Medicare or Medicaid, the 1987 Nursing Home Reform Act requires it to provide him or her with the following:
A comprehensive care plan
Periodic assessments
Nursing and rehabilitation services
Social services
Dietary services
Pharmaceutical services
Residents' Bill of Rights
The 1987 Nursing Home Reform Act likewise established the Nursing Home Residents' Bill of Rights, which includes:
Right to freedom from abuse, neglect and mistreatment
Right to privacy
Right to the accommodation of physical, psychological, medical and social needs
Right to dignified treatment
Right to free communication
Right to exercise self-determination
Right to be fully informed regarding any changes in care or treatment
Right to voice grievances without fear of discrimination or reprisal
Personal Injury Lawsuit
If you suspect that your parent has suffered abuse or neglect while in his or her nursing home, your wisest course of action is to consult with an experienced Utah personal injury law firm such as Siegfried and Jensen. Your parent has the right to file suit against not only the person perpetrating the abuse, but also the nursing home itself.
Utah Personal Injury Statute of Limitations
Be aware that Section 788-3-404 of the Utah Judicial Code limits the time within which your parent can file such a lawsuit to "within two years after [you] discover, or through the use of reasonable diligence should have discovered, the injury, whichever first occurs, but not to exceed four years after the date of the alleged act, omission, neglect, or occurrence."
Wrongful Death Lawsuit
If the worst happens and your parent dies from his or her injuries resulting from abuse or neglect, you, as a surviving adult child, have the right to bring a wrongful death claim against the perpetrator and the nursing home.
Again, your first step is to consult an experienced Utah wrongful death law firm such as Siegfried and Jensen.
Section 78B-3-106 of the Utah Judicial Code defines wrongful death as one "caused by the wrongful act or neglect of another."
Utah Wrongful Death Statute of Limitations
In Utah, a wrongful death action must be commenced within two years after the decedent's death.
Types of Damages Available
If successful in your wrongful death lawsuit, you likely can recover the following types of damages:
The cost of your parent's funeral and burial
The cost of his or her medical care prior to death
Your loss of his or her care, guidance and companionship
Your mental and emotional pain, suffering and anguish caused by his or her untimely death
Finding the Right Lawyer
Whether you need legal advice, counsel and representation in a potential personal injury lawsuit or one for wrongful death, the experienced lawyers at Siegfried and Jensen see it as our duty and our privilege to provide that help. We've been helping injured clients get the compensation they need and deserve since 1990. You can therefore be assured that we know what we're doing. The $1.2 billion we've recovered on behalf of our clients to date likewise assures you that we do what we do well.
We recognize that a personal injury or wrongful death can be a devastating experience from which recovery may well take years. We also understand that the last thing you or your parent needs in times such as these is to deal with recalcitrant insurance companies or the complexities of the legal system. We therefore take these burdens off your shoulders so you can focus on getting back to the life you love.
So contact Siegfried and Jensen today. We will help you determine the strength of your potential case with a free case review. We will also always treat you with the dignity, respect and compassion you deserve.