In the first six months of 2022, 900 motorcycle accidents occurred. Sadly, 27 of these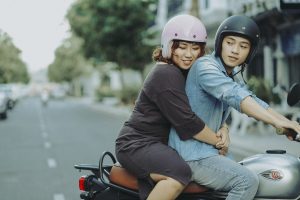 motorcyclists did not survive the crash. Their deaths represented a 40% increase compared to the same period over the past half a decade. Recovery is possible if you or your loved one has survived a motorcycle accident. How quickly injured persons receive the medical care necessary can make a big difference.
What Should You Do After a Motorcycle Accident?
Every accident is different. Still, one thing remains true. How you respond could improve or limit your options for recovery. These general guidelines will not apply to every situation. Review them carefully and determine which ones suit your situation.
Move to Safety
After a motorcycle accident, some people might lose consciousness or struggle to move due to the severity of their injuries. Sometimes, moving a person who has suffered spinal injuries could worsen those injuries. Weigh these risks against the fact that remaining in the flow of traffic could lead to even more severe injuries or death. Whenever feasible, immediately move to safety.
Leave Safety Gear On
After an accident, you might feel tempted to remove your safety gear to check yourself for injuries. Weigh the benefits of doing so against the possibility of the negligent party or passersby claiming you did not wear a helmet or other gear. This is not always with malicious intent, but if you remove a helmet, for example, bystanders might forget you ever had it on. You could then be held partially liable for the severity of your injuries.
Call Emergency Services
Motorcycle accidents can cause severe injuries. Even when you feel fine, you should still call emergency services to the accident scene. Emergency medical personnel can provide life-saving care and check for signs of internal injuries that might not be immediately obvious. You likely also need to contact law enforcement to report the incident.
Collect Information
If possible, collect information before leaving the scene of an accident. Gather contact and insurance information from anyone involved. Also, take pictures documenting the crash location, vehicles involved and other relevant aspects. Write down anything significant about the impact or witnesses at the scene.
Seek Medical Attention
Injured persons should seek professional medical attention as soon as possible after the accident. A doctor can provide an accurate diagnosis and recommend treatment options. Medical professionals might also need to order tests, such as X-rays or CT scans, to determine the extent of a person's injuries.
Follow Treatment Plans
A healthcare provider will likely create a personalized treatment plan for you. This could include medications, physical therapy and chiropractic care. Following your doctor's instructions and recommendations is essential if you seek full recovery from your injuries.
Obtain Legal Counsel
You might need legal representation after a motorcycle accident. An attorney can help you protect your rights when dealing with the negligent party's insurance company or other parties involved in the accident. An attorney specializing in motorcycle accidents can also help you with the paperwork and guidance needed to pursue damages.
Seek Support
Recovering from a motorcycle accident is not easy. It could involve months of physical, mental and financial recovery before you deem it complete. This process might include frequent doctor's visits and physical therapy appointments. As such, it is crucial to have a robust support system to help you through the process:
Ask family and friends for assistance.
Seek counseling if necessary.
Seek professional services for help at home if necessary.
Join a support group of others recovering from motorcycle accidents.
What Are Some Common Injuries After a Motorcycle Accident?
The severity of injuries sustained in a motorcycle accident can vary based on the types of vehicles involved and the speed at which they traveled. Common injuries include the following:
Head trauma, such as traumatic brain injuries or concussions
Neck and spine injuries that cause paralysis or permanent disabilities
Bone fractures
Lacerations and bruises
Internal organ damage
Soft tissue tears or sprains
Psychological trauma, such as post-traumatic stress disorder or anxiety
Amputations
Death
Having to cope with such issues can be overwhelming. Consider contacting an attorney specializing in motorcycle accidents to help you navigate the legal process of seeking compensation and justice.
What Are Some Common Causes of Motorcycle Crashes?
Understanding the common causes of such crashes is essential to determine who is liable and how you can pursue compensation. These are some top causes of motorcycle accidents:
Speeding or reckless driving
Drunk or drugged driving
Drivers failing to yield
Defective roads or highway design
Vehicle malfunction
In any of these cases, you might have a valid legal claim. An experienced attorney can help you better understand the process and determine what damages your case might be eligible for.
How Can Motorcycle Accident Injuries Impact a Person's Life?
The physical and psychological effects of a motorcycle accident can have far-reaching consequences. An experienced attorney can advise you on what to reclaim during negotiations or trials. Consider the following.
Physical Injuries
Depending on the severity of an injury, it could result in permanent disability or disfigurement. Such conditions may require ongoing medical care, including physical therapy and medications. This can increase the financial burden on motorcycle accident survivors and their families.
Psychological Injuries
The trauma of a motorcycle accident might lead to psychological issues, such as depression or post-traumatic stress disorder. Survivors may require counseling and other mental health services.
Economic Losses
A motorcycle accident's physical and psychological effects can lead to economic losses, such as lost wages due to an inability to work or increased medical bills. The costs associated with a motorcycle accident should be considered when filing for damages.
Loss of Enjoyment
In some cases, the victim might not be able to participate in activities they once enjoyed or return to the same level of function as before the accident. Loss of enjoyment is a form of compensation that can be requested when filing for damages.
Property Damage
Motorcycle accidents often result in damage to the bike and its parts. This can include damage to clothing, helmets, or other items the motorcyclist wore at the time of the accident. If so, you should consider seeking compensation for these losses from the negligent party's insurance company.
Wrongful Death
Sometimes, bikers have passengers or otherwise travel together. If they lose another person in the crash, they may have a claim. An experienced attorney can advise what eligible persons might make a wrongful death claim and under what situations. He or she can also evaluate the evidence to determine the strength of a claim based on the evidence.
How Can an Attorney Help People Recover From Motorcycle Accidents?
An attorney specializing in motorcycle accident cases can help victims navigate the legal process of seeking damages. This could include the following tasks:
Reconstruction of the accident: An attorney can help reconstruct the accident through expert testimony and evidence collection.
Tracking witnesses: An attorney can help find witnesses who may have seen the accident.
Filing a personal injury claim: An attorney can help you understand the claim process and file paperwork on your behalf.
Negotiating with insurance companies: An attorney can fight for a fair settlement from the responsible party's insurer.
Litigating in court: In some cases, it might be necessary to take the matter to court to resolve disputes or obtain maximum compensation.
The team at Siegfried and Jensen has recovered more than $1.2 billion for persons who sustained injuries in motorcycle crashes and other accidents. Our experienced attorneys have fought hard for our clients' rights for over 30 years. We welcome the opportunity to fight for you. Contact us for a free consultation.