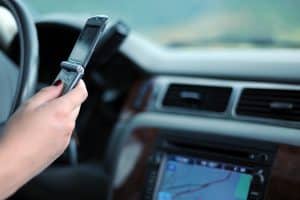 Most of us learned to drive an automobile in our teen years, under the guidance of a more experienced adult. After a few months, most of the safe driving habits we practiced to pass the driver's exam became automatic behaviors that we enact without thinking as we drive.
That increased confidence, however, can lead to poor decision-making based on a false sense of security in our skills and relative safety. Distracted driving poses an extremely high risk of injury and death for all motorists, but motorcyclists face greater dangers due to the small visual profile and reduced vehicle protection.
What Is Distracted Driving?
Operating a motor vehicle has become easier as automobile technology takes some of the guesswork out of steering, braking and reversing. That said, driving a car is far from a simple task, especially when you consider that you're sharing the road with many other drivers and that you must make rapid decisions nearly constantly as your car travels down the road.
Distracted drivers have a misplaced faith in their ability to multitask while driving a car, perhaps reaching for something under the passenger seat or replying to a text message at a stoplight. Any time that you are not 100 percent focused on the safe operation of your vehicle, you're engaging in an act of life-threatening distracted driving. While defensive driving courses and the media focus on the dangers of cell phone use while driving, distracted driving also includes behaviors that impede your ability to attend to the road and control your car.
Put simply, distracted driving means any action that reduces your focus on the act of driving. The Centers for Disease Control places distracted driving behaviors into three categories: Visual, manual, and cognitive distractions.
How Distracted Driving Causes Motorcycle Accidents
Motorcycles, like bicycles and pedestrians, are at increased risk for more serious injury in vehicular collisions due to the disparity in size between them and other automobiles. However, motorcycles have the additional element of their own speed, which can amplify the intensity of any kind of accident. Their smaller size means they're more easily overlooked by other drivers; distracted driving increased the danger exponentially.
Visual Distractions
When you take your eyes off the road to check a phone notification or look at your passengers, you're visually distracted. Although it seems like just a moment, your automobile is still hurtling down the road at the same speed, regardless of where you're looking. Other vehicles on the road, especially smaller ones like motorcycles, are in significant danger when your eyes are not on the road. Common types of visual distractions include:
Looking at the radio
Manipulating temperature controls
Searching for mirror or light adjustments
Checking GPS or navigation system
Rubbernecking at an accident
To put this in perspective, when you read a text message in a car moving at 55 miles per hour, you're traveling the length of a football field with your eyes closed. A motorcyclist in your lane or nearby can appear seemingly out of nowhere when you look back at the road, and you may not have time to avoid a collision.
Manual Distractions
Like visual distractions, manual distractions are obvious instances when you're not in full control of your vehicle. Multitasking is a myth: While it may seem like you're completing several tasks at once, you're actually just task-switching. In other words, when you take your hands off the wheel to eat your sandwich or put on lip balm, you're not in control of your car.
Motorcycles move quickly, often weaving in and out of lanes at high speeds. Their small profile and rapid maneuvering mean that uncontrolled vehicles can hit motorcycles when the larger automobiles drift between lanes or take unexpected actions. Manual distractions can include:
Drinking or eating
Adjusting the environmental controls
Using a cell phone
Smoking
Reaching for items in the passenger seat
Cognitive Distractions
Once you've earned your license, it's easy to become over-reliant on your hard-earned skills. Even experienced drivers can become overconfident about their knowledge of the rules of the road and their ability to make good defensive driving decisions. This misplaced self-assuredness leads to reduced vigilance behind the wheel and increased potential for cognitive distractions.
When your mind isn't on your driving, you're not in control of your car. Small vehicles, like motorcycles, may enter your blind spot or come alongside you unnoticed until it's too late. Cognitive distractions come in many forms, including the following:
Talking with passengers
Listening to music
Speaking on the phone, even hands-free
Being excessively tired or stressed
Reading billboards
Motorcycles are at particular risk for collisions when drivers are cognitively distracted because a wandering mind means a lack of attention to, well, everything. Small, fast-moving vehicles slip under the radar, so to speak, and accidents can ensue.
What Are Utah's Distracted Driving Laws?
While Utah does not have a ban on hand-held devices, text messaging is illegal for all drivers. Novice drivers under the age of 18 and school bus drivers are not permitted to use cell phones in any capacity while driving. These are all "primary enforcement laws," which means that police officers may issue a citation for the behavior, even if no other offense was committed. On the other hand, the law allows for hands-free operation of devices in certain cases, such as:
Talking on the phone
Glancing at a navigation system or GPS
Calling 911
Reporting a safety hazard, suspected criminal activities or a medical emergency
If you're convicted of causing an accident due to distracted driving, the consequences are significant. Since the danger to motorcyclists increases when other drivers are distracted, the likelihood of severe penalties is substantial. Accidents caused by distracted driving in Utah result in the following possible penalties:
First offense without injury or death: Class C misdemeanor with a fine up to $100.
Prior conviction (within three years) or severe injury to another party: Fine up to $1,000 and possibility of up to six months in prison.
Death of another party: Possible charges of vehicular homicide, a second or third-degree crime. Conviction may involve fines up to $10,000 and entail a 20-year prison sentence.
With thousands of American injured or killed by distracted drivers every year, many U.S. states are cracking down on distracted driving behaviors, particularly cell phone use.
When Should You Contact an Attorney?
If you've been involved in an accident and have been accused of driving while distracted, you need to contact a qualified attorney for help. The penalties for violating Utah's distracted driving laws are severe, especially if someone has been injured or killed in an accident. Even if you've just been issued a ticket for texting and driving, it's wise to reach out to an attorney who understands the legal ramifications of your violation.
A qualified attorney who is well-versed in Utah driving laws can help you sort through your legal options and potentially reduce fines and other penalties. When you need help navigating the legal system after a distracted driving violation or accident, reach out to the team at Siegfied and Jensen for help. We're here to sort through the legal terminology and find the best path forward.