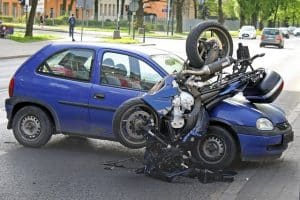 As a motorcyclist, you face significant risks every time you get on your bike. The lack of protection and stability, along with the tendency for motorists not to see a motorcycle contribute to high accident, injury and fatality rates. Furthermore, when you have an accident, you must contend with inherent biases against bikers from the insurance industry.
If you sustain serious injuries in a crash, you may need the assistance of a seasoned motorcycle accident lawyer to attain fair compensation for damages. Understanding the challenges and knowing what to look for in an attorney can help you choose one that works for you.
Understanding the Challenges of a Motorcycle Accident Claim
In the aftermath of a crash on your bike, you may have numerous questions about how to recover compensation for your losses. You may experience much more finger-pointing and a general lack of empathy than you would if you were in a car accident, even if another party is entirely at fault, making it difficult to know who to turn to for help.
Though motorcycles account for approximately 3% of registered vehicles in the U.S., 4% of occupant injuries, 18% of all occupant fatalities, and 14% of all traffic accident fatalities were to bikers in 2020. In Utah, 15,897 car crashes led to injuries and 256 fatal accidents. Of those, 1,077 involved a motorcycle, with 902 collisions leading to rider injuries and 45 resulting in fatalities. The high incidence of adverse outcomes for motorcyclists may contribute to the perception that they are usually at fault in a collision, particularly if they aren't wearing a helmet.
Though many states don't require helmets for bikers, and others only require them for riders under a certain age, non-riders often still blame riders for their injuries if they weren't wearing a helmet. Utah only requires helmet use for anyone 21 years of age and younger. If you file a claim with the at-fault party's insurer, the company will likely fight you on a settlement amount or deny your claim altogether because you were on a motorcycle.
Insurance Coverage Challenges
Utah is a no-fault car insurance state. Motorists must have personal injury protection on their insurance policies. This coverage pays for medical expenses and a percentage of lost wages if vehicle occupants sustain injuries in a car accident, regardless of who is at fault. The minimum coverage is $3,000, so it isn't high. However, the insured knows that minor injuries are covered and initial treatment for more serious injuries is at least partially taken care of without having to prove fault.
The law does not pertain to motorcyclists. In fact, it states explicitly that insurers can exclude PIP protection for riders. If your motorcycle insurance does not include PIP protection, you must rely on other avenues for coverage, even for minor injuries. You can file with the at-fault party's insurance. However, you may not reach a satisfactory settlement.
Lawsuit Challenges
If you don't obtain the compensation you deserve, you may have no choice but to file a legal claim to pursue damages. To file a lawsuit, you must meet the state's serious injury threshold, requiring your injuries to fall under one of the following classifications:
Bone fracture
Permanent disability or impairment
Permanent disfigurement
Dismemberment
Certain family members or a rider's estate representative could file a wrongful death claim if a motorcyclist died in an accident due to another's negligence.
Even if you meet the above injury requirements, you also need to have evidence supporting your claim. You must have sufficient proof that the other party has a primary liability, which means you need evidence that their negligence significantly contributed to the crash and that your injuries resulted from the accident. Your role in the collision impacts your settlement.
Utah's modified comparative negligence rule allows you to recover damages if you are partially to blame for the collision. According to state law, you are entitled to compensation if you are no more than 50% at fault. However, your settlement is reduced by the same percentage as your liability. If you are 30% responsible, you receive 70% of the calculated damages. Once you pass the 50% liability threshold, you lose your right to receive compensation.
Knowing What To Look for in a Motorcycle Accident Attorney
Motorcycle accident claims are usually complicated because of the legal differences in insurance requirements, helmet laws and biases. You want someone with the right kind of experience. Crash claims are personal injury cases, so you need a personal injury lawyer to handle yours.
However, ensure you get someone with experience working specifically on motorcycle accident cases. Siegfried and Jensen's motorcycle accident lawyers have extensive experience and demonstrated success in handling these claims. Other factors you should consider include the following:
Legal knowledge: A motorcycle attorney needs to have a firm grasp of the special laws impacting riders, including road rules and insurance laws. Knowing these laws is critical for defending your rights and proving liability.
Years of experience: You want a lawyer who has been working on motorcycle accident cases for a while. The more experience the attorney has, the more likely the individual has come across various accident situations with varying complexity.
Demonstrated success: A lawyer's overall success is an important factor, but you also should inquire about the firm and attorney's track record for motorcycle claims. You can also ask about the average time they take to settle a lawsuit.
Court experience: Though out-of-court settlements are the norm for personal injury cases, some do go to court. Make sure you choose an attorney with personal injury trial experience.
Level of support: Look for a lawyer who can offer you the support you need. You should receive personal attention from your legal team. They should be available and willing to answer your questions and address your concerns. They should handle all legal aspects of your claim, leaving you to focus on your recovery.
Communication: Communication during your lawsuit is critical. You should not be left in the dark about how your case is proceeding. You want an attorney who is approachable and consistent in communications and relaying information to you promptly.
When choosing a motorcycle accident lawyer, check their fee structure. Find out if they charge any upfront fees and require you to pay out-of-pocket for services from accident reconstructionists or other professionals. You should not have to pay any upfront fees to the attorney. Make sure you find one that works on a contingency, only charging you if you win your case.
Taking Action on Time
One other thing you need to consider when seeking a motorcycle accident lawyer. You are on a deadline. The idea of looking for an attorney might not be appealing. You may be tempted to put it off as long as possible, which is understandable.
However, time is of the essence. Utah's statute of limitations for most personal injury cases (including traffic accidents) is four years. If you don't file on time, you might have no other options for recovering damages.
Working With Siegfried and Jensen
Siegfried and Jensen has been helping motorcycle and other traffic accident victims recover damages since 1990. We understand the complexities you face in obtaining the compensation you deserve, and we're here to support you every step of the way. Find out more about what we can do for you by contacting our offices for a free case review.