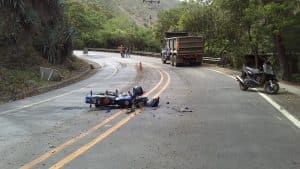 Motorcycle accidents are among the most deadly because riders are significantly more vulnerable to negligent drivers. When an accident results in the motorcyclist's death, the at-fault party is responsible for the damages incurred, including the financial and emotional losses the surviving family members suffered. If you lost a loved one in a motorcycle accident, you could sue for compensation.
How Does Utah Law Define a Wrongful Death?
According to Utah personal injury law, a wrongful death occurs when someone else's negligent or malicious act results in the death of another person. When that person's injuries would constitute a personal injury claim had they lived, it becomes a wrongful death claim.
Establishing Liability in a Wrongful Death Claim
Proving liability is a responsibility that falls on the plaintiff in a personal injury case. When you file a lawsuit against the at-fault party, you must provide evidence supporting the elements of a negligence claim:
Duty of care owed to the victim. You must show that the defendant owed the deceased a duty of care, meaning they had an obligation to obey traffic laws in an effort to keep everyone safe on the road. For example, all drivers have an implied duty of care when they get behind the wheel.
Breached duty of care. Your evidence must support the claim that the defendant breached their duty of care by violating traffic laws. For example, speeding, running a red light or stop sign, making an illegal turn, failing to yield and driving under the influence are all breaches of their duty of care.
Causation. Your evidence must show a direct correlation between the defendant's breach of duty and the accident. You must also prove that the accident directly caused your loved one's injuries and death.
You file a wrongful death lawsuit in civil court, where the burden of proof is lower than in criminal court. Civil cases require you to prove the defendant is guilty by a "preponderance of the evidence," which essentially means they are more likely than not at fault. Therefore, proving fault, especially in auto accident cases, is less burdensome than you may think.
Who Can File a Wrongful Death Lawsuit in Utah?
Each state establishes rules for who is eligible to file a wrongful death case. In Utah, the deceased person's estate executor, heirs or legal guardian can file a wrongful death claim with the local civil court. An heir may refer to a surviving spouse, child or parent. Adopted children and parents have the same rights as biological parents or children. Financially dependent stepchildren under 18 at the time of their stepparent's death as well.
If none of these surviving relatives survive the deceased, other more distant blood relatives could file a claim. When no heirs want to pursue a wrongful death suit, a personal representative known as the executor of the deceased's estate can file a wrongful death lawsuit, and any damages they recover are distributed among the surviving family members. The same is true if a legal guardian files.
What Damages Are Available in a Wrongful Death Claim?
All personal injury cases have economic and non-economic compensatory damages. Damages reflect your losses and what the negligent party owes you for their breach of duty. Economic damages reflect the monetary impact, while non-economic damages cover the psychological damage a wrongful death can cause the surviving relatives. Examples of both include the following:
The resulting medical bills. Any treatments your loved one had to undergo before their death, resulting in medical bills, are recoverable. This includes ambulance and emergency care costs.
Death-related expenses. The defendant is liable for funeral and burial or cremation costs.
Current and future income loss. Heirs can claim lost wages the deceased contributed to the household, loss of inheritance and loss of benefits. In addition, if they contributed to retirement plans or provided healthcare insurance, you could also claim those losses.
Pain and suffering. You can apply a monetary value to the deceased's physical pain and suffering caused by their injuries and any medical treatments they endured.
Emotional distress and mental anguish. Loss of companionship or consortium causes emotional distress. The defendant is also liable for the affection, advice, counsel and love the deceased provided to family members.
Many of these losses have no inherent financial value, but the court allows you to assign value based on several factors. When you have questions about the damages available to you, you can contact a wrongful death attorney for a consultation.
Punitive Damages
In Utah, you can pursue punitive damages in a wrongful death case. Unlike economic and non-economic losses, punitive damages do not aim to make whole what you lost. Instead, it punishes the defendant for excessively egregious conduct. For example, suppose the defendant chose to drive under the influence of drugs or alcohol and hit your loved one on a motorcycle. In that case, the court may deem it necessary to punish them with further financial damages.
Punitive damages awards are rare in motorcycle accidents or wrongful death cases but can occur. Additionally, Utah does not place a cap on these awards. However, the court will likely not award grossly high claims for punitive damages. The amount should be appropriate given the circumstances of the accident.
What Are the Advantages of Hiring a Wrongful Death Attorney for Your Case?
Often the people pursuing a wrongful death claim are close relatives grieving the loss of someone they loved. For many, the legal process is necessary for their financial survival but emotionally painful and mentally draining. An experienced wrongful death attorney knows the burdens a victim's family faces in the aftermath of untimely and devastating death. Most provide their services on contingency to ensure families have access to legal representation without increasing their financial struggles.
The most advantageous reasons to hire a wrongful death attorney include the following:
They investigate the accident independently of the police and insurance companies to find evidence of negligence and damages.
They provide guidance throughout the legal process to ensure you understand each step and protect your right to compensation.
They represent you aggressively during negotiations with the insurance company to ensure you receive a fair settlement.
They file all the necessary paperwork and gather all supportive evidence, a tedious process for someone grieving a tragic loss.
They access experts in relative fields when necessary to prove your claim.
Most importantly, a wrongful death attorney is a pillar of support during a challenging time. Insurance companies are notoriously combative, particularly when facing a valid claim with a substantial payout. Having a legal representative is a buffer between you and the insurance company.
When Should You Schedule Your Free Consultation?
If you lost someone important to you in a motorcycle accident caused by a negligent driver or third party, you have the right to file a lawsuit against them. While no sum of monetary compensation can replace your loved one, you can hold the at-fault party responsible and receive enough financial support to cover the economic damages you sustained. If you have questions about the legal process, the attorneys at Siegfried and Jensen are available to provide answers. Contact us at (801) 845-9000 to schedule your free, no-obligation consultation and speak with an experienced attorney today.