Motorcyclists involved in an accident often face substantial losses in the aftermath. In addition to the sometimes tragic physical repercussions, there are financial and emotional damages to rectify. Utah personal injury law allows you to pursue compensation if you suffered injuries and property damage because of another party's careless behavior. Sometimes that means filing a lawsuit, but often you only need to file an insurance claim.
Do You Need To File a Lawsuit After a Motorcycle Accident?
Utah is a no-fault auto insurance state. Licensed drivers with an operational vehicle must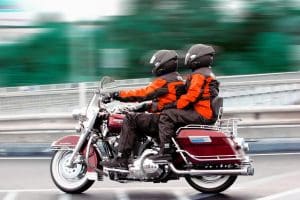 carry personal injury protection insurance to cover their medical expenses and lost wages after an auto accident. However, that law does not apply to motorcyclists. Therefore, in the event of an accident, you must use the at-fault system to recover damages.
The first step in the at-fault system is filing a claim with the other party's insurance company. Ideally, the insurance company will investigate and approve your claim, allowing you a fast and fair conclusion so you can start rebuilding your life. However, that is not always the case. Realistically, insurance companies often respond combatively to avoid financial responsibility. In that case, you may need to file a lawsuit against the at-fault party.
Who Is Liable in a Motorcycle Accident?
When you file an at-fault claim or lawsuit, you bear the burden of supporting your claim, meaning you must provide evidence of the three components of negligence:
The other party was responsible for upholding specific standards to keep you and others safe on the road.
The other party failed to uphold that responsibility by violating traffic rules or other laws.
The other party's breach of duty resulted in the accident that caused your injuries.
If you can prove all three requirements, you can hold the defendant responsible for any losses you sustained due to the accident and your injuries. However, the first step is identifying the liable party, which could be the other driver or a manufacturer in a motorcycle accident.
The Other Driver
Determining who is at fault in an accident involving two or more vehicles typically means figuring out who violated traffic laws. Unfortunately, motorcyclists are often victims of auto accidents because of another driver's negligence. Failure to check blind spots or making a negligent left turn are some common causes. When the other driver is at fault, the first step is to file a personal injury claim with their insurer.
Should the insurer fail to cooperate, you can file a lawsuit against the other driver, but be mindful of the statute of limitations. In Utah, you have four years from the date of the accident to file a personal injury claim and three years to file for property damage. A common tactic insurance companies use to avoid a substantial payout is to delay settling your claim to ensure you miss the deadline for filing a lawsuit. Remember, even when you file a suit against the driver, their insurer is still financially responsible.
The Motorcycle or Helmet Manufacturer
Suppose the cause of your accident was a malfunctioning motorcycle part, or you suffered a head injury because of a defective helmet. In that case, you can sue the manufacturer for damages in a product liability case. Product liability is a legal doctrine that states a manufacturer or distributor is liable for selling faulty products. Examples of faults in products include:
A defect in the design that makes the product dangerous
Missing safeguards in the product's design
A hidden defect that occurred during the assembly
Failure to provide adequate safety warnings or instructions
Product liability litigation is often complex. Sometimes more than one party is liable for a single defect, and you, the plaintiff, may need to battle a company with powerful legal resources. If the motorcycle or helmet manufacturer is responsible for your accident, you would likely benefit from speaking with a motorcycle accident lawyer as soon as possible.
What Damages Can You Recover From a Motorcycle Accident?
Compensatory damages refer to the losses you incurred directly from the accident and your injuries. The purpose of liability insurance and personal injury law is to allow you an avenue to recover those losses and make whole what you lost as much as financial compensation can. Utah tort law recognizes two types of damages commonly resulting from personal injury cases: economic and non-economic damages. While every motorcycle accident is unique in some way, most have some variation of the following damages.
Compensatory Economic Damages
Consider the ways your accident and injuries affected you financially. Those are your economic damages. The most common examples include the following:
Necessary medical expenses. The defendant is responsible for all medical expenses related to your injury, from the cost of an ambulance and emergency care to follow-up doctor's visits and ongoing rehabilitative services. In addition, you can claim all prescription medications, surgeries, medical devices and even transportation back and forth to appointments.
Lost wages. Severe injuries typically result in missed work, causing you to lose income while accumulating medical bills. You can claim the total of current and future lost wages as well as loss of earning capacity if your injuries prohibit you from doing your pre-accident job.
The cost of damaged property. If your motorcycle, helmet or any other property sustained damage during the accident, the defendant is liable for repairing or replacing it.
You can also recover any out-of-pocket expense required because of the accident. For example, if your injuries rendered you unable to care for your children or complete daily household duties, you can claim the cost of hiring someone to help.
Compensatory Non-Economic Damages
Consider how the accident affected you mentally and emotionally. Serious motorcycle accidents and severe injuries can significantly impact your mental health. The law recognizes those losses as non-economic damages and allows you to quantify them for recovery. Common examples include the following:
Emotional pain and suffering, often manifesting as anxiety, depression or post-traumatic stress disorder
Physical pain and suffering from your injuries and painful treatments you had to endure
Loss of your ability to enjoy life as you once did
Loss of intimacy in your spousal relationship
Mental anguish or emotional distress
Claiming non-economic damages is often critical to ensuring adequate compensation because these losses can significantly outweigh the financial damages. For example, the most common method for determining the value of pain and suffering is to calculate medical expenses and multiply that value by a number between 1.5 and 5. More severe injuries with lasting effects and longer recovery would constitute a higher multiplier. An experienced attorney can help you identify these losses and adequately value them.
When Should You Contact a Motorcycle Accident Lawyer?
If you recently suffered an injury in a motorcycle accident, you may have questions about your right to compensation, the damages available to you and what steps you should take to recover your losses. An experienced motorcycle accident lawyer in Utah can help you navigate the legal system, protecting you from potential rights violations. There is no time too soon to contact an attorney after an accident. At Siegfried and Jensen, we understand how devastating the aftermath of a motorcycle accident can be and work aggressively to secure the compensation our clients need. Contact us at (801) 845-9000 to schedule your free consultation today.