Wrong-way crashes are 12 times more likely to cause severe injuries or fatalities than other kinds of crashes, according to the National Transportation Safety Board (NTSB). Wrong-way collisions are more likely to be severe. Ultimately, head-on crashes are involved in 18 percent of all deadly traffic accidents, and a large number of these deadly crashes are the result of wrong-way crashes and not due to improper passing maneuvers. Hundreds of lives are taken each year in these crashes, and thousands more are severely injured. In many cases, the fault of the collision is placed on the wrong-way driver. This article will discuss some aspects of wrong-way accidents and the risk they pose. 
Fault in Wrong-Way Crashes
Fault in wrong-way crashes is nearly always assigned to the wrong-way driver. These accidents are often the result of:
Drunk driving

(accounting for nearly 60 percent of all wrong-way crashes);
Reckless driving;
Fatigued driving; and
Unlicensed drivers

.
In these situations, it is the wrong-way driver who is liable for sustained injuries. 
Preventing Wrong-Way Accidents
The creation of novel technologies can help prevent a majority of wrong-way crashes. Wrong-way accidents can happen when a driver crosses the center-line, entering into oncoming traffic, or when a motorist enters the wrong-side of a highway and travels in the opposite direction of other vehicles. Wrong-way crashes can often result in catastrophic and life-threatening injuries due to the increased force of the two involved vehicles and because of the high-speed of these accidents. The development of technology could help to prevent these accidents from taking place. 
Technological Advancement & Wrong-Way Crash Prevention
In recent years, vehicle safety technology has advanced significantly. A particular technology that is promising is the creation of in-vehicle communication systems that are intended to allow people to speak to each other from their vehicles on the road. The Federal Communications Commission has reserved a specific frequency in order to allow for communications between vehicles. 
Car-to-Car Communications Systems
Car-to-car communication systems let drivers speak to one another about potential hazards, such as wrong-way drivers who are driving in the wrong direction or who have entered the wrong side of the roadway accidentally. This technology can help motorists alert local authorities if they pass a driver traveling in the wrong direction. Car-to-car communication systems are currently in the testing phase. The National Highway Traffic Safety Administration (NHTSA) is working on regulations for these systems and will likely make it mandatory for drivers to install these devices on all new vehicles and trucks. These communication technologies have been in development for well over a decade, and it is believed that these systems can potentially prevent nearly 80 percent of all car crashes. 
The Responsibility of All Drivers
Technology has the ability to reduce the rate of wrong-way collisions. However, it is the overall responsibility of all drivers to prevent accidents. Drivers should avoid unnecessary risks that can cause wrong-way collisions. Human error can always potentially result in a collision, no matter how advanced safety technology becomes. If a motorist makes a bad decision that results in an accident, the victim of the collision may be able to seek compensation.
Have You Been Injured in an Auto Accident With a Wrong-Way Driver?
Wrong-way driving in Utah is a serious offense, and nearly half of these accidents result in death or crippling injuries to those involved. Each day, we all read about car crashes in our State. Some of these headlines may just be news for some, but for those involved, they are tragic events that can result in severe injuries, property damage, and even the loss of a loved one. Many accidents in Utah are due to human error and be avoided by following safe driving practices.
Some of the more severe kinds of crashes in the state involve wrong-way drivers. Wrong-way drivers are a serious hazard to others on the road. According to statistics from the NHTSA, wrong-way drivers are involved in nearly 1.5 percent of all deadly car crashes.
Which Groups Cause Wrong-Way Crashes?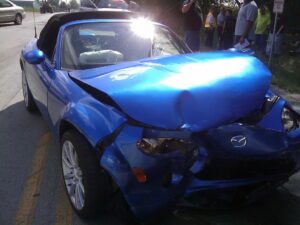 Wrong-way drivers are often divided into four main categories:
Elderly drivers

who are often easily confused;

Drunk or intoxicated drivers

; 

Intentional wrong-way drivers

who are trying to escape a traffic jam or similar situation; and

Distracted or inattentive drivers

who confuse an off-ramp or an on-ramp.
There are remedies suggested by the National Highway Traffic Safety Board (NHTSB) to reduce the rate of wrong-way collisions. These include adding wrong-way pavement arrows, moving, adding, or adjusting wrong-way signs, placing edge lines on pavement markings, improved lighting, and fitting signs with high-intensity reflective sheeting. Approximately 75 percent of deadly wrong-way accidents are the result of drugged or intoxicated drivers. Despite the efforts made by the traffic authorities, this means that it is up to others to drive with reasonable care. Older drivers are also responsible for a significant number of wrong-way collisions, so the NHTSB recommends safety programs aimed at older drivers.
Avoiding Wrong-Way Accidents
Because there are many negligent drivers on the road, it is crucial that everyone pays attention while they are behind the wheel and be watchful for other drivers who are driving in the wrong direction. If you see oncoming headlights, this is an obvious hazard, and you need to get out of the way immediately. The most common types of crashes caused by wrong-way drivers are sideswipes and head-on collisions. A majority of the 300 wrong-way crashes reportedly annually take place on the weekend, so you should be especially careful on these days.
Wrong-Way Accidents in Utah
When a driver is driving the wrong way on the road, they are liable to seriously injure someone else on the road. Many times, drivers are intoxicated, which is the case with 75 percent of wrong-way collisions. Head-on crashes account for 18 percent of all deadly collisions in the United States, and wrong-way accidents are 12 times more likely to result in death. Victims should contact an experienced Utah wrong-way collision lawyer after an accident.
Siegfried & Jensen has been active for 30 years helping the people of Utah. We have a 97 percent success rate with our combined 35,000 cases. Our clients have recovered $850 million with our services. Contact us today at 801-845-9000 to discuss your claim.