Fender benders are a common type of vehicle accident that does not involve major injuries. These types of crashes can occur in parking lots when vehicles are backing out of a parking space, or when you are driving and trying to break at a traffic signal. It is easy to misjudge the distance you need to come to a complete stop, and sometimes you bump into the car in front of you.
More often than not, these kinds of crashes do not result in severe injuries of the driver or passenger. While there are usually no significant injuries, there is likely to be some type of minor property damage to the vehicles involved, in the form of a dented bumper or scratches on the paint.
In these situations, you may find yourself wondering if you should report this incident. There are two parties that you could report the collision to, and there are different circumstances for each entity. Below we are going to discuss some aspects of rear-end collision accidents that could help you understand how to proceed after a fender bender.
Is it Necessary to Report The Injury to the Police?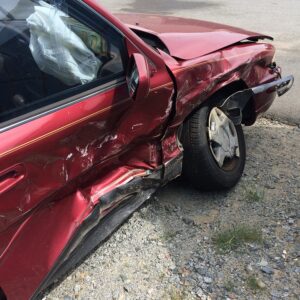 What you do following a fender bender depends partly on the circumstances of the incident itself.
Immediately following the crash, the most important thing you can do is to get the contact information of the other involved party as well as the driver's insurance information. Utah requires that drivers involved in an accident exchange this information if they have been involved in a collision.
If the driver does not want to cooperate, or if you think that the at-fault driver does not have the state minimum requirement for auto insurance, you should call the police to the scene of the crash in order to obtain the information needed. Depending on where the accident takes place, the law office you consult with may be municipal police, the county sheriff, or the highway patrol.
Even if the driver wants to work with you, there may be a disagreement between you and the other driver about what caused the accident. When this happens, you should ask for the help of law enforcement. This gives the law official the chance to record interviews with the involved parties and to record the circumstances and evidence of the incident at the scene of the crash. This could involve skid marks, debris, or damages to either vehicle.
You should also contact a police officer at the scene of a crash if you have sustained any injuries. At the scene, immediately following the accident, you may think that you did not receive any significant injuries. You could have told the driver that you were fine. However, a lot of injuries are not readily apparent until after the accident, even months later. If you do not reach out to a law office following the crash, and later find out that you were significantly injured, the other driver can make the argument that you never sustained any injuries. Without the police report of the crash, you don't have any evidence to back up your claim of injury against the at-fault driver.
If the crash happens because of dangerous weather conditions, you may not be able to receive assistance from calling 911. You may be given instructions stating that in the event there were no injuries sustained, law enforcement officials are not able to respond to the accident due to other accidents caused by the weather conditions. If this happens, a nearby convenience store or gas station may have accident report forms that you and the other party can fill out and then mail to a local police agency.
Reporting a Crash to your Insurance Company
When a driver is involved in a minor car accident, he or she may try to avoid reporting the crash altogether to your insurance company. The primary reasons for this are:
The driver thinks that their insurance rates will increase

The driver believes that things can be worked out with the other at-fault party without involving their insurance companies.
You should understand that all car crash insurance policies in the United States require that policyholders report any collision they are involved in immediately following the crash. If you fail to report the collision to your insurer, there could significant penalties or complications later on.
Let's imagine that you and the other driver agree after a crash to just work things out without filing an insurance claim. This is never a good idea. The driver may go home and realize that he or she sustained more significant damages than previously thought. Or, he or she may notice injuries after the fact that weren't as apparent at the scene of the crash.
If the other driver decides to make a claim, maybe even weeks later, due to unnoticed damages to their vehicle, or possibly because of injuries that showed up later, your insurer may try to deny some protections to you because you did not properly report the accident. In this case, you attempt to avoid an increase in your insurance premiums resulted in a significant financial loss after the fact.
Salt Lake City Vehicle Collisions
Every 36 hours, someone dies from a car crash in the state of Utah. Car accidents vary, and some are more serious than others. But, they all have the potential to affect someone's life for the worse. There are limitless dangerous distractions on the road, like cellphones, passengers, and alcohol. If you are injured in a car crash, you need to partner up with an experienced attorney who can help you recover compensation for your damages.
At Siegfried & Jensen, our team of experienced car accident lawyers in Utah has been helping the residents of Utah for over thirty years. We are committed to helping you after you or a loved one is injured due to the reckless actions of another person, and we have helped thousands of families recover the compensation they deserve after an accident. If you have any questions, you can contact us today at (801) 845-9000 for a free, no-obligation consultation with an experienced legal professional.