Everyone on the road has to look out for hazards. This can be debris, slippery roads, or poor weather conditions. However, motorcyclists have to be particularly aware of these hazards. Factors that don't really affect motorists too much, like uneven roadways, can be potentially deadly for a rider on a motorcycle. If you're a motorcyclist, you need to know what hazards to watch for and how to deal with them.
Motorcyclists are particularly at risk for sustaining serious injuries in accidents. Because of this, it is important that riders are aware of how to avoid these roadway hazards. You should always wear a helmet when operating a motorcycle. Studies show that wearing a helmet prevents 37 percent of all fatal crashes involving motorcycle riders. You don't want to be another statistic, so if you are a motorcycle rider, we want to offer you some advice on how to be aware of road hazards and how to avoid them.
If you think that unsafe road conditions played a role in your motorcycle crash, the experienced Utah motorcycle accident lawyers at Siegfried & Jensen are here to help. We can investigate your incident and find out if you have a strong case. If you want to pursue a claim, we are here to help every step of the process.
Commonly Seen Road Hazards
A motorcycle rider will face a lot more road hazards than other drivers on the road. Some of these hazards aren't what you would expect. Possible hazards to look for if you are a motorcyclist include:
Uneven roadways.

Roads can be uneven and bumpy with potholes or other maintenance concerns that require repair

Loose gravel.

Loose gravel can force a motorcycle to lose traction on the road and possibly knock a biker off balance.

Edge breaks.

The edges of the roadway could be uneven.

Slippery surfaces.

Oil, wet leaves, and other slippery materials could be on the road.

Ice and standing water.

Ice, snow, and standing water can possibly cause the road to become slick. Driving through standing water can cause the tires to hydroplane.

Railway crossings

– Railway crossings also pose a risk to motorcycle drivers. The tires can get stuck on the track and cause a collision.

Road debris

– Tire treads, trash, and other debris could be on the roadway and can pose a risk to motorcyclists. Debris can strike and severely injure the biker.
Avoiding Road Hazards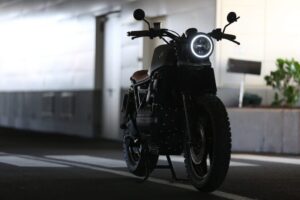 It is possible for motorcyclists to avoid these roadway hazards. It requires that the rider be on the lookout for hazards with the knowledge of how to handle the bike to avoid crashing. There are steps that can be taken to avoid an accident by:
Slowing down. Road surfaces can be slick due to rain, snow, ice, sand, or gravel, and motorcycle riders need to reduce their speed under these conditions. It takes longer to stop on slippery roads, and bikers need to focus on the surface of the road, avoid sudden movements, and try to retain control of the motorcycle. It is better to only make gradual changes in speed and movement to keep steady on the road. Avoid places on the road where slick substances gather, and when braking, apply brakes as slow as possible.
Reacting quickly.

If a motorcycle driver sees a hazard ahead, he or she should act quickly to avoid it. The biker needs to lean quickly toward where he or she is aiming to turn while pressing on the inside of the hand grip on the side of the movement. This can assist the rider in keeping balance.

Avoiding distractions.

During the night, it is pretty hard for motorcyclists to see hazards on the road. They have to maintain attention on the road constantly. They should definitely avoid risky behaviors like texting and driving, and their headlights should be on to increase visibility.

Checking the weather.

Weather conditions are important when driving a vehicle. Even strong wins can cause a motorcyclist to lose balance. Bikers should know the day's weather before traveling on the road. There are certain locations that are particularly risky, such as bridges, coastal areas, and between buildings. Motorcyclists should travel on the side of the road that gives them the greatest amount of space to maneuver safely while staying upright. When trying to keep balance, bikers should turn into the wind to steady themselves.
Because bikers need to react fast to avoid possible hazards, it is crucial that they leave enough room between them and other drivers. It is advised to leave at least three seconds between the motorcycle and the next motorist. This distance can be determined by focusing on an object and counting the seconds it takes for the motorcyclist to get there after the other motorist. This can help prevent any collisions and help the motorcyclist stay in control.
Deadly Motorcycle Crashes in Utah
Motorcycle crashes are particularly dangerous. This is because motorcycles offer little protection to the rider, leaving him or her vulnerable to the hazards of the road as well as other drivers. In 2008, 35 percent of motorcycle crashes were due to speeding, which is must higher than both passenger cars and light trucks. 29 percent of all deadly motorcycle crashes in 2010 involved riders who had a blood alcohol content (BAC) level over the legal driving limit. If you or a family member was harmed in a motorcycle crash and have questions about your options moving forward, you should contact a qualified motorcycle accident attorney in Salt Lake City.
At Siegfried & Jensen, we can help you understand what to do next and discuss your rights after sustaining injuries in a motorcycle accident. We want to help you hold the at-fault party responsible for your damages so you can move on with your life. Our firm has a 97 percent success rate when we take on a case, and we want to help you fight for your settlement. We have recovered over $850 million for our clients and worked on over 35,000 cases. Contact us at (801) 845-9000 to talk about your case with an experienced motorcycle crash lawyer in Salt Lake City.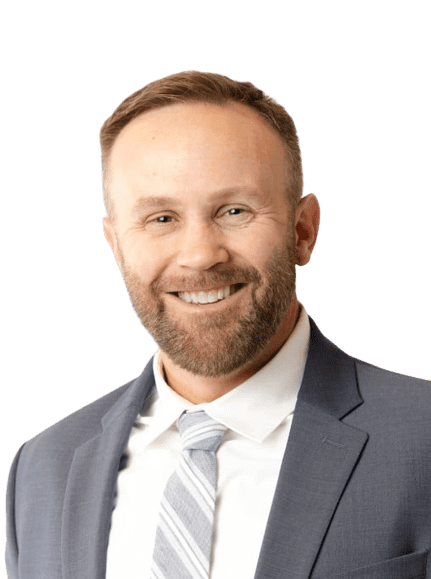 Content checked by personal injury attorney Todd Bradford. I worked for a small law firm in Utah County, where I handled various types of cases. My main focus was personal injury and I decided that is what I enjoyed doing the most. I rejoined Siegfried and Jensen in 2012 where my focus is solely on helping personal injury clients. I take pride in helping personal injury clients and enjoy serving them. If you need an attorney for auto accidents or injuries of any kind in Salt Lake City, UT, Ogden, UT, Spokane, WA, or Boise, ID, contact us.