Every year, over 26,000 victims are injured in car accidents each year across Utah. Fortunately, the number of victims injured is far less than the total number of accidents, which tops out at over 60,000 annually.
Victims injured in car accidents often question whether their accident was severe enough to warrant calling a personal injury attorney in Utah. Chances are if you sustained injuries or financial damages as the result of another driver's negligent, reckless, or distracted driving, you most likely have a legal claim.
Utah car accident attorneys from Siegfried & Jensen have helped over 35,000 accident victims collect more than $850 million for their legal claims, and we continue to be dedicated to helping everyone harmed get the justice and compensation they deserve. It is crucial for those involved in car accidents to understand their legal rights.
What Exactly Is A Car Accident In Utah?
 Car accidents can range drastically from something as minor as a fender bender to a head-on collision resulting in life-threatening injuries or even fatalities. In many instances, motor vehicle accidents result in minor or severe injuries to the parties involved. There are many accidents in which victims should receive emergency medical treatment as soon as possible. Although getting medical treatment is and should remain a top priority for those injured in car accidents caused by negligent or reckless drivers, it is further imperative to contact a personal injury attorney in Utah to protect their legal rights.
Many accident victims have a misconception of what legal rights they have following an automobile accident. Victims may not be aware that they are able to seek financial settlements to cover damages incurred in their accidents.
What Damages Are Available To Accident Victims?
Victims injured in automobile accidents in Utah caused by no fault of their own are able to file legal claims against the at-fault party to obtain remuneration for various damages sustained as a result of the incident. Some of the most commonly sought after damages in Utah courts include compensation for:
Lost Wages: Victims are able to request compensation for the time they were forced to take off work due to appointments, recovering, or other reasons related to their injuries and accidents.
Lost Earnings: In cases where victims are forced out of work for over 12-months, or indefinitely, they are able to request compensation for the lost earnings. These earnings are usually calculated by taking into account the victim's level of education, employment type, current position, their potential for promotions, and various other factors. Working with a skilled car accident attorney in Utah will ensure you are able to get the right professional to calculate this amount for you.
Medical Expenses: Victims involved in car accidents often sustain thousands of dollars in medical expenses. Utah courts enable victims to obtain remuneration for all past, current, and anticipated medical expenses related to the incident. These expenses include those for doctor appointments, medical exams, surgery, medications, medical equipment, and various other services. Therapy, rehabilitation, and other long-term plans accurately documented can be paid by at-fault parties.
Pain And Suffering: Victims who are injured go through a lot. This is undeniable. Courts recognize the devastating impact injuries can have on victims, which is why they enable those harmed to collect compensation for the pain and suffering they experience. Victims will have to adequately demonstrate the impact that injuries have on their lives in order to obtain full and fair compensation.
Loss Of Consortium: A lot of victims do not realize that they are able to get compensation for severed relationships they experience as a result of their incidents. Loss of consortium benefits are available for victims who are unable to engage in spousal relations in an enjoyable manner similar to before their incident.
Punitive Damages: In some cases, victims are able to obtain punitive damages from wrongdoers. These damages are not provided to reimburse a victim for any loss. Instead, they are provided as a form of punishment toward the wrongdoer. Working with a skilled Utah car accident attorney will ensure you obtain the maximum amount of punitive damages available under state law.
Property Damage: Victims are able to obtain compensation to repair or replace vehicles damaged in the collision. Victims are under no obligation to go to a repair shop designated by the insurance company. Instead, they are able to find one they are most comfortable with. In some cases, victims are able to obtain reimbursement for damages to personal property they had on them at the time of the incident.
In order to obtain the maximum amount of compensation for damages in your case, it is crucial to work with a skilled and experienced Utah accident injury attorney.
Working With A Utah Accident Injury Attorney Is In Your Best Interest
Insurance companies are no one's friend. This is especially true when it comes to victims injured in Utah car accidents. In these cases, insurance companies try their hardest to minimize the amount of money they have to pay out to those injured. In order to protect your legal rights to compensation, it is crucial to hire an experienced and aggressive personal injury attorney in Utah to help with your claim.
Our attorneys at Siegfried & Jensen work aggressively yet compassionately to help those harmed get the justice and compensation they deserve. Our in-depth knowledge of Utah personal injury laws enables us to help those injured get justice. Since 1990, our firm has helped over 35,000 victims collect the maximum amount of compensation for their claims. We continue to dedicate our time and efforts into helping those who need it.
If you were injured in a car accident caused by a negligent or reckless driver in Utah, contact our law firm at (801) 845-9000 to schedule a free case evaluation. Siegfried & Jensen has four law offices located throughout the state. Choose the location closest to your home and come in at your earliest convenience. We will sit down and review the details of your claim to help you determine the best legal options available.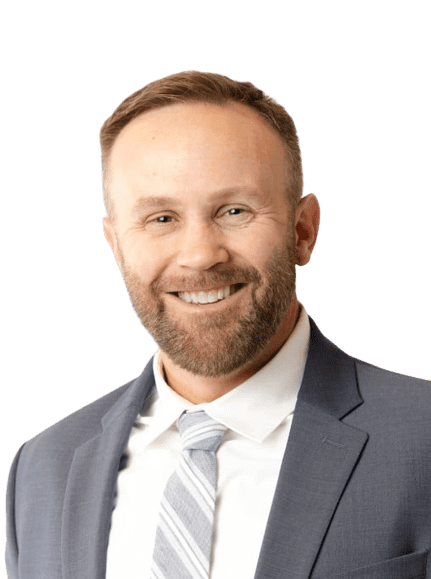 Content checked by personal injury attorney Todd Bradford. I worked for a small law firm in Utah County, where I handled various types of cases. My main focus was personal injury and I decided that is what I enjoyed doing the most. I rejoined Siegfried and Jensen in 2012 where my focus is solely on helping personal injury clients. I take pride in helping personal injury clients and enjoy serving them. If you need an attorney for auto accidents or injuries of any kind in Salt Lake City, UT, Ogden, UT, Spokane, WA, or Boise, ID, contact us.