Understanding Negligence
In the state of Utah, a person can levy a personal injury suit if they are harmed as a result of the negligence or intention of another party. In most cases, people are injured due to negligence. 
From the legal definition, "negligence" usually means that someone owed a duty of care to another and that the person "breached — or failed to comply with — this established duty of care. If an entity (such as a company or organization) failed to act in a reasonable manner which resulted in death or injury, the injured party — or their surviving family members — will be able to file a civil action for injuries and resulting damages.
How Someone Could Be Negligent
A person or entity could be considered negligent in many ways. Some common ways include:
Failure to act in a safe manner. For example, when driving, everyone is required to obey all traffic regulations and drive at attention. If someone causes an accident by running a red light or failing to drive carefully due to texting, they could be found to be acting in negligence.
Failure to take appropriate action

. Someone could also be found negligence due to inaction. For example, if the owner of a supermarket fails to clean up a spill after being aware of it and a customer slips and falls, being injured int he process, the owner of the store could be found liable. 

Defective products

. Products are required to be reasonably safe when they are used in accordance to their provided directions or guidelines, but many products are often defective — sometimes due to design or performance of the product and other times due to the failure of the manufacturer to provide clear guidelines about how to safely use the product.
Recently, products in cars like defective airbags and faulty tires have resulted in many injuries and fatalities. Concerning defective products, manufacturers and those selling, distributing, or installing the products may be considered "strictly" liable for any resulting injuries or death.
Making You "Whole" After Sustaining Injuries
When you are harmed, the law intends to make you "whole," or to attempt to provide you with the same financial and emotional condition that you had before your injury. The amount of compensation that is owed to an injured party is referred to as "damages."
The damages of an injured party can only relate to those "that flow from, or are the natural consequence of," the accident. For example, if you are harmed in an auto accident and take on medical expenses due to hospitalization, and you experience lost income due to an inability to return to work, those damages would be considered natural consequences of the accident. 
Special Damages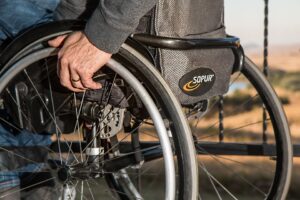 Damages in personal injury cases take two primary forms: special damages and general damages.
In most cases, special damages are the out-of-pocket expenses of a party, including medical costs, lost income, lost earning capacity, and travel expenses. Special damages can be costs that are taken on or those that are anticipated in the future.
For instance, let's say someone is seriously injured on a faulty ATV, and their doctor finds that they will require a knee replacement now and another in 15 years. The special damages of this person would include the complete cost of the surgery today, even time missed from work, and the costs that are expected with the next surgery in 15 years.
In a lot of cases that involve serious injuries, future damages can be considerably expensive. However, in court, there is not an option to later recover future damages at a later time when they are actually incurred. All damages must instead be recovered during the litigation process, as this is when a verdict of liability and damages will be given.
Because of this, the role of a lawyer at trial for the injured party is to prove to the jury that the predicted amount of future damages will be incurred as well as helping regain general damages up to the date of the court case. In this way, the jury will be able to consider these damages in their judgment.
General Damages and  Recovering Compensation for Pain and Suffering
It is true that the financial consequences are not equal to the emotional and mental damages that are associated with an injury, and the law also attempts to compensate victims for pain and suffering. Pain and suffering and emotional damages are often called "general damages."
The financial value assigned to special damages is often not readily defined, unlike special damages. For instance, medical costs can be simply calculated using medical bills, but there is no way to assign a dollar amount to damages like pain and suffering or emotional damages that are sustained by the injured party.
During litigation, it is ultimately up to the legal representation of the injured party to make the case that the "special damages" have been sustained resulting from the plaintiff's injuries. The jurors will provide what they see as a fair verdict based on these damages based upon this evidence. 
Jurors are required to consider damages which a reasonable person would have endured under their individual life circumstances when considering compensation for special damages. A court is unable to offer compensation that is found to be unreasonable through emotional or psychological reactions.
For instance, if a cyclist is struck by a motor vehicle, the injured party could have continuing fear and anxiety when on a bicycle and may never be able to take on cycling again. This would be reasonable and could provide grounds for compensation of special damages.
Utah Cycling Accidents
There are 6 cyclists killed and 850 and seriously injured each year in the state of Utah. Overall, cycling is on the rise across the United States, and more people on bikes means more vulnerable cyclists that could be severely injured in a collision with a larger motor vehicle. 
The expert Utah bicycle accident attorneys at Siegfried & Jensen have the knowledge and expertise needed to regain settlement worthy of your damages. Call us today at 801-845-9000 if you or a loved one has been injured in a bicycle crash due to a negligent driver.