The Federal Highway Administration (FHA) claims that wrong way collisions make up about 300 to 400 roadway deaths every year. Wrong way driving is usually defined as a motorist who is driving their car in the opposite direction of traffic on a highway, resulting in them colliding with oncoming vehicles who are driving in the right direction.
Accidents due to wrong-way driving are usually head-on crashes, which are particularly harmful. In the event the crash does not cause the death of the victim, the injuries received are usually extreme with long-lasting side effects. Typical injuries in wrong-way driving crashes include broken bones and other severe injuries like whiplash, head trauma, spinal cord injury, and even permanent disability.
Why Do Wrong Way Crashes Happen?
These accidents are usually the result of driver error, with a majority of wrong-way drivers entering a highway exit ramp rather than the entrance ramp. The causes for these mistakes vary, but typically they are due to:
Driving while intoxicated

Distracted driving

Drivers who are unfamiliar with the area roadways

Inadequately marked ramps

Inadequately placed signs

Poor ramp design

Lack of signs

Lack of visibility

Drowsiness or exhausted motorists

Drivers suffering from mental health conditions
Of all the reasons listed here, the primary cause involves intoxication due to drugs or alcohol. 50 to 75 percent of all wrong-way traffic collisions are the result of an intoxicated driver. It is not surprising that many of these crashes usually take place on the weekends or during the nighttime hours, especially between midnight and 3 a.m.
The Design of an Entrance Ramp Can Confuse Motorists
Highway ramp designs often confuse some motorists, especially when they are driving without paying adequate attention. This causes motorists to enter the wrong ramp and enter the wrong part of the roadway. This cloverleaf design of highway ramps is often confusing because exit ramps are parallel. When a driver is confused, they can end up on the wrong side of a median and enter the wrong ramp.
It is more common that drivers turning left will enter a highway from the wrong side in comparison to drivers turning right. This is because the correct ramp is reached first when turning from the right. In this case, the driver will usually take the correct turn before passing it.
Many motorists will immediately realize that they are traveling the wrong way and make attempts to turn around, but some drivers, even including sober ones, do not readily realize this until they see oncoming traffic that is headed right for them.
Avoiding Wrong-Way Drivers
In order to avoid wrong-way drivers, you need to place your focus past the car ahead of you and look at the entire roadway, not just what is immediately in front of you. The further you are able to see ahead of you, the more prepared you will be due to your ability to see an oncoming hazard, allowing you to take time to avoid it safely. However, when vehicles are coming toward each other on the highway, there is little time available for drivers to successfully evade the oncoming car due to the unexpected nature of these accidents and the likely high-speed cars travel on a highway.
There are some key strategies that can be helpful to maintain your focus on the road in order to prevent you from being a victim in a terrible wrong-way crash. You should always travel in the right lane when possible. The right lane is the safest option in order to avoid an oncoming driver who is traveling in the wrong direction. The wrong-way driver may be confused and think the right is the slowest, but when traveling in the opposite direction, the wrong-way motorist will be in the left side of the road, known as the fast lane.
Wrong Way Collisions and Distracted Driving
Another reason you should drive on the right of the road is to avoid wrong-way drivers traveling on the wrong side after crossing the median. The National Transportation Safety Board (NTSB) found that 7 of 9 wrong-way collisions happen in the lane nearest to the median.
In order to reduce the chances of being in an accident, you need to stay focused, alert, and avoid distractions on the road. Cell phone use and other distractions take attention off the roadway.
Despite how prepared you believe you are, and you safely are able to pass a driver traveling in the wrong direction, you should always pull to the side of the road as soon as possible in order to call 911 and report the incident. If the incident is reported, a warning can be sent out in order to save others from being injured as well.
Reducing Wrong-Way Crashes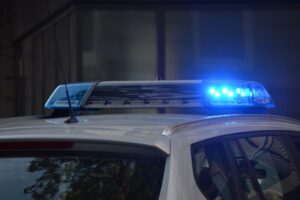 Wrong-way crashes and resulting traffic fatalities have received ample attention from transportation officials, prompting them to develop a response. Certain states have implemented innovative methods in order to better prevent wrong-way driving collisions.
Design features developed to reduce wrong-way traffic accidents include:
Flashing "Wrong-way" signs in high-risk areas

"Wrong-way" or arrows painted onto the roadway

Concrete structures like spikes that prevent wrong-way drivers from entering

More wrong-way warning signs on streets and highway ramps

Surveillance and sensor detection that recognizes wrong-way drivers

More adequate lighting in high-risk areas

Demolishing cloverleaf patterns and developing more space between ramps for future designs
Wrong Way Car Crashes in Utah
A high percentage of wrong-way collisions result in fatal injuries. This is because these crashes are often head-on at high speeds. These are preventable accidents due to someone else's carelessness, allowing you to partner with a wrongful death lawyer in Utah to regain lost damages.
At Siegfried & Jensen, our team of Salt Lake City personal injury attorneys believe in holding the at-fault party responsible for their reckless actions after an accident. No family should have to take on the expense after losing a loved one due to a negligent driver. Call our offices today at (801) 845-9000 to discuss your claim today with an experienced legal professional.