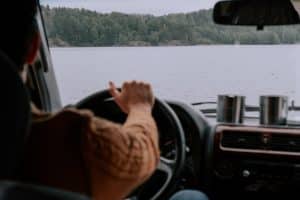 Over half a million large truck crashes happen in the U.S. annually. Many of them produce injuries and fatalities. You may wonder if truck drivers are to blame for these accidents and if they have to pay damages.
Siegfried & Jensen understands your concern, so we'll tell you what you need to know about fault in truck accidents.
Who Is At Fault in Truck Accidents?
Each accident is different, and varying factors can contribute to causing a collision. Let's say for a moment that a semi-truck causes a crash. Does that mean that the driver is automatically responsible for paying damages? Not always.
When a tractor-trailer or other commercial vehicle causes a crash, there can be more than one responsible party. It can take lots of investigating to determine the ultimately responsible party.
Driver
Even experienced, well-trained drivers can have accidents. Driver error is very common. It can result from a lack of training or experience or other factors:
Distracted driving means doing anything that takes your attention away from the road or your hands away from the steering wheel, including:
Texting or other hands-on use of a cell phone
Daydreaming
Looking for an object inside the vehicle
Eating, drinking, and smoking
Grooming
Interacting with passengers
When anyone operates a motor vehicle — especially one as potentially dangerous as a tractor-trailer — they are obligated to focus on the act of driving to reduce the risk of causing harm to others.
Trucking Company
While drivers aren't necessarily trucking company employees, companies must still ensure that any drivers carrying cargo on their behalf have good driving records. They should also ensure that drivers follow the federally mandated shift and break requirements.
Unfortunately, some trucking companies require drivers to work longer than these allotted hours to meet delivery deadlines.
Truck Owner or Leasing Company
Whoever owns a truck is responsible for ensuring that it's safe to drive and properly maintained.
Cargo Loaders, Owners, and Shippers
A semi truck's cargo is usually heavy and bulky. It requires proper loading to ensure that it's secured and the weight is evenly distributed. Shifting cargo can throw off the truck's balance, causing the driver to lose control. It can also cause the truck to tip over.
At other times, loose cargo may fall off the truck and onto surrounding cars or the road, even if the truck isn't involved in an accident. Toxic cargo can spill, creating a volatile situation for those close by.
If cargo issues cause a truck to have a collision, or if the cargo comes loose and causes an accident, the cargo's loaders, owner, or shipper may have to pay damages.
Maintenance Companies
Many truckers use companies to perform service on their vehicles. This can include routine maintenance and repairs. If a company improperly services a truck, fails to perform required maintenance, or is otherwise negligent, that company may be responsible if the truck causes an accident.
Truck or Parts Manufacturers
Truck drivers depend on having good tires, properly functioning brake systems, and other parts to maintain safe driving conditions. Did you know that approximately 30% of truck accidents happen due to tire blow-outs or other tire defects? If a manufacturer defect causes a truck to crash, that manufacturer may be liable for paying damages.
What If More Than One Party Is Liable?
Many accidents have more than one at-fault party. Each state in the U.S. has laws governing how car or truck accident claims are handled, which differ widely.
The Truck
If an accident involves two privately owned passenger vehicles, the resulting insurance claim is rather straightforward. However, the claim can become very complicated if a tractor-trailer is one of the vehicles.
Let's say the truck is 75% responsible for causing a car crash. Many parties, as mentioned above, may be liable for paying the truck's 75% of damages. Each of these parties will likely claim innocence and point fingers at others.
The Accident
Using that same example, we'll assume that you are 25% to blame for causing your accident. The total compensation you might receive is reduced by 25%.
What if you're at least 50% responsible? Under Utah law, you can't obtain compensation if you're at least half to blame.
The Investigation
Getting to the bottom of a truck crash is a complex prospect and requires an in-depth investigation. When you choose Siegfried & Jensen, we will uncover all the facts to ensure you're not assigned an unfair percentage of the blame.
Do You Have To Hire a Lawyer?
While you can attempt to handle your claim on your own, your injuries and lack of knowledge or experience can hinder your efforts. You need to focus on recovering from your injuries, but several tasks need completion.
When you hire Siegfried & Jensen, we will:
Give you information and legal advice
Prepare and submit your paperwork
Investigate your accident to assign blame fairly
Be your spokesperson with insurance company representatives and investigators
Aggressively negotiate with liable insurance companies to obtain a favorable settlement offer or take your case to trial if necessary
Insurance companies often try to bully injured accident victims into accepting lowball settlement offers. Your truck accident lawyer from Siegfried & Jensen won't let anybody take advantage of our clients. In fact, you'll likely recover more money with legal representation than if you try to handle your case alone.
What Kinds of Damages Can You Recover?
Laws governing damages for personal injury claims in each state vary, so be sure you know which laws apply to your accident. We'll discuss damages in Utah.
Economic Damages
Those injured in truck accidents typically have several kinds of expenses. Economic damages reimburse you for things like:
Medical treatments, hospital stays, rehabilitation, medications, and necessary medical equipment
Lost wages
Some daily expenses, such as costs associated with hiring a caregiver
Property damage
Be sure to keep your receipts and bills for all accident-related expenses.
Non-Economic Damages
Some injuries aren't apparent, but they can significantly impact victims' lives. Non-economic damages attempt to compensate you for things like:
Emotional, mental, and physical pain and suffering
Losing your ability to enjoy life
PTSD, anxiety, and depression
Damage to personal relationships
Permanent disability or disfigurement
The amount of compensation you can get partially depends on how severely these things affect your life. Ask your lawyer how much you may qualify for.
Punitive Damages
Not every case qualifies for punitive damages. These can be awarded if the guilty party was knowingly or willfully reckless, indifferent, or malicious.
Why Hire Siegfried & Jensen?
If you have a plumbing problem, you're not going to hire an electrician to fix it. You need someone with experience and knowledge to address your issue competently. Siegfried & Jensen focuses on personal injury cases, including truck accidents. We understand Utah's laws and procedures and know how to protect your interests from greedy insurance companies.
With over 30 years of practice, we've won over $1.2 billion for our clients. We have four offices throughout the state to conveniently serve you. Best of all, you won't pay us unless we win money for you. Contact us today to request your free case review: call us 24/7 at (801) 845-9000 or submit our online contact form. We promise: you'll be glad you contacted us.