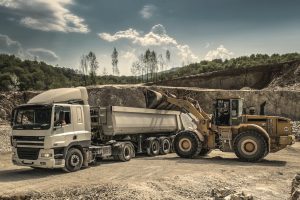 Overloaded commercial trucks are a danger to everyone on the road, and the party responsible for loading the truck is liable for any damage caused by an accident. If you suffered an injury or lost someone close to you in an overloaded truck accident, you have the right to seek compensation for your losses. These cases can quickly become complex, particularly when proving liability, but an overloaded truck accident lawyer has the experience you need in a legal representative. They can help you build your case while offering the compassionate support you need during a challenging time.
What Are Common Reasons Why an Overloaded Truck Causes an Accident?
The Federal Motor Carrier Safety Administration and the states mandate weight restrictions on commercial trucks based primarily on the number of axles. The purpose is to avoid the dangerous pressure placed on trucks by cargo that weighs more than the wheels can structurally bear. Overloading a trailer once is enough to result in a terrible accident. Still, consistent weight regulation violations put more significant strain on the truck, causing it to go through normal wear and tear more rapidly than it would if appropriately loaded.
Other ways an overloaded truck can cause an accident include:
Adding strain on the braking system when going downhill
Altering the center of gravity and increasing the potential for a rollover, especially when going around a curved road
Causing the failure of equipment used to secure the cargo
Increasing the risk of a rear-end accident because the truck driver cannot stop as quickly
Increasing the risk of a tire blowout due to added pressure on the tires
Increasing the risk of falling or shifting cargo in the truck trailer
An overloaded truck is more difficult to control. Drivers have a higher chance of runaway, jackknifing, and loss of steering accidents. When you hire a truck accident lawyer, they will first try to determine who is liable for overloading the trailer.
Who Is Liable for an Accident Caused by an Overloaded Truck?
When you file a lawsuit seeking compensation for your losses, you are responsible for providing evidence to support your claim that the defendant was negligent. However, you first need to know the liable party in your case. In general, the person or company who loaded the truck is responsible when mistakes made during loading are the direct cause of an accident. The specific details of the accident can affect liability, but typically fault falls on one of the following:
The trucking company. Companies have a legal obligation to ensure the safety of their trucks on the road. They are also responsible for training truck drivers and other staff to abide by weight regulations when loading a truck, making them liable if anyone at the company overloads a tailer and causes an accident.
The truck driver. If a truck driver employed by a trucking company overloaded the truck, violating company policy and industry standards, they would be responsible. If the truck driver is an independent contractor, they are liable because the law recognizes them as self-employed.
A third party who loaded the cargo. Sometimes third parties load trucks. For example, if the truck picks up a cargo load from another company, that company would be responsible for ensuring the cargo load meets industry and company regulations.
Sometimes you have more than one liable party in your case. That can complicate the process of proving negligence and make the case more challenging. You would likely benefit from speaking with a truck accident attorney about how they can help you determine and establish proof of negligence.
What Does a Utah Overloaded Truck Accident Lawyer Do?
Most people elect to hire an attorney in an overloaded truck accident case for several reasons, including the increased possibility of receiving a higher settlement. However, if you are on the fence about seeking representation for your case, it may benefit you to consider the advantages of having an experienced truck accident lawyer on your side. Some tasks they perform for victims of personal injury include:
Representing you in conversations with the insurance company and the defense's legal team
Investigating the accident to determine the cause and who is liable
Providing experts, including professionals in auto accident reconstructions and witnesses to support your claim
Identifying all damages available to recover in your case
Establishing monetary value for the non-economic damages, such as pain and suffering, mental anguish, and emotional distress
Protecting you from rights violations and from making mistakes that could be detrimental to your claim
Conducting depositions during the discovery phase and representing you during your deposition
Personal injury attorneys are also well-versed in negotiation. Those skills are invaluable to truck accident victims because they increase the chances of receiving a fair and fast settlement.
What Utah Laws Affect Truck Accident Cases?
In Utah, three specific laws can have a significant effect on the outcome of your case. The first is the statute of limitations. The state allows you four years to file a claim for damages caused by injuries sustained in an auto accident and only three years for property damage. You can miss that deadline by waiting too long to file or making mistakes in your paperwork that cause delays. If you hire a truck accident attorney, they will ensure the paperwork goes through quickly and without error.
Another important law is Utah's no-fault insurance requirement. Utah requires drivers to carry personal injury protection insurance and file a claim through their own policy after an accident. However, a serious injury threshold allows you to bypass that requirement if your medical expenses exceed $3,000 and your injury is severe.
Finally, Utah also abides by the modified comparative negligence rule when handling cases involving shared fault. For example, if the defense effectively argues that you are at least 50% responsible for the accident, you would not be able to recover any damages. However, you can recover some of your losses if you are less than 50% liable. The court will subtract an amount equal to your percentage of liability. For example, if the court awards you $100,000 and finds you 30% responsible, you would receive $70,000 in compensation.
When Should You Schedule a Consultation With an Overloaded Truck Accident Lawyer?
There is no time too soon to contact an overloaded truck accident lawyer following a devastating crash. Unfortunately, victims and their families often suffer debilitating financial, physical, and emotional losses after an overloaded truck accident. In Utah, personal injury law allows them an option to seek compensation for the damages they suffered, and they deserve the best chance at a fast and fair settlement.
At Siegfried and Jensen, we have over 20 years of experience working with auto accident victims. We have seen the devastation a truck accident can cause, so we commit to ensuring our clients get the help they need. When you work with our time, we will answer your questions, address all your concerns, and help you establish a case to get back what you need to restore your old life or adapt to a new one. Our truck accident lawyers are prepared to stand up to trucking companies and insurance agencies who only look out for the company's best interests. Contact Siegfried and Jensen today for your free consultation. We provide the information you need without obligation or upfront fees.