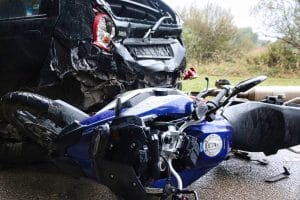 Motorcyclists are especially vulnerable to severe injuries during an accident. As a result, the injured often face substantial financial losses in addition to the physical and emotional damage a devastating auto accident can cause. Tort law in Utah allows you an avenue for compensation and an opportunity to hold the negligent party from your crash responsible for their actions, but that does not always mean you have to go to court.
When Do You Need To Go to Court for a Motorcycle Accident?
Most motorcycle accidents resolve in settlement negotiations before seeing the inside of a courtroom. You often only need to file a claim with the at-fault party's insurance company to recover your losses. However, if the insurance company refuses to cooperate or fails to make a fair settlement offer, you can file a lawsuit through your local civil court. Even then, you will likely settle before a trial, but it helps to recognize exactly when you need to shift the pressure.
Signs of Insurance Companies Acting in Bad Faith
When you file a claim with an insurance company, an adjuster takes over your case and should investigate immediately to determine a fair value for your losses. Unfortunately, they often prioritize the company's interests above providing a proper payout, causing pain and frustration during an already difficult time.
If you recognize the signs of an insurance company acting in bad faith, you may benefit from contacting an attorney and taking the next steps toward fair compensation. Some examples of bad faith tactics include:
Delaying the investigation into your claim or failing to investigate altogether
Dodging your attempts to communicate about the claim or using harsh, accusatory language when you speak
Significantly undervaluing your claim or denying it without a reason
Making unreasonable requests for documentation they do not need
Changing the policy language to suit the company's agenda
Sometimes your only option is to file a lawsuit to seek fair compensation. However, be mindful of the statute of limitations for auto accident cases. Adjusters often use bad faith tactics to run out the clock and ensure you cannot file a lawsuit.
The Statute of Limitations
A statute of limitations refers to the time limit you have to bring a lawsuit against the at-fault party in your case. For example, Utah law permits you four years to file and two years for a wrongful death claim if you lost someone you love in the accident. Lawsuits over damage to your property have a three-year statute of limitations.
Mistakes made during the filing process will cause delays, so avoid cutting your time to file too short. If you attempt to file after the deadline passes, the court will almost certainly deny a case review.
What Can You Do To Protect Your Claim for Damages?
As the person filing an at-fault claim or lawsuit, you bear the burden of proving your claim. This means you must provide evidence to support your argument that the other driver violated a duty of care owed to you and others on the road, that the breach caused an accident and that the accident resulted in your injuries. You also must support your demands for damages with evidence of those losses. Ways you can protect and support your claim include:
Keep documentation. Gathering evidence at the scene, such as photographs of the vehicles and injuries, is beneficial. You can also collect contact and insurance information from the driver and request a copy of the police report to provide to the insurance company.
See a doctor. If you do not need emergency medical care, you can still have a complete evaluation at a nearby hospital or urgent care. Keep track of medical bills and doctor's notes throughout your necessary treatments.
Report the accident to the insurance company promptly. Delays in filing your claim could allow the adjuster to deny or combat it, depending on the circumstances. If you need help after the accident, you can have a family member or a legal professional file for you.
Be cautious when speaking with the adjuster. The provider will record conversations you have with the adjuster. Sometimes they attempt to manipulate you into admitting blame to avoid a costly payout.
If you have questions about the specifics of your case, you may benefit from speaking with an attorney before taking action. Should you decide to work with a personal injury lawyer, they will handle the claims process and all communication with the insurance company for you.
Can Utah's No-Fault Auto Insurance Policy Affect Your Claim?
Utah requires drivers to carry personal injury protection insurance to cover medical expenses, lost wages and some replacement services following an auto accident case. This policy removes the element of proving fault, allowing everyone coverage despite their role in the accident.
State law does not require motorcyclists to carry this insurance, and most companies will not insure them. Therefore, motorcyclists injured in an accident must file claims using the at-fault system.
What Other Auto Accident Laws Can Impact Your Claim in Utah?
Before you start the claims process, you will benefit from understanding the laws applicable to auto accident cases in Utah. You already know the statutes of limitations and your role in proving negligence. Other laws to consider involve reporting the accident and how the court handles cases where both parties bear responsibility for the accident.
Accident Reporting Requirements
When an accident occurs in Utah, the drivers involved must report it to local law enforcement as soon as possible, using the fastest means of communication. For example, calling from the accident scene is preferable over reporting online or in person at the station. Additionally, drivers must file a traffic accident report with the Utah Department of Public Safety within 10 days of the accident.
The Modified Comparative Negligence
If you are partially liable for the accident and the resulting damages, you can still file a claim against the other party, seeking compensation for those losses. However, your role in the crash will impact the final amount you receive.
Utah uses the modified comparative negligence rule to govern cases involving shared fault. The stipulations of this rule include the following:
The court calculates a final total for the damages you suffered.
The court determines both parties' percentage of liability for the accident and damages.
The court deducts a portion equal to your percentage of fault from the total damages or denies your claim if you are 50% or more responsible.
A less formal process occurs during negotiations for a settlement as well. You or your attorney will need to agree with the insurance company about your role in the accident and how that impacts your compensation. If you cannot reach an understanding, you may need to file a lawsuit.
Should You Contact a Motorcycle Accident Lawyer?
Motorcycle accidents can result in devastating injuries and substantial financial and emotional losses. You can contact a motorcycle accident lawyer anytime after the crash to learn more about how Utah auto accident laws impact your case. Dealing with an uncooperative insurance company is frustrating, even without the added stress of severe injuries and economic instability. At Siegfried and Jensen, we understand the burdens you face and commit our services to ensure you have every opportunity to restore your life. Contact us at (801) 845-9000 to schedule your free consultation today.