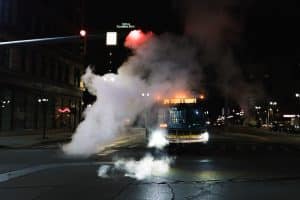 When you become involved in a bus accident, your injuries can be quite severe. Whether you're a passenger in the bus or a pedestrian, motorcyclist, bicyclist or driver or passenger in a car or SUV the bus hits, the size and weight of the bus substantially outweighs you or it, leaving you vulnerable to all types of injuries.
National Bus Accident Statistics
Nationwide, bus accidents are not all that uncommon. Statistics reveal the following:
Approximately 55,000 bus accidents occur each year.
City and tour bus accidents result in 137 or more fatalities each year.
School bus accidents take the lives of 6-7 school-age children each year.
Utah Bus Accidents
Utah is not immune from bus crashes. The following ones occurred in just the past three years:
Just a few months ago, on August 18, 2022, a car collided with a bus in Salt Lake City, causing the city bus to crash into two other vehicles. The driver of one of them suffered critical injuries, and two bus passengers, plus the driver, received less serious injuries.
A Greyhound bus crash in December of 2021 that occurred in a remote section of Interstate 70 sent 32 passengers to three different hospitals. The bus ended up upside down in a ditch after it left the road. In 2017, a similar bus accident occurred on the same stretch of road, taking the life of a 13-year-old girl and sending 12 others to the hospital.
In September of 2019, an eastbound medium-size tour bus carrying 30 passengers from Los Angeles to Salt Lake City veered into the westbound lane of Utah State Route 12 and slid 85 feet before its roof hit the guardrail and the bus rolled over the rail. The crash killed four passengers, and left 17 others with serious injuries, plus an additional nine received minor injuries. All told, 13 of the 30 passengers were ejected from the bus. It was the first time that the driver, who was not injured, had driven for the California tour bus company.
Bus Sizes
If you've never thought about the dimensions of various types of buses, the following information will give you a clear idea of why they cause so many injuries and deaths when they crash.
Coach Buses
On average, coach buses are 39'4″ in length, 8'4″ in width, and 12'6″ high. They usually carry 44-49 passengers.
Transit Buses
City and transit buses are, on average, 39'2″ in length, 8'4″ in width, and 9'10" high. They can carry up to 29 seated passengers, plus an additional 76 standing passengers.
School Buses
School buses come in various sizes:
Full-sized school buses are 12'6″ high, 8′-9′ wide, and 35′ long, with a seating capacity of 72-90 passengers.
Mid-sized school buses have approximately the same height and width, but are 25′-35′ long. Their seating capacity is 54-78 passengers.
•Mini school buses are shorter yet, measuring 20′-25′ long. They can seat 10-15 passengers.
Bus Accident Injuries
Given all of the above, it's easy to see why the injuries you suffer in a bus accident can be so catastrophic. Unfortunately, common bus accident injuries include:
Crush injuries
Broken and fractured bones
Severe cuts and lacerations
Internal organ damage
Debilitating soft tissue injuries
How a Utah Bus Accident Lawyer Can Help
When you sustain serious injuries in a Utah bus accident, dealing with insurance companies and the often complicated legal process are the last things you need. This is why your best interests dictate that you contact an experienced Utah personal injury lawyer as soon as possible after your accident. He or she can take those burdens off your shoulders so that you can focus on recovering and getting back to the life you love.
Specifically, he or she can help you in the following ways:
Establishing Fault and Liability
One of the most complicating factors inherent in a bus accident is establishing fault and therefore liability. Your lawyer can thoroughly investigate the circumstances surrounding your accident and determine who or what caused it, thereby determining who you can sue for compensation. Possible liable parties include:
The bus driver
The company for which he or she works
The company responsible for maintaining the bus and repairing it when needed
The bus manufacturer
Adhering To Utah's Statute of Limitations
Utah's statute of limitations mandates that you file your bus accident lawsuit within four years of the date on which it occurred. If you attempt to file it after this hard-and-fast deadline, the judge likely will dismiss your case. Your lawyer can ensure that you file on time.
Negotiating With the Insurance Company or Companies
Your Utah personal injury lawyer will undoubtedly have far more experience than you do when it comes to dealing with the insurance company through which the defendant has his or her insurance coverage. If you have multiple defendants, each one will likely have insurance through a different company.
No insurance company is your friend after you suffer injuries in an accident. The job of each one is to pay you the least amount possible as quickly as it can so as to preserve the company's financial bottom line. Your lawyer likely will have plenty of previous experience in dealing with the tactics that insurance companies use to minimize their payouts, and also likely will have previous experience representing clients with your types of injuries. All of this will serve you well in maximizing the settlement offers.
Aggressively Representing You In Court
Finally, if the settlement negotiations do not end favorably for you, your lawyer can aggressively represent you and advocate for you in a full-blown jury trial. This is where his or her courtroom skills, honed in cases like yours, can make all the difference in the amount of compensation the jury awards you.
Utah's Comparative Negligence Law
Utah follows the 50% rule of comparative negligence. What this means is that, if an insurance company or jury determines that your own negligence or carelessness contributed to the accident by 50% or more, you are barred from recovering anything at all. On the other hand, if your negligence was less than 50% of that of all the defendants combined, you can still recover damages, but the amount of that recovery will be decreased by your percentage of fault.
Choosing Your Utah Personal Injury Lawyer
Siegfried and Jensen is a personal injury law firm that has been successfully representing injured Utah people for more than 30 years. To date, we have handled over 35,000 cases with a 97% success rate and have recovered over $1.2 billion for our injured clients.
Because personal injury law is the only type of law we practice, you can be confident that our team of lawyers have the knowledge, skills and experience needed to competently and aggressively pursue your case. You can likewise be confident that, when you hire us, we will handle all of the phone calls, paperwork, investigations, legal work and insurance company negotiations your case requires.
So contact Siegfried and Jensen today. Not only is your case evaluation absolutely free, but we never charge you out-of-pocket fees or expenses. We get paid only if and when we successfully resolve your case.