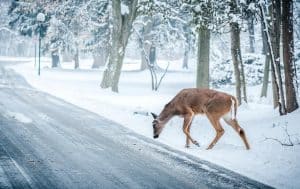 Hitting a deer can be a traumatic experience. It can cause severe damage to your vehicle, especially at high speeds. Additionally, the driver and passengers of a car may be injured in the impact, leading to related medical bills.
You may wonder who pays for all the damages and related costs of hitting a deer. If you are like many drivers with full insurance coverage, the answer is your insurance company. However, there are certain situations where your claim may be denied. If your insurance claim has been denied, a personal injury attorney may be able to help you get that decision reversed.
Does Insurance Pay for Damage When You Hit a Deer?
The last thing you want to add to worry about after hitting a deer is the need to pay for the damage to your car. Luckily, in many cases, your insurance company will pay for any needed repairs or, if the vehicle is a total loss, its cash value. However, that is only the case if you have the correct type of coverage.
In general, when you hit a deer in Utah, it is covered by comprehensive insurance. Sometimes also called "other than collision" insurance, this is the same part of your policy that pays if you break a windshield or a tree limb falls on your car. However, payments are limited to the coverage you purchased when you took out the policy.
Comprehensive vs. Collision Insurance
It is easy to confuse the collision and comprehensive portions of your insurance policy. However, each one pays for distinct situations.
Collision insurance typically pays when you are in an accident with another vehicle or if you hit an object, like a fence or telephone pole.
While collision insurance doesn't typically cover damage caused when you hit a deer, it may become part of the picture in a more complex accident. For example, if you swerve to avoid hitting a deer and hit another car instead, your collision insurance will pay to repair or replace your vehicle.
On the other hand, comprehensive pays for most non-driving accidents or when you hit an animal. Typical claims include things like a rock hitting your windshield, hail damage, or hitting a deer.
While they are different, both parts of your insurance policy have similarities. For example, you will probably have to pay your deductible before any coverage kicks in. You may also have limits on payments, which are usually either the cash value or the full replacement value of your vehicle.
Cash Value Vs. Full Value
The difference between these two terms may seem small, but it can have an outsized impact on whether or not your payout will cover the cost of replacing your totaled car with a similar model. When you have a policy that pays cash value, it will only give your vehicle the depreciated amount. That can make it very difficult to buy a replacement.
However, if you have a full-value policy, your insurance will provide enough for a replacement vehicle. So, if you are relying on an insurance payout to buy a new car after hitting a deer, you may want to check to see how the amount is determined.
Who Pays for Medical Costs When a Car Hits a Deer?
Utah uses a no-fault system to determine who pays for damages after a car accident, including when you hit an animal. Under this system, your own Personal Injury Protection coverage pays the first $3,000 of medical expenses after an accident. After that is used, you can file a liability claim.
In most cases, only one car is involved when a car hits a deer. For that reason, the driver's insurance will usually pay for the total medical expenses. However, that is not always the case. If another car does something to make you swerve and hit a deer, that driver could be partially responsible for any injuries and property damage.
Once your PIP coverage is exhausted, you may be able to seek compensation from that other driver. This is often a complicated process, and it is a good idea to enlist the support of an experienced personal injury attorney. He can help ensure you get the full amount of compensation after your accident so that you can focus on recovering.
Insurance Requirements in Utah
Because of its no-fault system, every Utah driver must maintain at least $3,000 in PIP coverage. Utah also has other auto insurance requirements. For example, drivers must keep the following minimum coverages:
$15,000 per accident property damage coverage
$25,000 per person per accident bodily injury coverage
$65,000 per accident bodily injury coverage for when more than one person is injured
You may have noticed that Utah does not require a minimum amount of collision or comprehensive insurance. It is your responsibility as a driver to select and maintain these options to pay for damage to your vehicle after an accident. Additionally, you may be required to carry one or both coverage options if your car is financed through a loan or lease agreement.
Without comprehensive and collision insurance, your insurance company is not responsible for any damage caused by hitting a deer. You will need to pay out of pocket for repairs to your vehicle. If it was a total loss, you are fully responsible for any remaining payments and the cost of a replacement vehicle.
Professional Legal Help When You Need It Most
Any time you have an auto accident, there will be paperwork and coordination with your insurance company to get repairs completed and injuries treated. The attention this requires demands a considerable amount of time, which can take away from your healing process.
Luckily, you do not have to go through the process alone after hitting a deer with your car. The attorneys at Siegfried and Jensen can assist with filing a claim, negotiating with your insurance company, and maximizing the payment you receive. Call (801) 845-9000 to contact our local office today and request your free, no-obligation case evaluation.