Although most people have a thorough understanding of the risks associated with driving an automobile, many are still surprised to find out how frequently car accidents occur. According to worldwide data collected by the National Highway Traffic Administration, one accident occurs every minute of every day. Car accidents account for billions of dollars in financial losses each year. Not only are victims forced to deal with immense financial loss, but millions of car accident victims are forced to deal with personal injuries.
No matter which type of vehicle is involved, any car accident has the potential to cause life-changing injuries to victims. Some of the most severe injuries result from car accidents that occur near crosswalks. Crosswalk accidents often involve pedestrians that lack protection, which makes them more likely to sustain enormous losses and catastrophic injuries.
Individuals who are injured in car accidents at crosswalks should contact Siegfried & Jensen as soon as possible. Our lawyers are dedicated to helping accident victims recover the compensation they are entitled to for all losses associated with their injuries.
How Common Are Crosswalk Accidents?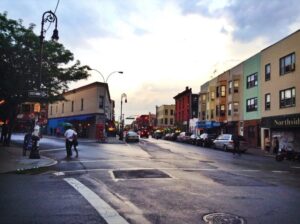 Pedestrians account for over 13% of traffic fatalities across the United States. Over 73% of accidents involving pedestrians occur in urban areas while pedestrians are at or near a crosswalk. Unfortunately, a pedestrian is killed in a traffic accident once every 100 minutes.
Crosswalks are areas across roadways that are designated to provide a safe and reliable way for pedestrians to travel across roadways. Unfortunately, this is not always the case. The number of pedestrian-involved car accidents is on the rise across the entire country.
If you or a loved one has been injured, or your loved one was killed, in a pedestrian-involved car accident, contact Siegfried & Jensen as soon as possible. You may be entitled to compensation for the injuries and damages you or your loved one sustained.
Why Do Crosswalk Accidents Occur?
Crosswalks are designed to provide a safe crossing zone for pedestrians. These walkways are distinguished with white stripes of paint, and they are often controlled by a walk signal and traffic light. There are numerous precautions in place to protect pedestrians, but still, they are being severely injured and killed by automobiles every day.
Sadly, the leading cause of crosswalk accidents includes drivers who are negligent or reckless while in control of their vehicles. A lot of drivers fail to take the extra precautions necessary to ensure there are no pedestrians in the crosswalk before they enter through it.
Some of the most common causes of crosswalk accidents in the United States include:
Distracted Drivers: Quite often, individuals are distracted by their cell phones, radios, or other items while they are behind the wheel of their car. Playing on the phone, eating, or even talking to others can cause drivers to lose focus and strike innocent pedestrians.
Driving Under the Influence of Drugs or Alcohol: Individuals who engage in driving while intoxicated or impaired are directly placing the lives of others on the roadway in danger. Driving under the influence can cause a driver to cut through crosswalks without looking for pedestrians.
Speeding: Individuals who drive too fast for road conditions place the lives on pedestrians at risk. Pedestrians may think they have time to cross the street, but they are struck by individuals superseding the posted limits.
Failing to Comply with Traffic Control Devices: When drivers run red lights, pass stop signs, or ignore other traffic control devices, they place the lives of others around them at risk. These accidents are common at crosswalks as drivers often whip around corners to beat traffic lights and strike pedestrians.
Damages For Crosswalk Accidents
Individuals who are injured in crosswalk accidents often suffer severe, life-altering injuries. Even vehicles traveling at low speed can cause catastrophic injuries to pedestrians. Pedestrians are far more vulnerable than other vehicles on the roadway because they lack safety equipment and protection while walking down the road. Traffic accidents that involve pedestrians often cause long-term damages that change the way a person lives drastically.
In cases where pedestrians are injured by negligent or reckless drivers, they may be able to recover compensation for some of the damages they sustained by filing a personal injury lawsuit. Some of the most common damages awarded to victims of pedestrian-involved car accidents include repayment for:
Lost wages;
Medical expenses;
Physical pain;
Emotional trauma;
Mental anguish; and
Loss of consortium.
Individuals involved in pedestrian-involved car accidents may be able to recover punitive damages in addition to compensatory damages in some circumstances. These damages are awarded to victims who suffer due to extreme negligent acts, impaired drivers, and other outright reckless behaviors. These are generally given as a form of punishment to the at-fault driver.
How Utah Personal Injury Attorneys Help Victims
If you are injured in a pedestrian-involved auto accident, it is crucial to contact a personal injury attorney as soon as possible. You may be able to recover remuneration for your injuries and the damages you sustained from the accident. We are available at Siegfried & Jensen to schedule a free consultation to explore what legal options are available for your case.
We help injured pedestrians by gathering evidence, speaking with witnesses, collecting medical and police reports, filing claims, and negotiating fair and full compensation for injuries. Contact Siegfried & Jensen at (801) 845-9000 as soon as possible to schedule a free case evaluation.